Does Hayden Christensen Do His Own Darth Vader Stunts In Obi-Wan Kenobi?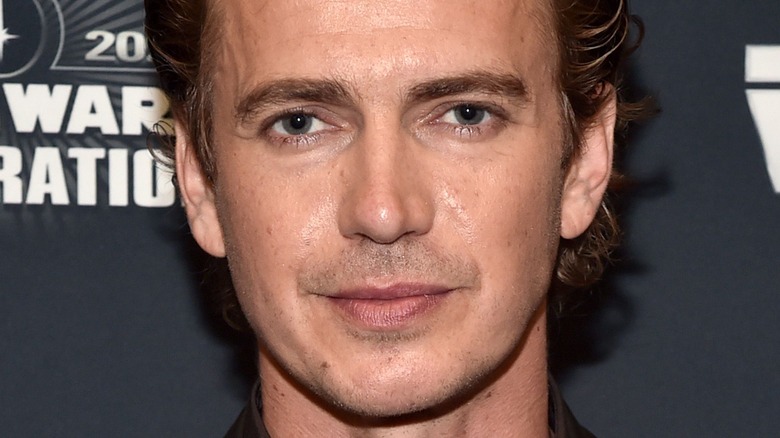 Alberto E. Rodriguez/Getty Images
Spoiler warning: Major details from "Obi-Wan Kenobi" are revealed in this article
Masked characters have been featured often in the "Star Wars" universe ever since the beginning of the saga. In 1977, former bodybuilder David Prowse appeared in the suit and under the mask of Darth Vader while James Earl Jones provided the Sith Lord's electronically enhanced voice. The reason, of course, is that Prowse's hulking 6-foot-6-1/2-inch frame contributed to Vader's menacing look, which commanded viewers' attention every time the character appeared on-screen.
Jones, of course, has provided the voice since that time, while stunt actors — and sometimes actors appearing as Vader's former identity, Anakin Skywalker — have appeared under the suit. Naturally, due to the high-intensity lightsaber battles that Vader engages in during the films and new Disney+ TV series "Obi-Wan Kenobi," various stuntmen are required to don Vader's costume. However, because the new series is predicated on the return of Hayden Christensen to the role of Anakin-Vader, fans naturally expect to see the heavily scarred version of the former Jedi Knight in Vader's suit — the result of Anakin and Obi-Wan's (Ewan McGregor) fateful duel on the volcanic planet of Mustafar in "Star Wars: Episode III — Revenge of the Sith."
While Christensen proved in the final two movies of the "Star Wars" prequel trilogy that he could play up Anakin's propensity for evil, suiting the actor up for Vader in "Obi-Wan" simply couldn't work for a number of reasons. First, Christensen is only 6 feet tall, so full-body shots of the character would only make him a mere two inches taller than McGregor, who is 5 feet 10 inches tall. As a result, "Obi-Wan Kenobi" director Deborah Chow and company needed to find additional performers to share the suit with Christensen.
Three people including Christensen perform Darth Vader, stuntman says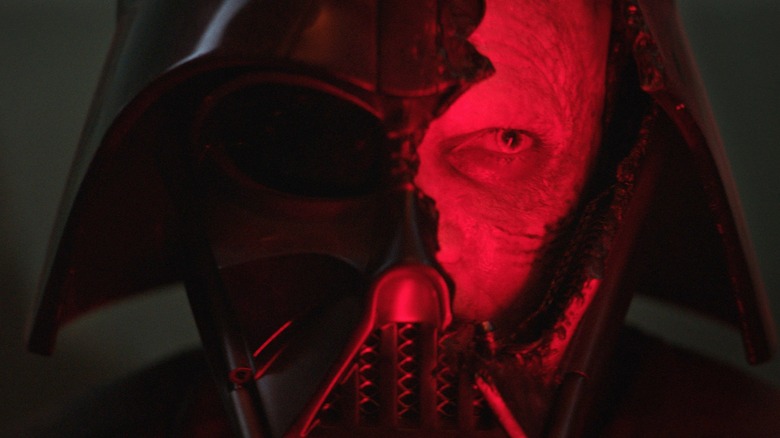 Lucasfilm/Disney+
After inquiries from fans about how often Hayden Christensen was wearing Darth Vader's suit in "Obi-Wan Kenobi," series stuntman Dmitrious Bistrevsky revealed in an Instagram post (via The Direct) that he and fellow stuntman Tom O'Connell helped create Darth Vader. A photo of Bistrevsky and O'Connell together in Vader's costume also surfaced in a Reddit post. 
"Darth Vader is played by three people, we all worked together to create the best Darth Vader in cinematic history," Bistrevsky wrote on Instagram. "It's me, it's Hayden, it's Tom. We are a symbiosis. We all contributed our strengths to create the best representation of the character."
Naturally, Christensen's turn as Vader is most prominent when the character is briefly shown without his helmet. The best look at the actor as Vader, though, comes in Episode 6, when Obi-Wan slices part of his former apprentice's helmet away, revealing the villain in his most vulnerable state.
As for where Bistrevsky and O'Connell specifically appear as Vader, Bistrevsky broke the scenes down in his Instagram post: "Hayden and I both act in the Darth Vader scenes, we bring the character and emotions (and the pain, suffering, anger)," Bistrevsky wrote. "I'm 6'7 so when you see a full body shot it looks better having an actor, than a CGI creation. Tom specializes in the fighting. The fights are Tom. Full body with helmet on is me. Hayden carries the heaviest burden of all, the pain and betrayal of his best friend and once mentor."
Christensen put a lot of work into his turn in Darth Vader's suit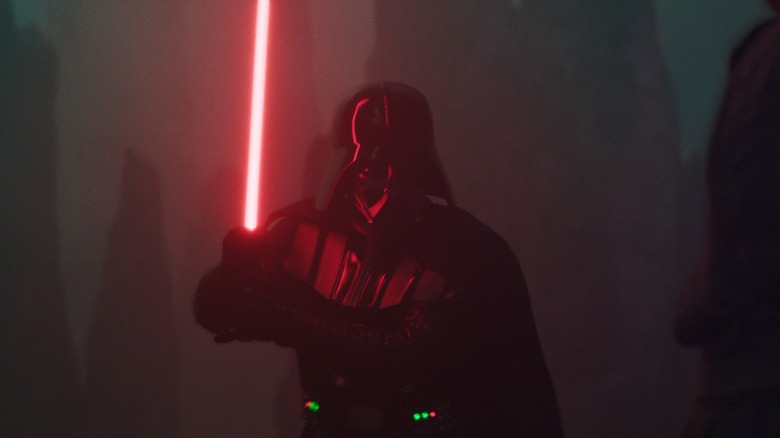 Lucasfilm/Disney+
Fans got the benefit of seeing Hayden Christensen in new scenes as Anakin Skywalker filmed for flashback purposes for "Obi-Wan Kenobi," but the actor was also fully committed to bringing his version of Darth Vader to life. In his aforementioned Instagram post, stuntman Dmitrious Bistrevsky also recalled that it was pretty clear that Christensen was on the same par as he and his fellow stuntman when they first met on set.
"Hayden wore the suit, I wore the suit, Tom wore the suit. We all worked together to create the best character we possibly can. We are a team. Without Hayden, there would be no story for me to tell," Bistrevsky wrote. "He is my friend, he showed up [and worked] so hard for this project. He bulked, Hayden was so swole when he arrived to set that both Tom and I quivered in our muscle suits."
On top of that, Christensen said he consulted a "Vader movement specialist," choreographer Olga Sokolova, in order to get the Sith lord's move just right.
"That was something that we spent a lot of time working on — and this suit really just informs the way you move," Christensen told Entertainment Weekly. "We had this woman who was like a Vader movement specialist, and she made sure that we were always in the right ballpark. Certainly, we wanted to make sure that we were staying true to how Vader moves and how we perceive him, and wanting to keep all that relatively consistent."
All six episodes of "Obi-Wan Kenobi" are streaming exclusively on Disney+.