How Fans Of The Conners Really Feel About Ben And Darlene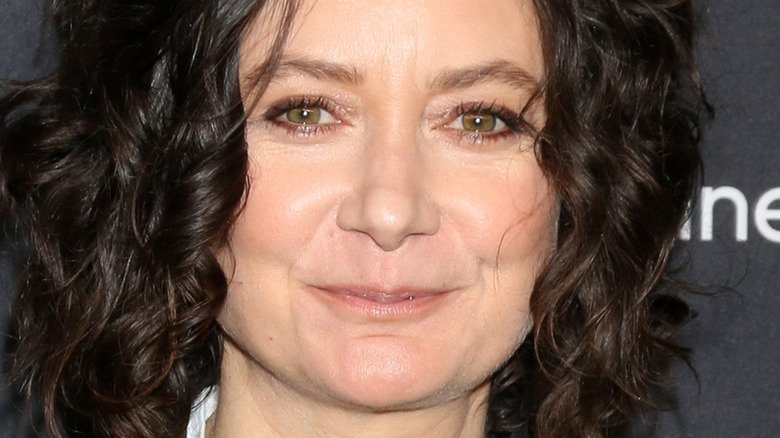 Kathy Hutchins/Shutterstock
On "The Conners," Darlene Conner's (Sara Gilbert) love life has been an ongoing storyline. Her high school sweetheart turned deadbeat ex-husband, David Healy (Johnny Galecki), was out of the picture by Season 2. But by then, the middle Conner kid met her match with Ben (Jay R. Ferguson), her boss at a mugshot magazine.
Darlene and Ben's similar, strong personalities meant they butted heads –- a lot. And then there were the missteps: Darlene didn't want to move to Chicago with Ben; Darlene cheated on Ben; Ben refused to take a trip with Darlene to Hawaii; and worst of all, he refused a proposal from her. "There were definitely clues along the way that they still love each other, as much as they sort of hated what happened in the relationship, and had resentments," executive producer Dave Caplan told CinemaBlend. "They just couldn't figure out sort of how to be together."
The rocky relationship seemed dead in the water more than once, but by the end of a bicker-filled Season 4 of "The Conners," a near-fatal fall from a rooftop (that'd be Darlene) forced the two to realize that nothing in this life is certain. "We tried to extricate them without making it obvious, and then bring them together in some credible way," showrunner Bruce Helford explained to CinemaBlend. "Falling through a roof was required to get them to go, 'Holy s***, tomorrow could be nothing.'"
Season 4 ended with the on-and-off pair finally tying the knot, but not all fans are convinced this will be a happily ever after.
The Conners fans have mixed feeling about Ben and Darlene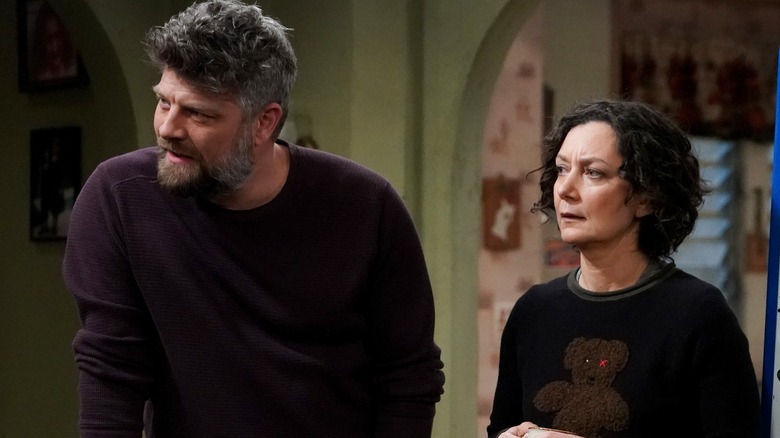 Eric McCandless/ABC
With such a roller-coaster relationship for "The Conners" couple, it's no wonder that fans have mixed feelings about Darlene and Ben. In a Reddit thread, u/DrewwwBjork wrote, "Yeah, Darlene should dump Ben. She already went down this road with David for years." Fellow commenter u/SageThistle had similar feelings. "Ben and Darlene are the perfect example of how you need more than just love to make a good relationship," they wrote. "They may love each other – - but I feel like, at some fundamental level, they're not actually all that compatible." 
In the thread, fans blamed both parties' controlling personalities for the back-and-forth relationship. "I really am sick of Ben. I don't see any chemistry between Darlene and him, and he's just kind of annoying at this point," u/J_Gilly23 wrote. "They are both flawed, but Darlene has been especially lousy in the relationship," u/MoonInAutumn added.
In an interview with TV Fanatic, "The Conners" showrunner Bruce Helford admitted that producers wanted the audience to debate about Darlene and Ben because it made both characters more authentic. Executive producer Dave Caplan added that they view a divisive response from fans to Darlene and Ben's relationship as a success. "Because we didn't want any villains," Caplan explained. "We wanted a real relationship where both people have emotional needs and points and disappointments. And the more that that felt real, the more ... the audience is going to be split down the middle. So we're happy about that."
So what's in store for "The Conners" Season 5? Fans will have to tune in, but considering the newlyweds are building a house together, the honeymoon could be over before it has even started!