The SNL Sketch That Made Kim Kardashian Fall For Pete Davidson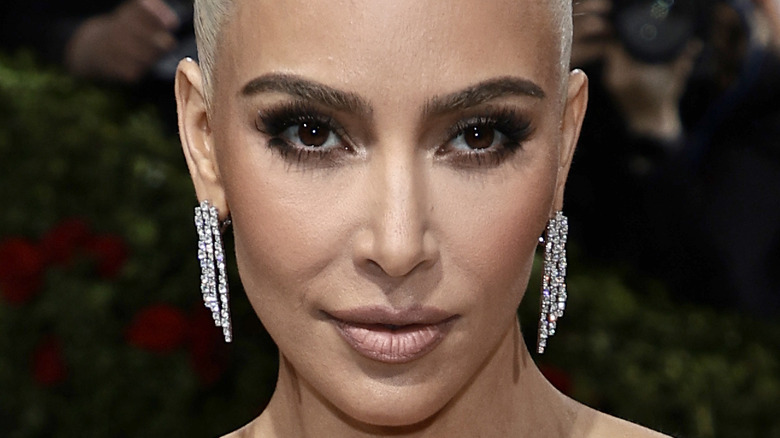 Dimitrios Kambouris/Getty Images
Prior to Kim Kardashian hosting the October 9 episode of "Saturday Night Live" Season 47, she wasn't exactly the show's biggest fan. Not that she didn't like the NBC sketch comedy series; she'd just never watched it before. As she told NBC Insider, "I knew what ['Saturday Night Live'] was. I knew it was so iconic." Beyond this, it's unclear how deep Kardashian's love for "SNL" ran, but it sure didn't stop her from having a ton of fun during her first hosting gig. 
The Kardashian crew isn't famous for turning down major opportunities to revel in the glory of the spotlight, so she said yes despite feeling a bit out of her depth. And to her credit, she killed it. In a skintight, hot pink bodysuit, she somehow managed to convey an attitude more sweet than sultry, delivering an honest and earnest monologue. The "SNL" writing team surely had a hand in crafting the jokes, but she delivered them gracefully, a good sport who would incidentally grace the cover of Sports Illustrated's Swimsuit Edition a year later.
But first, she had a show to do, complete with acting in sketches and falling in love — for real! — with "SNL" cast member Pete Davidson. Here's how it all went down.
The pair was in character for their very first kiss
If you keep up with the Kardashians, you know that Kim K. and Kanye West's lengthy relationship, including a nearly seven-year marriage, ended in January 2021, according to Page Six. (Well, except for the fact that he's the father of her children.) So by the time Kardashian appeared on "SNL" in Season 47, Episode 2, on October 9, 2021, she was, while not officially divorced, solidly single. Still, West was there that night to watch her monologue, which somewhat surprisingly, saw him positively described as "the best rapper of all time" and "the richest Black man in America, a talented, legit genius, who gave me four incredible kids," before admittedly ending with the joke, "So, when I divorced him, you have to know it came down to just one thing: his personality."
West was not amused and left shortly after, which upset Kardashian, but was in retrospect, perhaps a good thing. Because if he deemed the monologue unfunny, it was likely he'd have a similarly humorless attitude toward his estranged wife's actions during a particular sketch parodying Disney's "Aladdin."
Kardashian was cast as Jasmine and Pete Davidson as Aladdin. In the sketch, they hover in the clouds on a magic carpet as they hold hands and talk, their conversation veering toward the eventual physical consummation of their relationship. Kardashian as Jasmine references former boyfriends (including athletes and rappers) and later meets Jourtney (Cecily Strong) and her boyfriend, Dallas Cowboys running back Ezekiel Elliott (Kenan Thompson) as they float by on a nearby magic carpet. At the end of the scene, Kardashian and Davidson's characters kiss chastely.
Kim tried something different and it turned into love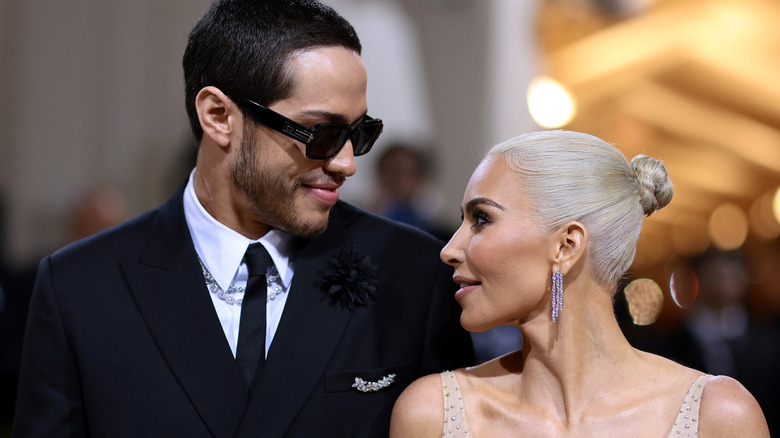 Dimitrios Kambouris/Getty Images
Obviously, the kiss with Pete Davidson — and everything that led up to it — was scripted. But at that moment, Kim Kardashian felt something authentic. "When we kissed in the scene, it was just a vibe and I was like, 'oh, s***, maybe I just need to try something different,'" she said on the second episode of her family's new reality show, "The Kardashians," as quoted by E! News.
She invited Davidson to her after-party and... the guy didn't show! Not to be deterred, Kardashian called a producer at "SNL" and asked for Davidson's personal digits — which she got, of course. Because she's a Kardashian. While she didn't necessarily want a relationship, she did have two things on her mind: "I was just thinking, like, 'Heard about this BDE, need to get out there,' I was just basically DTF."
Kardashian texted Davidson — a perfectly acceptable and empowering feminist move, not to be eclipsed by the fact that she later learned Davidson had attempted to pursue her first, months earlier. He'd asked Megan Fox for Kardashian's number. So, yeah, he was interested.
What began with scripted comedy, a vibe, and a physical attraction quickly accelerated into real-world action. On her show, Kardashian let fans know she was having the best sex of her life. With him. But it was more than that and as the relationship moved into the emotional realm, she let fans know that, too. This was love. "Pete has got to be literally the best human being I've ever met," she said. "Like, the best heart, he's really, really thoughtful and humble and just so genuine."