Too Many Fans Forget About Michelle Obama's Parks And Recreation Appearance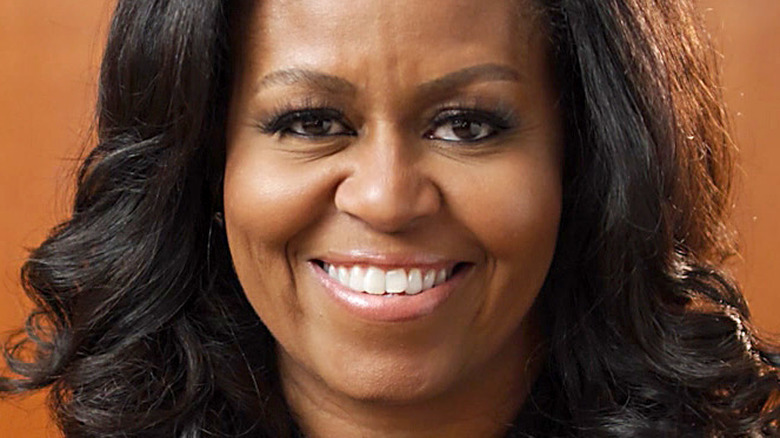 Billboard Music Awards 2021/Getty Images
Even though it's been off the air since 2015, NBC's "Parks and Recreation" hasn't disappeared from the mainstream just yet, and it's easy to see why. Throughout the sitcom's seven years on the small screen, it consistently had a lot to offer viewers. It put a bunch of fun, outlandish characters at the forefront, led by the unforgettable Leslie Knope (Amy Poehler), provided plenty of comedy and drama, and included numerous memorable moments and quotes that still make the rounds in fan circles. To top it all off, it was far from averse to celebrity cameos.
"Parks and Recreation" featured what one could easily argue is the most star-studded list of guest stars ever to come together this side of "Saturday Night Live." From comedians like Bo Burnham and Chelsea Peretti to political figures like Joe and Jill Biden and the late John McCain, the sitcom brought in a slew of notable names from across a variety of fields. In fact, even Michelle Obama made a special appearance during her time as the First Lady of the United States in the midst of her husband Barack Obama's second term as President of the United States.
For those who don't recall, here's how once-"NCIS" star Michelle Obama's "Parks and Recreation" cameo came together and where you can check it out.
Michelle Obama left Leslie Knope starstruck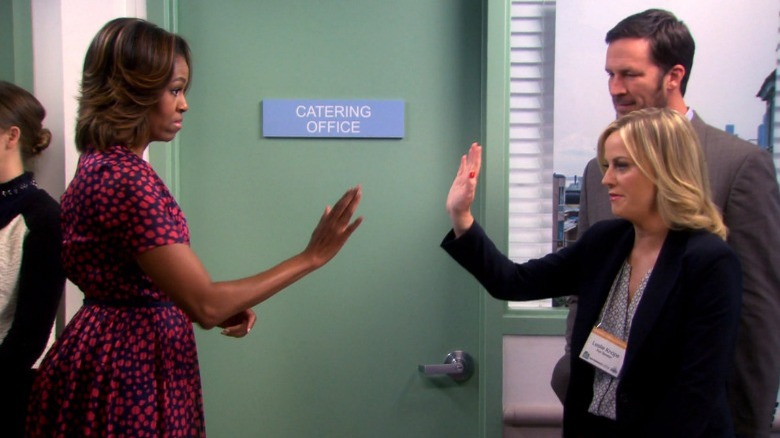 NBC
Michelle Obama made her "Parks and Recreation" debut in the two-part Season 6 story, "Moving Up." Not wanting to leave Pawnee, Indiana, for Chicago, Illinois, Leslie finds herself conflicted over a job offer that would make her the next Regional Director of the National Parks Service of the Midwest Region. However, she eventually goes for it when both Ben Wyatt (Adam Scott) and Obama convince her that it's the right move. Then again, Leslie was beyond starstruck to meet the latter, so the mere presence of one of her idols was likely enough to push her in the right direction.
As it turns out, Michelle Obama's cameo didn't come together by accident or after a tense, lengthy negotiation process. Rather, it happened thanks to a deal that Obama and Amy Poehler ironed out together. As noted by BBC back in 2014, Poehler appeared alongside Obama at one of her Let's Move — a campaign she spearheaded to encourage active lifestyles from a young age — rallies beforehand, so in return, Obama agreed to pop up on "Parks and Rec." Of course, the show and the FLOTUS both had to work out how to do so with their respective busy schedules, but, thankfully, this wasn't much of an obstacle.
In the grand scheme of "Parks and Recreation" and its many cameos over the years, there's no doubt that Michelle Obama's appearance stands among the most surprising and enjoyable to watch of the bunch. It's just too bad the show couldn't book Barack for an episode, too.