Chris Hemsworth Confirms What We Suspected About Miles Teller's On-Set Behavior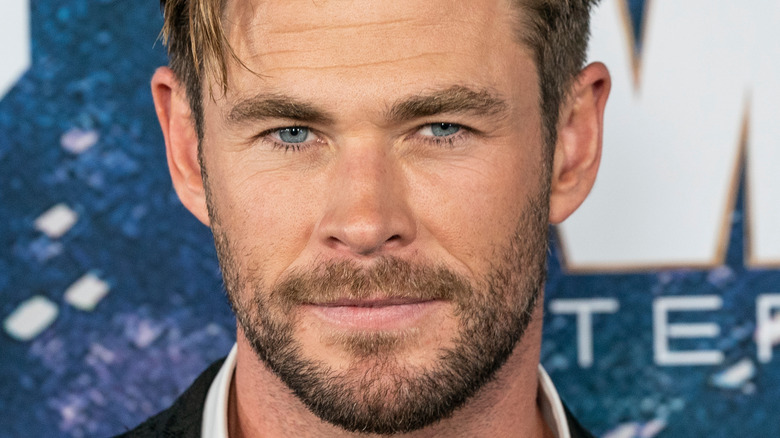 lev radin/Shutterstock
Chris Hemsworth has had a remarkably successful career so far. Most viewers will no doubt recognize him best as the God of Thunder himself, Thor, who he has portrayed in the Marvel Cinematic Universe since 2011. While that may arguably be his biggest role, Hemsworth has also starred or appeared in a plethora of other projects with all sorts of high-profile actors. One of Hemsworth's latest examples of this is Netflix's "Spiderhead," which sees the actor play against type in the more villainous role of Steve Abnesti. The film has proven to be immensely popular with viewers, pulling in an estimated 35 million viewing hours during its debut weekend alone (per Netflix).
Along with Hemsworth, the film also features Miles Teller in the prominent starring role of Jeff. Teller is yet another actor who has seen his star rise in recent years, but he has really kicked his career into high gear throughout 2022. On the big screen, Teller co-starred as Bradley "Rooster" Bradshaw in the mega-successful "Top Gun: Maverick," alongside Tom Cruise, who triumphantly returned to the character of Pete "Maverick" Mitchell after 36 years away. Also, when it comes to televised efforts, Teller took on the part of Albert S. Ruddy on the Paramount+ miniseries "The Offer," which chronicles the production of 1972's "The Godfather."
At this point, most have a pretty good idea of what to expect from Teller in front of the camera. Thanks to a recent interview with Chris Hemsworth, fans now have an exact idea of what Teller is like behind the scenes, too.
Chris Hemsworth enjoys Miles Teller's sense of humor and wit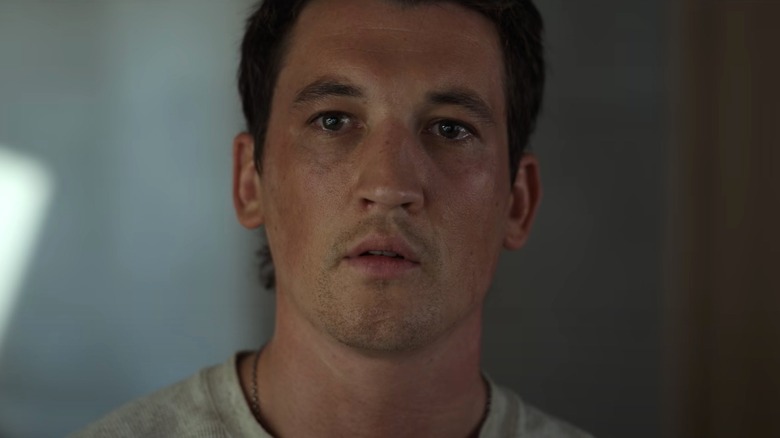 Netflix
During an interview with Collider, Chris Hemsworth spoke about his experience working on "Spiderhead" and he had some positive things to say about his co-star Miles Teller. He described Teller's sense of humor as something he greatly enjoyed while on set, and that it brought back memories of being in school again. Hemsworth went even further, saying, "He's a great collaborator. Incredibly talented, you know. Quite an intensity to him, too, but he can be vulnerable on a dime." The actor also noted that working with Teller and Jurnee Smollett was surprising at times because they would completely change the way he looked at a certain scene in a good way.
It clearly sounds like Hemsworth has a lot of praise for Teller to go around. This certainly contradicts rumors that have circulated in recent years that Teller is a bit difficult to work with and that he harbored some anti-vaccination beliefs when it came to the ongoing COVID-19 pandemic (per Vogue). Even prior to this, a cover story that Teller did for Esquire didn't exactly endear him to readers, thanks to the perceived idea that he has an abrasive personality. Teller himself denied the anti-vaccination rumors, but that 2015 interview has followed him for a while, as Vogue pointed out. So it's encouraging, at the very least, that Hemsworth has such high praise for the actor and his process.
Hemsworth isn't alone in his praise of Teller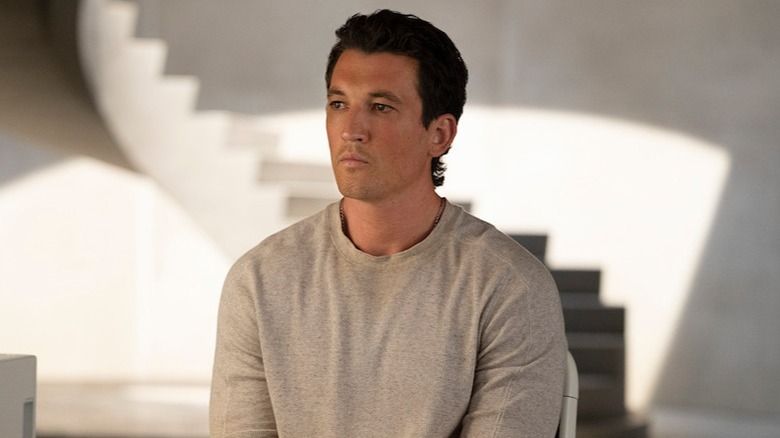 Netflix
"Spiderhead" marks the first time Chris Hemsworth and Miles Teller have worked together, but the same cannot be said for Teller and director Joseph Kosinski. The Netflix feature marks their third time collaborating, with "Only the Brave" from 2017 and the previously mentioned "Top Gun: Maverick" being their first two. Unsurprisingly, Kosinski and Teller haven't found themselves working together time after time by pure coincidence. The director has sought Teller out repeatedly for more reasons than one, as he explained to JoBlo in a June 2022 interview where he made it clear that Hemsworth wasn't the only one with praise to give.
"Miles is a huge talent of his generation. There are very few people that are taking the swings that he has done and built the career that he has by his age," Kosinski said, giving Teller credit for pulling off three strong, unique performances in "Only the Brave," "Top Gun: Maverick," and "Spiderhead." He continues, "His range is astonishing, and I can't wait to see where he goes next, but I would love to find something else to do with him." Kosinski concludes by noting that he's excited to find out what the coming years hold for Teller bearing in mind his remarkable talent and his career trajectory up to this point.
Between Chris Hemsworth and Joseph Kosinski's glowing remarks, it's apparent that Miles Teller has left a lasting positive impact on his colleagues. Surely he'll continue to do so for audiences as well with his performances in projects like "Top Gun: Maverick," "Spiderhead," and those he'll star in down the road.