The Real Reason Ben's Hair Is A Continuity Error In The Umbrella Academy Season 3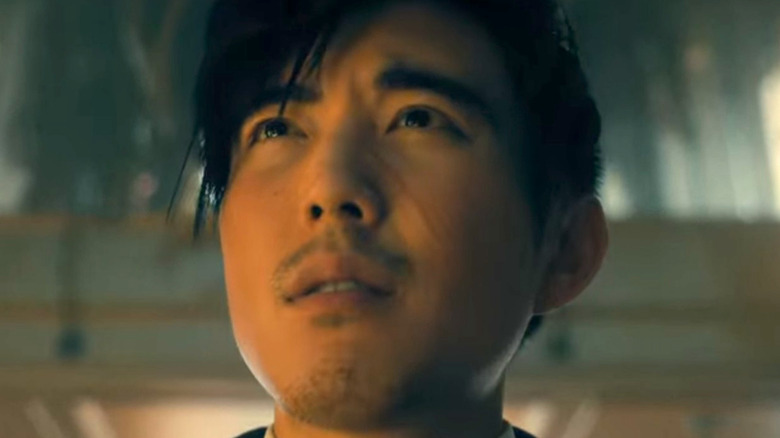 Netflix
"The Umbrella Academy" finally returned to Netflix for its third season on June 22 — nearly two years after Season 2's July 2020 release. The live-action show follows a group of people with superpowers who were adopted at birth by an eccentric billionaire who raises them as his children and trains them to hone their powers and fight crime. "The Umbrella Academy" has been a massive success for Netflix, with the latest season bumping "Stranger Things 4" out of the Number 1 spot on the streaming giant's Top 10 list for the week of June 20 through June 26 (via Variety).
Season 2 concludes with the siblings escaping the 1960s and returning to their present day, only to find out a new set of siblings live in their house. It turns out that, after interacting with their adoptive father in the '60s, he chooses to adopt different children and train them instead. This new set of children become the Sparrow Academy, who are given an ominous introduction in the final moments of Season 2.
Eagle-eyed viewers, especially those who watched the Season 2 finale back-to-back with the Season 3 premiere, may have noticed a strange continuity error. When the two groups confront each other in the final Season 2 scene, Justin H. Min's character, Ben, wears his hair down with tousled bangs spread across his forehead. But, when we pick up in the first scene of Season 3, his hair is gelled up into a shorter, spikier style, despite the two moments ostensibly taking place within seconds of each other.
As it turns out, Min and "The Umbrella Academy" showrunner Steve Blackman have a perfectly reasonable explanation for the error.
Showrunner Steve Blackman didn't like Ben's hair in the Season 2 finale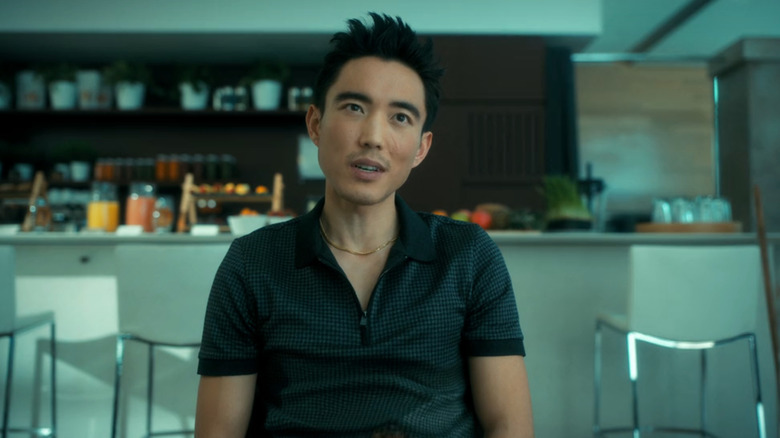 Netflix
As "The Umbrella Academy" star Justin H. Min and showrunner Steve Blackman explained to TVLine following the debut of Season 3, they were fully aware of how Ben's hair looked at the end of Season 2. As such, they decided to change it for the Season 3 premiere regardless because it wasn't the look they were going for. According to Blackman, "We shot that [original] scene on the very last day of Season 2, and I did not want them to do that to his hair. It's supposed to be continuous [between the last scene of Season 2 and the first scene of Season 3] but ... I wanted to change it. So did Justin, so we did a little flip of that."
Neither Min nor Blackman liked the hairpiece used to give Ben his bangs at the end of Season 2, with TVLine relating that Blackman "couldn't stand" the sight of it. According to Min, the hairpiece kept coming loose, making it difficult to film. "The bangs had a great run, but they had to go," the "After Yang" actor said. "They kept falling out. It was going to be a nightmare to film with that, so the hair went up, and we called it a day."
Additionally, while quarantined during the COVID-19 pandemic, Min took to buzzing his head, which would have made attaching the bangs even more of a hassle. So, when you take a step back and look at all of the factors that went into the decision to change up Ben's hair, not only does it make sense — it seems like the right decision for everyone involved.