The One Man With The Power To Lock Down Jerry For A Seinfeld Reboot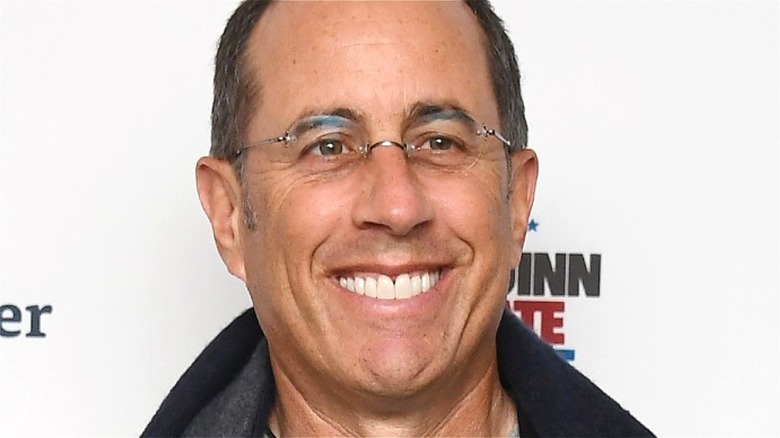 Nicholas Hunt/Getty
"Seinfeld" is one of those shows that helped define an entire generation, and references to the hit show have been laden through many forms of media ever since. Running from 1989 to 1998, "Seinfeld" follows the titular character as well as his closest friends Elaine Benes (Julia Louis-Dreyfus), George Costanza (Jason Alexander), and Kosmo Cramer (Michael Richards) as they obsessively nitpick their surroundings and interactions to often hilarious results. In 2013, "Seinfeld" was placed on a list of the best written television series of all time by the Writers Guild of America West, which put "Seinfeld" in the number two spot behind only HBO's "Sopranos."
At the height of the popularity of "Seinfeld," Jerry Seinfeld was making around $1 million per episode, per Time. But NBC was so hungry for more episodes of "Seinfeld" that they offered the comedian a truly massive pay bump to the tune of $5 million per episode. NBC Executive Warren Littlefield told Fox News of the network's attempts, "We didn't mess around. What we put on the table was unheard of. We went in there with a staggering sum and there was tremendous confidence that no one could walk away from it." He continued, "He came to me and said, 'I don't have a life, I'm not married, I don't have kids.' We gave it everything we had, he was tempted, but in the end it was a quality of life decision." 
However, it turns out there is one individual who could bring back "Seinfeld," but whom has greater power than $5 million per episode?
A baseball player from the New York Mets would do the trick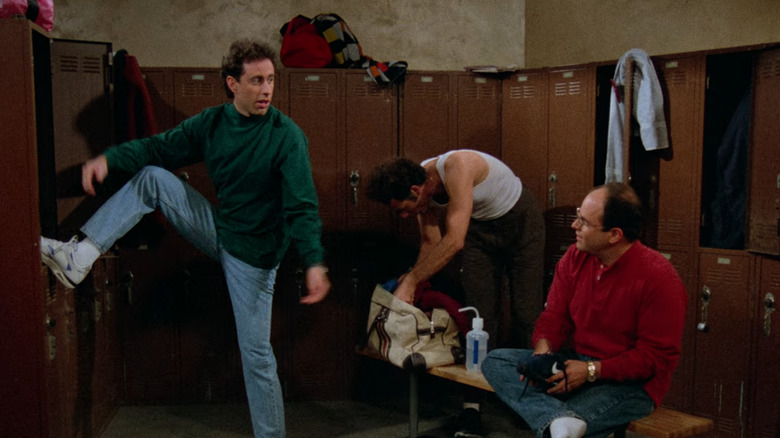 NBC
It turns out that the person who is most likely to aid in the reboot of "Seinfeld" is none other than famous baseball player Pete Alonso of the New York Mets. Taking to Twitter in 2019, Seinfeld wrote, "Deeply contemplating 'Seinfeld' re-boot if I can lock up [Pete Alonso] for next episode of 'The Boyfriend.'" The episode referenced is legendary for its use of Keith Hernandez, formerly of the New York Mets, and highlights Seinfeld's lifelong love of the popular American past-time and team. "The Boyfriend" is a two-part episode from Season 3 that features the previously mentioned Hernandez and sees a star-struck Jerry obsessing over the player while Elaine goes on a date with Hernandez and breaks a previous engagement agreed upon between the Mets player and Jerry.
This shout-out was not lost on Alonso, who has had previous interactions with Seinfeld. Speaking with USA Today, Alonso said of an exchange with the famous funnyman, "It was crazy, Jerry Seinfeld comes to a game and says, 'Hey Pete, nice to meet you, I'm a big fan.' I'm like, 'What? Jerry Seinfeld is a fan of mine? Get out of here.'"
Keith Hernandez recalls Jerry Seinfeld being 'star-struck'
NBC
Although Alonso is famous for his record-breaking efforts in the sport of baseball, it was Hernandez who was featured in "The Boyfriend" episode. So, if Seinfeld is able to get his wish, it would mark an additional time that he was able to bring somebody from the world of baseball to the world of television. 
Speaking with NPR, Hernandez recollected the events that led to his appearances in "Seinfeld" and noted that he had just retired when his agent called and asked about him working on the show. Although he had no previous experience acting and was kind of nervous about his guest-starring role, it seems as if he wasn't the only one in a position of awe. When asked about what it was like on the set of "Seinfeld," Hernandez told of how shy Seinfeld was in the beginning, saying, "The other principal actors were just laughing, coming up to me and going, Jerry's never like this. I can't believe it. He's, like, star-struck."
Needless to say, it appears as if money isn't enough to bring Seinfeld back to his namesake sitcom, though an opportunity to star alongside one of his favorite baseball players might seal the deal!