Jim Carrey Would Return For Another Ace Ventura Film Under One Condition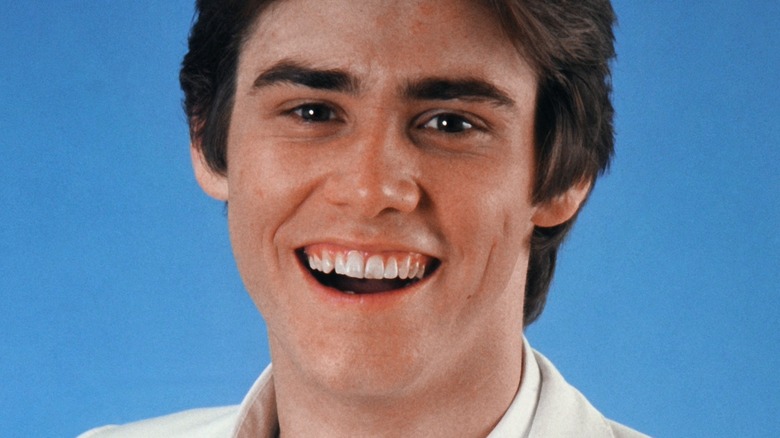 Donaldson Collection/Getty Images
Jim Carrey has played a lot of lovable buffoons, from his recent output as Dr. Robotnik in the "Sonic the Hedgehog" films, to his unforgettable antics as the Mask in the 1994 film of the same, not to mention his appearance as the Riddler in "Batman Forever." However, while Carrey has a lot of iconic characters under his belt, the star has mostly shied away from returning to them after a prolonged period of time, save for Lloyd Christmas: Carrey returned alongside Jeff Daniels for "Dumb and Dumber To" in 2015, a sequel that The Guardian described as "annoying and exhausting."
Beyond his "Dumb and Dumber" character, Carrey did play Ace Venture twice. The character first debuted in "Ace Ventura: Pet Detective," a film that went on to gross over $100 million in 1994 (via Box Office Mojo). The comedy follows the titular character, who serves as a private detective focusing on missing pets. After the success of the film, a sequel was quickly commissioned, titled "Ace Ventura: Nature Calls." Though the second entry in the franchise didn't have the same cultural hold as the first, it went on to make over $200 million at the global box office, making it one of highest-grossing films of 1995 (via Box Office Mojo).
As Hollywood continues to obsess over legacy sequels and reboots, some find it surprising that Carrey hasn't been tapped for a third film in the "Ace Ventura" franchise. In fact, Carrey is more than ready to return as the bumbling detective, as long as the right person is in charge.
Only an auteur could make a third Ace Ventura film happen
In an interview with E! News, Jim Carrey revealed that he would only return to the "Ace Venture" franchise for a threequel if an auteur or fearless filmmaker was involved. "Unless some genius person, director, auteur comes to you with a completely new take on what's going on, you know. If Chris Nolan came to me and said 'I want to make Ace Ventura real and I want to do something, you know, something more interesting...' then I might listen," the actor said. 
This is a consistent sentiment by Carrey, as the actor expressed a similar argument as his one condition for doing a direct sequel to "The Mask." As far as "Ace Ventura" goes, though, it's not surprising that "The Truman Show" actor brought up "Interstellar" helmer Nolan for the gig. After all, the duo worked closely together to develop a Howard Hughes biopic in the early 2000s, though plans were ultimately scrapped. Rumors had been circulating since 2019 (via Twitter) that Carrey would return as the titular Pet Detective and things seemed to be moving forward when it was confirmed in 2021 that the film would be penned by the "Sonic the Hedgehog" scribes (via IGN). Carrey's comments to E! News regarding the threequel, though, came around the same time the Canadian actor announced the sad news that he was thinking of retiring. 
An auteur or "genius person" could arguably reinvent the franchise, and for Carrey, that's important. As he told E! News, "After a certain time there's not one cell in your body that is that person anymore, so you end up just imitating what you did in the old days and the original inspiration isn't there."