Dakota Johnson's Pick For The Best 50 Shades Of Grey Scene Isn't What You'd Think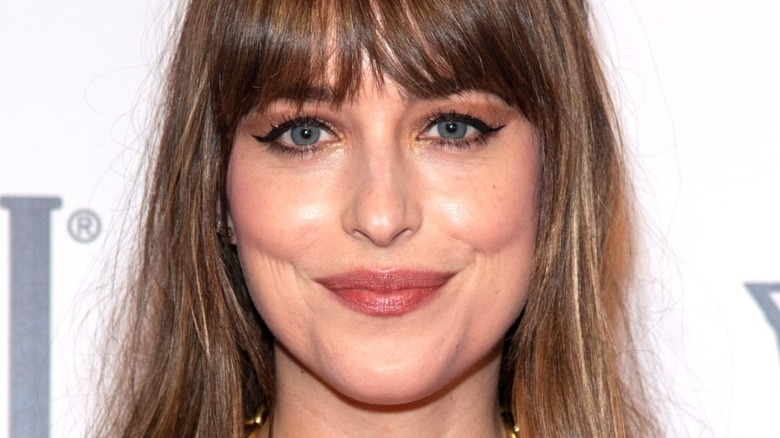 Ron Adar/Shutterstock
Dakota Johnson rose to prominence in 2015 when she starred in "Fifty Shades of Grey," the erotic romantic drama based on the best-selling novel of the same name by E. L. James. The film follows a college graduate, Anastasia Steele (Johnson), as she begins a relationship with a 27-year-old billionaire Christian Grey (Jamie Dornan). Johnson returned for the two sequels, 2017's "Fifty Shades Darker" and 2018's "Fifty Shades Freed." Despite being successful on a financial scale — the first film, for example, made over $569.6 million worldwide per Box Office Mojo — the franchise wasn't exactly praised by critics or the general public. "Fifty Shades of Grey" has just a 25% Tomatometer score next to a 41% audience score on Rotten Tomatoes.
Critically lauded or not, the franchise undeniably opened up doors for Johnson, who has continued to have a prolific and successful career since. She has starred in films such as 2018's "Suspiria," 2018's "Bad Times at the El Royale" and 2021's "The Lost Daughter." She's starring in a new adaptation of the Jane Austen novel "Persuasion" produced by Netflix and MCU's "Madame Web," in which she will play the titular role.
Despite the distance that her career now has from the "Fifty Shades" trilogy, Johnson is still sometimes asked about the films in interviews. Recently, Johnson revealed her favorite scene in the first film, and it may not be what you'd expect.
Johnson discussed the complications behind making Fifty Shades of Grey
While speaking with Vanity Fair for a profile, Johnson delved into what it was like to film "Fifty Shades of Grey," including the many complications that went on behind the scenes. Johnson began by stating, "I signed up to do a very different version of the film we ended up making." She then explained that, when she initially signed on, there was a different script written by playwright and screenwriter Patrick Marber. Additionally, "Sons of Anarchy" actor Charlie Hunnam was slated to star as Christian Grey. However, the novel's author, E. L. James (who goes by Erika), was given creative control on set and was constantly changing the scenes to depict how she wanted to see them.
Johnson said, "She had a lot of creative control, all day, every day, and she just demanded that certain things happen. There were parts of the books that just wouldn't work in a movie, like the inner monologue, which was at times incredibly cheesy. It wouldn't work to say out loud. It was always a battle. Always."
After Hunnam dropped out of the project (citing scheduling conflicts), James demanded that the script be changed — it was then rewritten by Kelly Marcel, who ultimately received the screenplay credit.
However, while on set, Johnson had allies in director Sam Taylor-Johnson and Jamie Dornan. The three tried to implement Marber's original script into production as much as possible, and one of those scenes remains Johnson's favorite of the film.
Johnson thinks the negotiation scene is the best
Johnson detailed that, every day while shooting, they would do each take twice — first the way that James wanted to see it and second the way that she, Dornan, and Taylor-Johnson wanted to see it. She said, "The night before, I would rewrite scenes with the old dialogue so I could add a line here and there. It was like mayhem all the time."
According to Johnson, just one scene from Marber's original script made it into the film: the scene in which Anastasia and Christian negotiate a contract for their sexual relationship. Johnson added, "And it's the best scene in the whole movie."
Despite all of the complications — and the critically panned finished product — Johnson doesn't regret making the "Fifty Shades" films. She told Vanity Fair, "I don't think it's a matter of regret. If I had known... If I had known at the time that's what it was going to be like, I don't think anyone would've done it. It would've been like, 'Oh, this is psychotic.' But no, I don't regret it." She also added that her career, as well as Dornan's, benefitted from the franchise, which she is grateful for.