The Women Of The MCU Want Their Own Avengers Movie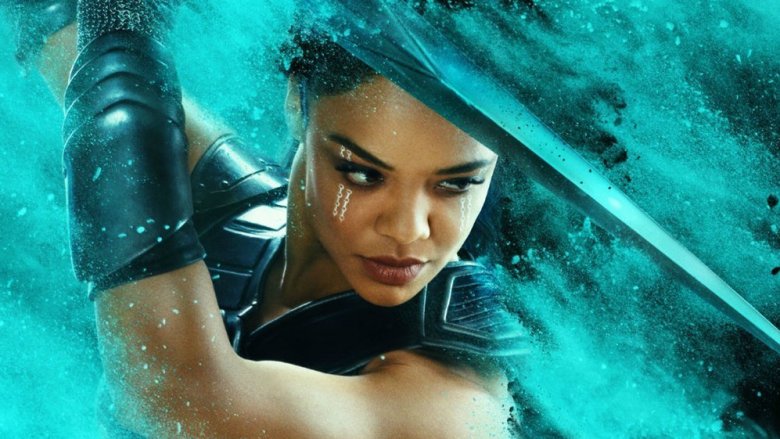 Marvel Studios
The female superheroes of the Marvel Cinematic Universe recently teamed up to fight a new battle: they want their own Avengers movie.
At a press event for Thor: Ragnarok, Valkyrie actress Tessa Thompson revealed (via io9) that she assembled some of the other actresses in the MCU to ask Marvel Studios president Kevin Feige for an ensemble flick. 
"Recently, I marched up with a couple of other women that work in Marvel and we went to Kevin [and asked], 'What about a movie with some female super heroes? Like all of them?'" Thompson said. 
Feige, who was also on the panel, confirmed that it happened and said he was surprised. "It was a pretty amazing moment to be somewhere and have your shoulder get tapped and turn around every female hero we have is standing there going, 'How about it?'" he said. "And I said, 'Yes.'"
Of course, a lot of things get said during press events, and it's no sure thing that it'll happen. But Mark Ruffalo, who plays the Hulk, suggested a possible name for the team. "The Fevengers!," he jokingly said. 
Thompson wasn't a fan of the name, but continued building her case. "There's a precedent for it in the comics, right?," she said. "With teams like Lady Liberators?"
She's referring to an all-female superhero team that first appeared in 1970 including the Enchantress, Wasp, Black Widow, Scarlet Witch, and more. It's worth noting that DC already has its own female ensemble in the works with Margot Robbie as Harley Quinn in Gotham City Sirens.
Of course, Marvel already has a full slate through Avengers 4, but all bets are off after that. And if the studio decides to follow through with a movie like this, Captain Marvel (Brie Larson) could potentially join up, too. But for now, we still have to meet Valkyrie, who will be introduced in Thor: Ragnarok on Nov. 3.