The Hilarious Casey Scene On Chicago Fire That Means More Than You Think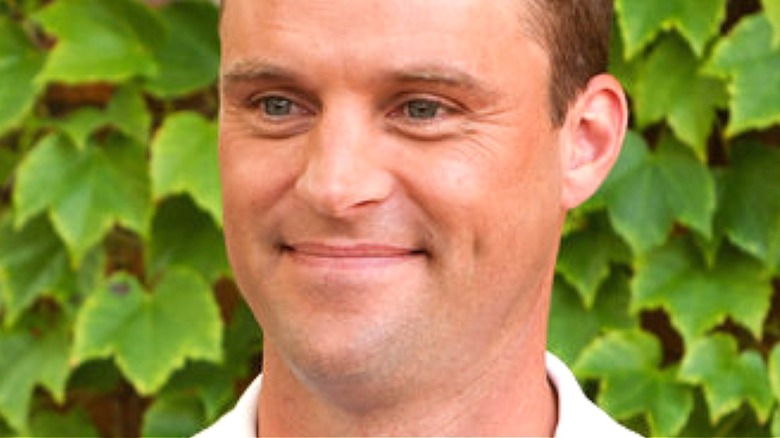 Adrian S. Burrows Sr./NBC
Actor Jesse Spencer has made a name for himself in recent years playing a beloved character on NBC's "One Chicago" franchise. Spencer appeared as fire captain Matt Casey on "Chicago Fire" for 10 Seasons before the character's emotional departure. While early seasons saw Casey frequently quarreling with fellow firefighter Kelly Severide (Taylor Kinney), the pair are able to eventually set aside their differences and forge a brotherly bond. Casey is characterized by his strong work ethic and determination in the face of adversity, a winning combination that Spencer evokes with ease. 
As a drama series, "Chicago Fire" has plenty of intense storylines, but it also features some calmer moments that demonstrate what the characters are like once they're off the clock. Even when the characters aren't fighting fires, though, they can't escape the heat, especially when it comes to love. Casey has been coupled up with a few romantic interests over the years, giving the character a chance to express his softer side. In fact, there's one playful sequence that explores Casey's relationship with paramedic Sylvie Brett (Kara Killmer) while also paying homage to Spencer's roots. 
Australian actor Jesse Spencer fakes his real accent
Although Jesse Spencer does have a convincing American accent, he was actually born in Australia. While he's used his actual accent on the show before, there's a particularly amusing instance in the Season 9 premiere that pokes fun at Spencer's true heritage. The episode, titled "Rattle Second City," follows Sylvie Brett after she's threatened by a gunman, leading Casey to stay over at her apartment. They spend their time playing a game similar to the Heads Up! app and the category is accents. When "Australian" comes up on the screen, the actor imitates an exaggerated version of his own accent, a trick that is surely not as easy as it looks. 
"It just takes a lot more work," Spencer said of perfecting his vernacular in an interview with One Chicago Center. "You can't just show up and do it. There's a bit more homework that you have to do, in terms of sounds and combinations of sounds and musicality or lack of musicality."
Despite whatever effort went into pulling off the Australian playing an American playing an Australian performance, the resulting scene is a light-hearted exploration of Casey and Brett's palpable chemistry. Fans of the show also appreciated the reference. "They've had Casey do his Australian accent twice and it cracks me up that every time the person he's talking to is like 'that was awful,'" says Redditor u/s8n_isacoolguy. While Jesse Spencer employed an accent on "Chicago Fire," you can hear his real voice in other projects like "House" and the Australian soap opera "Neighbours."