What's The Song At The End Of Westworld Season 4 Episode 1?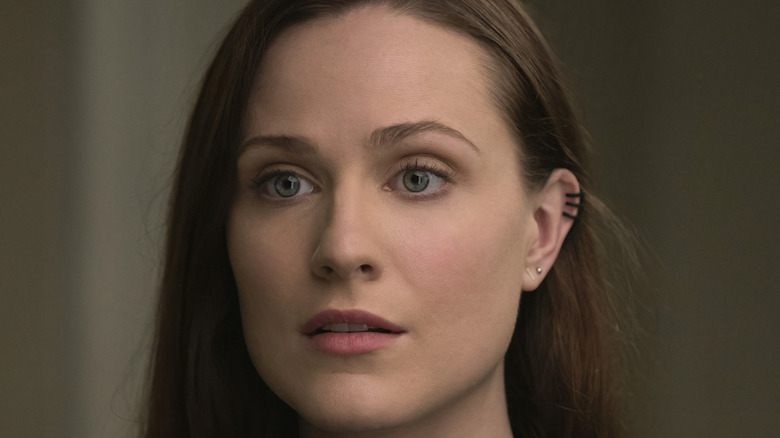 John Johnson/HBO
Contains spoilers for Westworld, Season 4, Episode 1, "The Auguries"
"Westworld" is finally back on our screens after a grueling two-year wait after the end of Season 3. Dolores Abernathy (Evan Rachel Wood), Maeve Millay (Thandiwe Newton), and Caleb Nichols (Aaron Paul) have set the world on a new path by destroying nefarious A.I. Rehoboam, which was dictating the lives of every single person on the planet. But Season 4 picks up over seven years after the robot revolution, and a new threat has emerged in William (Ed Harris), also known as the Man in Black. Although Dolores dies at the end of Season 3, Wood is a huge part of the latest batch of episodes as a melancholic writer named Christina living in New York City.
Christina's origins remain unclear, but Wood discussed her new character with Entertainment Weekly ahead of the Season 4 premiere, saying, "She's much more human this season, so it was fun for me." The actor also teased that Christina operates much differently from Dolores, who often gives in to her rebellious streak, adding, "Usually the show is incredibly physically exhausting in every way, and this season I felt like [Christina's] a little more of a nerd, honestly. She's a loner, nerdy kind of writer that's just trying to make it in the big city."
By the end of the premiere, Christina wonders whether she's had a bigger impact on the world when someone accuses her of controlling their life as if it's one of the stories she's written. Luckily, the writer has a silent guardian in the shadows who makes sure she's safe — and the episode's closing moments show that Dolores' old beau Teddy (James Marsden) is the one protecting Christina. But the surprisingly emotional reveal is scored to a typical "Westworld" instrumental remix of a beloved pop anthem from 2012.
Lana Del Rey soundtracks the Teddy reveal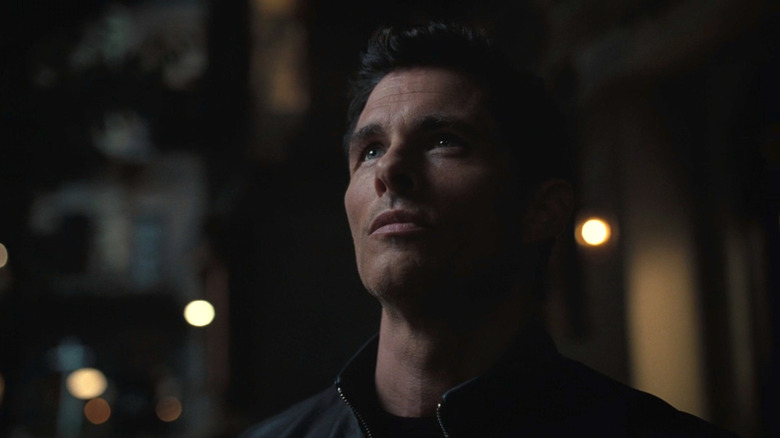 HBO
"Westworld" has always adapted modern songs into its score by instrumentalizing them to fit in with the aesthetics of the park itself. Composer Ramin Djawadi does so with a unique flair that somehow helps elevate the original track with grandeur, and the Season 4 premiere is no different. While Christina tries to write a new story about a girl who wants something more out of life, while Teddy steps out of the shadows, an instrumental version of Lana Del Rey's 2012 hit "Video Games" swells over the scene.
Considering Teddy died back in Season 2, it's a huge revelation that he's still alive (somehow), but the emotional weight is there because he's still looking out for this new version of Dolores — and the instrumental version of "Video Games" is an appropriate choice for the scene. One of the lyrics from Del Rey's original song is "It's you, it's you, it's all for you, everything I do," which easily relates to Teddy's devotion to Dolores over the years. While another key line is "I heard that you like the bad girls, honey, is that true?" Yes, Teddy definitely likes the bad girls, honey. Dolores did start a robotic revolution after all.