Futurama Is Headed To Hulu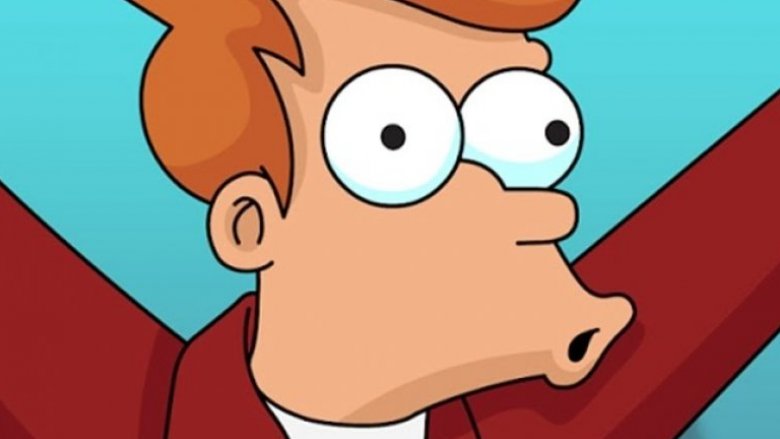 Those hoping to head back to the 31st Century, fear not. Matt Groening's beloved sci-fi-comedy series Futurama will be available to stream once more.
Hulu has confirmed that the entire library of Futurama, including all 140 and four movies produced between 1999 and 2013, is hitting the streaming site on October 16 (via Variety). 
The series used to stream on Netflix, but was removed in its entirety in July of this year. Though the video-streaming service started removing season of Futurama prior to that date, it wasn't confirmed until June that the show was being wiped away completely. 
In the cult-classic animated show, pizza delivery guy Phillip J. Fry (voiced by Billy West) accidentally freezes himself on New Year's Eve, 1999. For 1,000 years, Fry is motionless in time, then suddenly wakes up in New New York where he lands a gig at the intergalactic delivery company Planet Express. 
Core members of the Futurama voice cast include John DiMaggio as the kleptomaniac robot Bender, Katey Sagal as the enchanting cyclops Leela, Phil LaMarr as Planet Express accountant and Grade 34 Jamaican bureaucrat Hermes Conrad, Lauren Tom as intern Amy Wong, Maurice LaMarche as Morbo, Tress MacNeille as MomCorp founder Linda/Mom. David Herman as Scruffy and Frank Welker as Nibbler are also notable stars. 
On the technical side, Hulu acquired the non-exclusive streaming rights to the series earlier this summer via a pact with Twentieth Century Fox Television Distribution. The deal also gave Hulu the full library of Bob's Burgers and The Cleveland Show content, and in the upcoming weeks, the streaming site will add all past seasons of the Seth MacFarlane-created series American Dad alongside Futurama. 
Futurama's induction into Hulu's catalogue of content is yet another instance of the show coming back to life years after it concluded. This summer, 21st Century Fox's FoxNext Games and Jam City's TinyCo studio released a free-to-play game called Futurama: Worlds of Tomorrow, which led to an exclusive podcast double episode debuting to promote the title. The 42-minute audio podcast features original voice actors West, DiMaggio, Sagal, LaMarr, Tom, LaMarche, MacNeille, Herman, and Welker and Nerdist founder Chris Hardwick, who originally pitched Groening on the podcast concept. 
Less than a month after Futurama arrives to Hulu, the series will premiere on Syfy on November 11. It will continue to air regularly in primetime on Mondays and Tuesdays from 8 a.m. to 2 a.m. ET/PT and on Saturday from 8 to 11 a.m. ET/PT.