Futurama Is Returning In New Format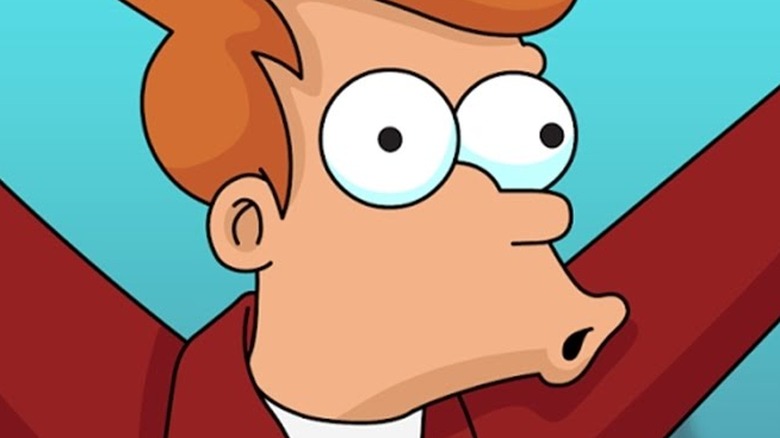 YouTube
If you were holding out hope for a return to the 31st Century, listen carefully.
Entertainment Weekly reports that Futurama is making a comeback after a four-year hiatus. But there's a major catch: it's only for one episode... in audio format. 
The Emmy-winning sci-fi animated comedy series will make its official return in a 42-minute, double-length podcast episode that reunited series creatives Matt Groening and David X. Cohen with all the original cast members. Those tuning in should also keep an ear out for Borax Kid, Calculon, and "All My Circuits."
Billy West as Fry, John DiMaggio as Bender, Katey Sagal as Leela, Phil LaMarr as Hermes Conrad, Lauren Tom as Amy Wong, Maurice LaMarche as Morbo, Tress MacNeille as Linda, David Herman as Scruffy, and Frank Welker as Nibbler are all set to board the Planet Express on its way to the deleted file planet known as Junkelon 7. As the crew journeys there, they cross paths with Klaxxon, a "nefarious life form composed entirely of soundwaves from 21st-century podcasts." Fry and his companions must work hard to save Earth from Klaxxon's destructive, lethal soundwaves. 
A venturing into new territory for the Futurama writers and cast, the limited audio reboot also sees everyone involved reconvening to put forth original content for the recently released Futurama: Worlds of Tomorrow mobile game. In the title, players make their way to Planet Express and embark on missions as the show's characters. 
Talking Dead host, Nerdist founder, and Futurama: Worlds of Tomorrow voice actor Chris Hardwick was a key component in bringing the audio version of Futurama to life. "Last year I cornered two fine gentlemen—Matt Groening and David X. Cohen—and pitched the idea of doing a new Futurama episode as a podcast/radio play because it's one of my favorite things AND I NEED MORE OF IT," Hardwick said in a statement (via EW). "Today I am drooling with unfiltered joy to say that a) it's actually happening, b) I got to voice the villain (Klaxxon), and c) I'm a freaking head in a jar in Futurama: Worlds of Tomorrow, a game I've been feverishly playing since it came out. Galaxies of thanks to Matt, David and TinyCo for acquiescing to the maniacal ravings of a well-meaning fanboy."
Cohen expressed an equal level of excitement in his own remarks: "Futurama has set off a strangely sci-fi-ish paradox where the episodes inspired the Futurama: Worlds of Tomorrow game, and now the game is inspiring new episodes. Hooray for infinite loops!"
The upcoming podcast episode will be available on September through Nerdist, Soundcloud, and Spotify for the low, low price of absolutely free. Until then, discover the untold truth of Futurama.