The Former Big Brother Houseguest That Fans Think Should Take Over As The Show's Narrator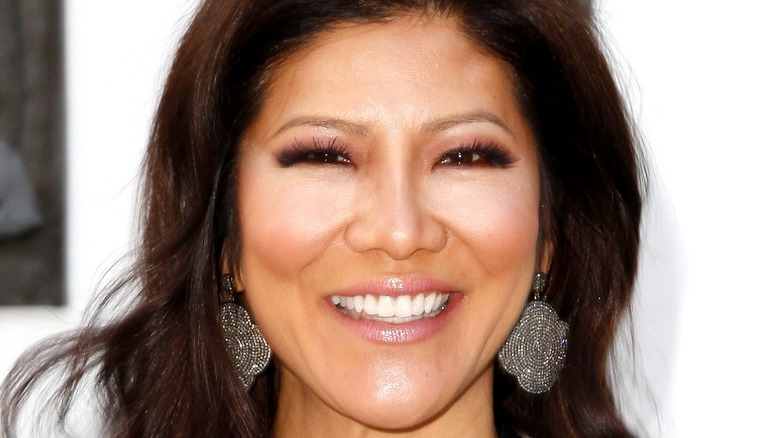 Tibrina Hobson/Getty
Julie Chen has long been the face of "Big Brother." The wife of former CBS chief Les Moonves has helmed the CBS summertime reality show since its inception in 2000, and has come away with a tagline, "Expect the unexpected," as well as an alter ego, ChenBot. Chen does it all: hosting, house tours, and even dabbling in social media teasers for the show. It's hard to image "Big Brother" without Chen, but there is another familiar presence on the cast that has been there for the long haul — but it's a "voice," not a face.
The inside "voice" of "Big Brother" is an announcer named Don Wollman, per Yahoo Entertainment. His voice is often heard in the house as he tells the houseguests to head to the backyard or to the diary room. But the "Big Brother" promos and recaps are narrated by Clayton Halsey, who told Yahoo it is not an easy narrating gig. "it's a very different reality show from any that's been made, with three shows a week and all that. I've always likened it to a freight train," he said. Halsey's IMDb page also lists him as the announcer of the most reason season of "Celebrity Big Brother," which aired in early 2022.
But would "Big Brother" be the same without that familiar narrator's voice?
Fans think Big Brother alum Britney Haynes would make a great narrator
"Big Brother" has made celebrities out of major strategists such as Will Kirby, Dan Gheesling, Rachel Reilly, and Derrick Levasseur. Should a behind-the-scenes "Big Brother" opening ever pop up, it would be a no-brainer to fill it with a past winner. But some superfans have a different idea for a narrator, and it's someone who didn't snag the show's $500,000 grand prize.
In a Reddit thread, fans nominated two-time "Big Brother" contestant Britney Haynes as the perfect new announcer. Britney competed in Seasons 12 and 14 of the CBS competition a full decade ago, and while she didn't win the grand prize, she won over plenty of fans.
"I always think that Britney should narrate every BB episode or host some sort of after-show discussion," wrote Redditor u/iliketowalk. "BB12 was the first season I watched and I fell in love with Britney instantly, what an icon," u/ApolloWidget gushed. "Nothing compares to @britneyhaynes on Big Brother, honestly the show has never been as good," a third fan, @Glenn_Weisinger, tweeted. "Britney should be the BB narrator," another Twitter user, @Haley_X0X0, suggested.
Britney was known for her animated diary room sessions and spot-on impressions of her housemates –- and yes, she was "busted" mocking reigning Head of Household Reilly while wearing red-hair extensions on her head. Oops. While her own Quack Pack alliance served as her demise, Britney appeared to be a favorite of CBS producers. Years after her "Big Brother" evictions, she competed on "The Amazing Race," per IMDb. 
Alas, according to her Instagram, Britney is now a busy mom and a realtor, so it looks like she won't be giving fans a 'Big Brotherrrrrr" anytime soon.