Mark Wahlberg Confirms What We Suspected All Along About Mel Gibson's On-Set Behavior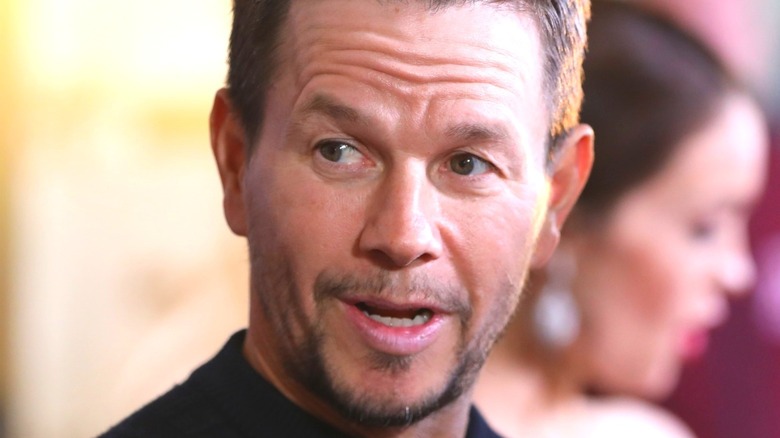 Scott Eisen/Getty
It's been nearly two decades — and several apologies — since Mel Gibson came under fire for making anti-Semitic comments during a widely-publicized DUI arrest (via CNN). And still, the legendary actor and filmmaker is cast in a negative light by people who don't truly know him. But what about those who actually do? What do people like Mark Wahlberg and other actors who've worked with Gibson have to say about him? And what's it like to be on a set with the controversial Oscar winner all these years later? 
According to his 2006 DUI arrest report, Gibson went into a drunken tirade during his detainment that saw him making multiple offensive remarks about members of the Jewish faith. "The Jews are responsible for all the wars in the world!" Gibson said, according to police (via Los Angeles Times). Not long after the incident, the "Braveheart" star issued a public apology to the Jewish community, which he has done several times now. "I want to apologize specifically to everyone in the Jewish community for the vitriolic and harmful words that I said," Gibson wrote in a statement (via ADL). 
Speaking to Variety in 2016, Gibson claimed: "I was loaded and angry...Ten years have gone by. I'm feeling good. I'm sober, all of that kind of stuff." A number of celebrities came forward and showed support for Gibson after the incident, including Marvel star Robert Downey Jr., who asked Hollywood to forgive him during a 2011 award ceremony in Los Angeles (via The Telegraph). Gibson was eventually able to make a successful comeback, and his 2016 movie "Hacksaw Ridge" was showered with Oscar nominations at the 89th Academy Awards. He went on to star in more movies as well, including "Daddy's Home 2" and 2022's "Father Stu" with Wahlberg, who reportedly has nothing but nice things to say about Gibson these days. 
Wahlberg says Mel Gibson is great to work with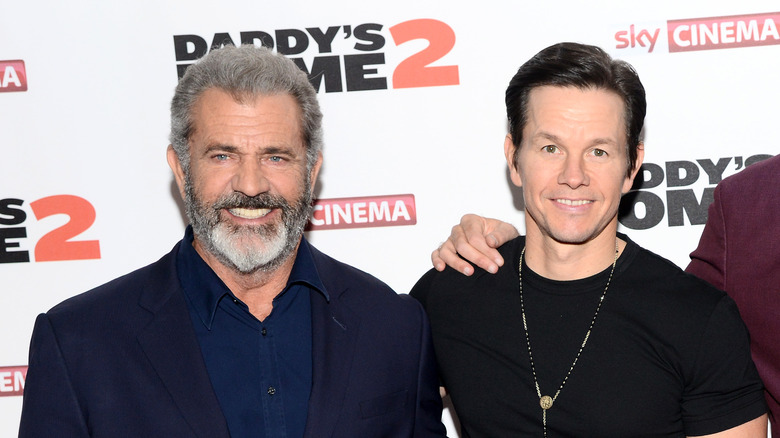 Dave J Hogan/Getty Images
With two movies under their belts now, Mark Wahlberg and Mel Gibson have spent enough time together on set for Wahlberg to know what the controversial "Passion of the Christ" director is truly like. And as most would suspect, the man is a complete and total professional. 
"[Gibson] has a lot of real-life experience and to be able to go in and be as raw as he was, he did a fantastic job," Wahlberg said during an April 2022 interview with the "Pints With Aquinas" YouTube channel, describing Gibson's behavior on the set of "Father Stu," which has a 95% audience score on Rotten Tomatoes. "He was very, very helpful," Wahlberg added. After filming their first movie together — 2017's "Daddy's Home 2" — Wahlberg said he immediately knew what kind of person Gibson really was and wanted to continue working with him. "It would be a dream to hear Mel say 'action' and 'cut,'" Wahlberg explained to People in 2018. 
A source close to Gibson told the magazine that one of the things many people praise him for is his ability to hold himself accountable. "He was very stubborn about it for a long time," the source said. "He now realizes that it was a distraction from his work. Mel wants to be remembered for his work. He has worked on his issues and has definitely shaped up." Speaking to The Federalist in April 2022 while promoting "Father Stu," Wahlberg echoed the source's statement. "He has been through lots of struggles and challenges but wants to continue to do good," Wahlberg said.