Pete Davidson's Favorite SNL Sketch Of All Time May Surprise You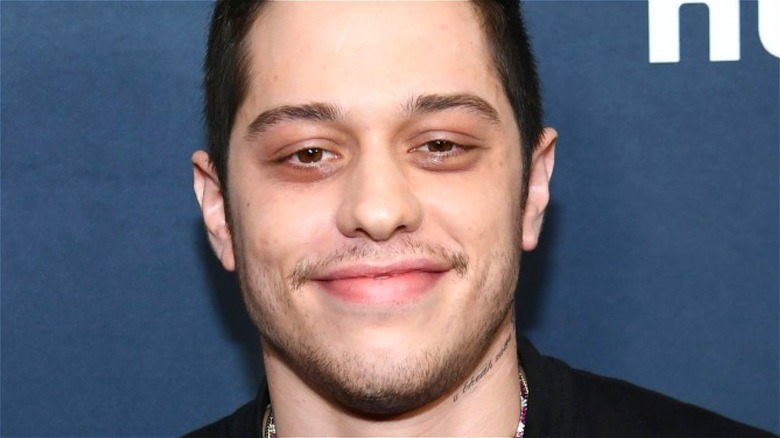 Dimitrios Kambouris/Getty
Pete Davidson has quickly ascended the Hollywood echelon to become one of the most in-demand actors working right now. After getting his start in stand-up comedy, he quickly started securing acting gigs, eventually landing within the hallowed halls of "Saturday Night Live." Once there, he became just as much known for his dating life as his comedic chops. 
Davidson remained on the show until 2022 when he announced he was leaving. He won't be short for work, either, as he has numerous projects in the works, including upcoming films like "Bodies Bodies Bodies." But for many, he'll forever be known for playing laid-back dudes on "SNL" or his recurring segments where he offers his own commentary on pressing issues during "Weekend Update." Pete Davidson more than made his mark on the long-running sketch comedy series, but when all is said and done, it's curious to think about what the actor's favorite sketch is.
Pete Davidson couldn't help but crack up during the Diner Lobster sketch
Sometimes, "SNL" goes completely off the rails for a sketch, venturing into territory no one could have guessed. That's precisely the case with the sketch for "Diner Lobster," where Davidson's character orders lobster at a diner. Everyone's perplexed because surely he knows no one ever gets the lobster at a diner. But he insists, and what follows is a musical parody of "Les Misérables," where the lyrics have been switched out to tell the story of the plight of the lobster, played by Kenan Thompson.
In a 2018 interview with Variety, Davidson mentioned how that's probably his favorite sketch of all time. And as he puts it, "Not because it's like the funniest sketch in the world, it's really funny, but it's just the most f***ing ridiculous thing I've ever seen in my life." As evidence of this, look no further than the sketch itself. At one point, the camera pans to Davidson after it's been on Thompson in his lobster costume, and he's laughing hysterically. Davidson has an explanation for that, too, stating, "I'm like not good at ... I can't not laugh, it's like, sorry. I'm not a good actor. Like, you know what I mean. Like, you hired me, it's not my fault."
With no shortage of work in his future, it's safe to say Davidson will continue making audiences (and himself) laugh for quite some time.