Miles Teller Has Something To Say About Chris Hemsworth Following Spiderhead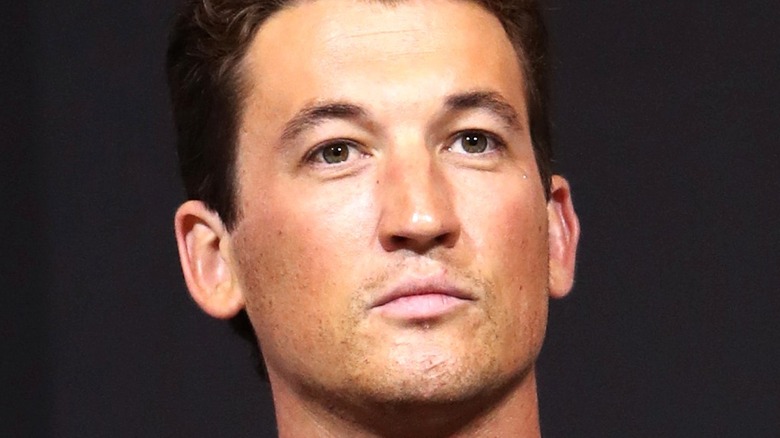 Chung Sung-jun/Getty
Chris Hemsworth is one of Hollywood's most sought-after stars, so it's no surprise that his "Spiderhead" costar Miles Teller has some interesting advice for him. Hemsworth has been at the forefront of Hollywood since 2011 when he debuted as the Marvel Cinematic Universe's Thor. Since his first outing as the God of Thunder, the Australian star has appeared as the superhero over half a dozen times and seems committed to a future with the MCU after "Thor: Love and Thunder."
Despite being at the forefront of the world's biggest franchise, Hemsworth has still taken the time to star in various other genre roles. The actor notably appeared in the 2019 sci-fi film "Men in Black: International" and headlined "Extraction," one of Netflix's most successful debuts (via Bloomberg). Hemsworth is on track to continue his action hero persona with George Miller's "Mad Max: Fury Road" prequel "Furiosa," filmed in his native Australia.
Taking a look at Hemsworth's filmography, fans are hard-pressed to find more than a few roles that don't involve him saving the day with a gun or Mjölner. Like Robert Downey Jr., who is difficult to separate from Iron Man, many moviegoers associate Hemsworth with Thor. A panel at The Nerds of Color even argued that the Australian star doesn't have the pull to draw in audiences beyond his appearances in the MCU. On the other side of that conversation is Teller, who shared his opinions about Hemsworth after appearing with him in Netflix's "Spiderhead."
Miles Teller says Chris Hemsworth is capable of anything
Miles Teller believes that Chris Hemsworth is capable of anything and hopes that audiences begin to recognize his abilities. Speaking with Collider, Teller expressed interest in seeing Hemsworth's future unfold with non-MCU roles. Teller explained, "He's really just a gamer. I think that the more stuff outside of Thor that he does and people are able to see, I think they'll really start to speak about him as just a great actor, not as Thor, superhero, any of that stuff."
"Spiderhead," a mostly action-less flick, is a significantly different role for Hemsworth to take on. In the film, Hemsworth plays a pharmaceutical genius who oversees the testing of innovative, albeit experimental, drugs. While Looper suggested that Hemsworth was miscast in its negative review of "Spiderhead," it wouldn't be fair to say that the actor wasn't trying his best in a complex role. 
That's not to say that his work in "Thor" isn't difficult in its own right, as Teller continued by pointing out how complicated it can be to work on a VFX-heavy film. "Those parts are really hard to do. Having dabbled in it a little bit with all the green screen, that's really tough and I think Chris is just, he can do whatever he wants, man," the star said, referencing his stint as Mr. Fantastic in the poorly received 2015 "Fantastic Four" reboot (via Rotten Tomatoes).
Teller was clearly inspired by his "Spiderhead" costar, saying: "There's not a single performance that he's not capable of, and he absolutely raised my game."