The R-Rated Movie You Forgot Starred Comedian Eddie Murphy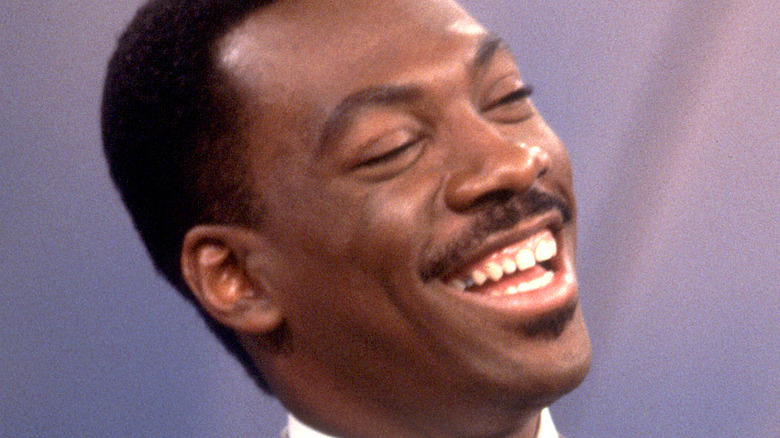 Paul Natkin/Getty Images
Eddie Murphy joined the cast of "Saturday Night Live" in 1980 when he was only 19 years old, so it's very easy to forget that the actor and comedian struggled at first. Murphy originally began booking clubs and late-night gigs as a teenager before becoming part of The Not Ready For Prime Time Players (via Biography). Murphy remembered during an appearance on "The Tonight Show Starring Jimmy Fallon" that he had to audition multiple times for producers before landing the gig, but his comedy and impersonations eventually got him on the series.
The performer became widely known on the show for his dark parodies of beloved children's figures like Gumby and his celebrity impressions. His charisma and natural sense of humor made him an obvious star, and Murphy eventually left "Saturday Night Live" in 1984 to focus on his increasingly successful film and stand-up career. That same year, he appeared in the smash hit "Beverly Hills Cop" in his first solo outing as a lead actor.
However, another cop action-comedy had pointed to Murphy's potential in movies only a few years before.
He teamed up with Nick Nolte in 48 Hrs.
Walter Hill's buddy cop film "48 Hrs." stars Nick Nolte as Jack Cates, a grizzled SFPD officer who teams up with convict Reggie Hammond (Murphy) to catch two cop killers, Albert Ganz (James Remar) and Billy Bear (Sonny Landham). However, Hammond is only out of jail for two days, meaning he and Cates have — you guessed it — 48 hours to solve the case.
"48 Hrs." is Murphy's film debut, but it's difficult to tell considering his confidence and ease as a presence on the big screen. Critic Roger Ebert famously wrote that Murphy "becomes a star in just one scene," specifically when Hammond enters a racist country bar and, posing as a cop, completely controls the situation and gets some crucial information.
It's hard to imagine seeing early dailies of Murphy and Nolte together and not being excited by the movie. Yet cast member Chris Mulkey told The New York Times in 2006 that the studio executives hated Murphy's performance. However, both Hill and Nolte defended his work, and he stayed in the picture. The film's box office gross, critical acclaim, and Murphy's subsequent career certainly vindicated both the actor and the director.