The Small Detail In Finding Dory Fans Can't Get Enough Of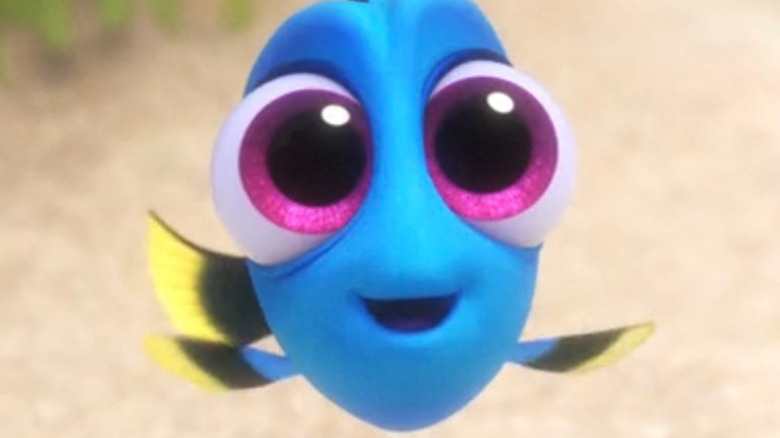 Walt Disney Studios Motion Pictures
Following up Pixar's Oscar-winning 2003 hit "Finding Nemo" (via IMDb) couldn't have been an easy feat, but the studio took a shot over a decade later with their 2016 sequel "Finding Dory." The movie follows the previous film's breakout comic relief character, Dory (voiced by Ellen DeGeneres), as she ventures to a California Marine research center searching for her long-lost parents. While not leaving quite the impact of its predecessor, the film managed to win over audiences, grossing over $1 billion worldwide (via Box Office Mojo), making it the eighth highest-grossing animated film of all time (via The Numbers). As well, it became a surprise to critics, sporting a more-than-respectable Tomatometer score of 94% on Rotten Tomatoes.
As with most of Pixar's lush library of animated gems, "Finding Dory" was a labor of love from the beginning. Director Andrew Stanton took his time with the sequel, conceptualizing it after a re-release of "Finding Nemo" in 2010 had the creator pondering Dory's fate (via Entertainment Weekly). Every detail is thought out with great effort to ensure the most compelling storytelling experience for viewers when crafting one of their animated films. From the main characters' design to the color of a chair in the background, no stone is left unturned. Fans have come to appreciate the level of care put into Pixar's catalog, including one particular comedic detail in "Finding Dory."
How did Pixar give Dory's dad a receding hairline?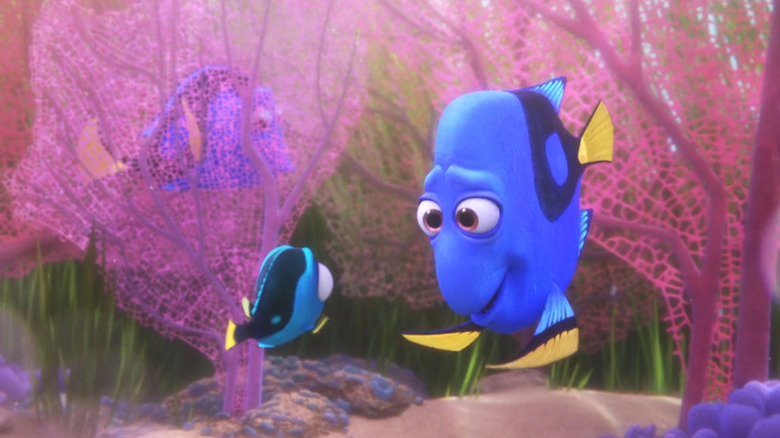 Walt Disney Studios Motion Pictures
As "Finding Dory" focused on Dory reuniting with her parents, not only would they have to resemble Dory believably, but they would also have to appear appropriately aged. So how do you depict that on a fish? A Reddit thread started by u/robomechabotatron shows a screenshot from the film with a caption commenting that the most fantastic aspect of "Dory" was how they managed to give a fish a receding hairline. This is the case for Dory's father, Charlie (voiced by Eugene Levy), whose rounded head shape and lower-placed black scales give him a classic middle-aged look.
The post had fans doing double-takes across the board at the unique design. Some like u/KwikDraw35 admit that they didn't even notice it. Others such as u/iAdden comment that they "...couldn't stop laughing at his hairline," and u/djhiggo pokes fun at it further by predicting the next film in the franchise, "Finding Hairline."
Meanwhile, user u/eisbaerBorealis raises a series of questions, asking, "... was he born with this pattern? Did he look like he was balding when he was a kid? Or does the black line move further back as he ages?" Although some regal blue tangs can change color during spawning (via ThoughtCo), it's probably not likely that we'll be spotting one with a subsiding pattern anytime soon on National Geographic.