The Eye-Popping Asking Price For A Rocket Car On American Pickers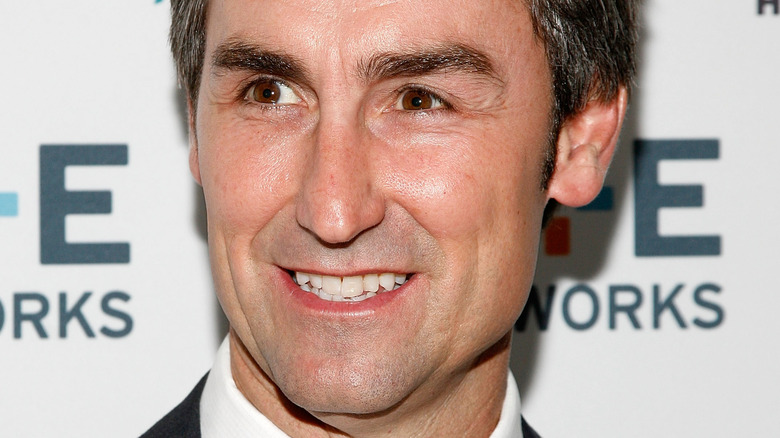 Andy Kropa/Getty Images
For more than a decade, the "American Pickers" team in its various iterations has made antiquing both an art form and a legit form of big-time entertainment. Since the very first episode of the History hit, that team has been led by Mike Wolfe, who has spent the better part of his adult life digging up long-forgotten treasures from the barns, backyards, and garages of collectors all over the country. As such, there's very little Mike and the gang haven't seen, and they've also likely purchased just about anything you can imagine, typically in hopes of flipping it for a profit in the Antique Archaeology store.
As most "American Pickers" fans know, Mike and his crew have scooped up numerous big-ticket items over the years and have often splurged on vintage cars and motorcycles. Occasionally, however, they've stumbled upon an automotive pick so rare and unique it seemed impossible they wouldn't take it home with them. That has, naturally, often depended on the asking price of such an item. Every once and a while, the price tag is enough to make a Picker's eyes bug out — which is exactly what happened when one collector and creator offered up a lofty asking price for his hand-built and street-legal rocket car.
The famed rocket car was too pricey for the American Pickers
You read that right. A Season 12 episode of "American Pickers" found Mike Wolfe and Frank Fritz bidding on an actual rocket car. Well, sort of. To be clear, the rocket car the Pickers tracked down was not actually powered by a rocket and was deemed 100% street-legal by the state of California. It was, however, ingeniously designed to look like a rocket ship straight from the pages of a classic comic book.
Mike and Frank came across the marvelous piece of machinery in an episode fittingly titled "Rocket Man." There the dynamic antiquing duo touch down in Los Angeles and make their way to the home of an enigmatic local artist and metal-worker, Baron Margo. What they found in the Baron's backyard and workshop was a legit treasure trove of sci-fi-inspired artworks. That included a cache of spaced-out cars and motorcycles the Baron built himself, with the aforementioned rocket car nestled among them. And yes, the Pickers were legitimately taken aback when the Baron quoted them a price of $50,000 for the vehicle.
If you're wondering why the price was so high, it's because the Baron rightfully viewed the wondrous machine as a fully-functioning, one-of-kind piece of pop art. Even though Mike and Frank had a blast test-driving the vehicle, the asking price ultimately proved too steep for them to make the pick.