What Happened To Qball After Shark Tank?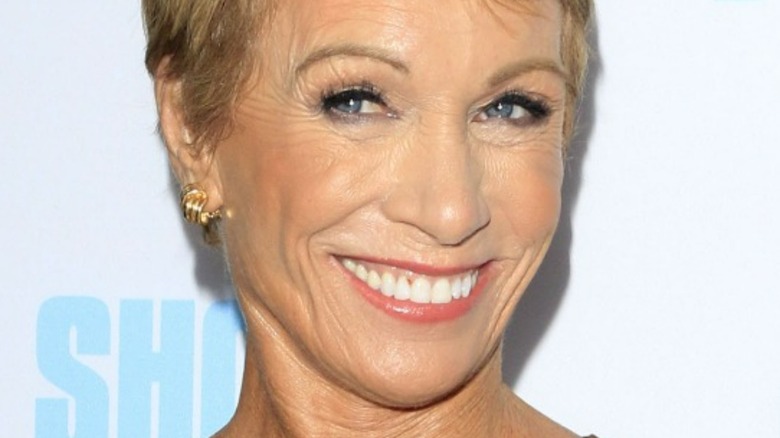 Kathy Hutchins/Shutterstock
On ABC's "Shark Tank" contestants vie for the attention of a panel of investors, televising what could be the most important sales pitch of their careers. For some savvy inventors and entrepreneurs, the reality series has launched their products into the limelight. Who could forget the altruistic appeal of Bombas Socks or the Scrub Daddy's coquettish grin? However, even the products securing financial backing on the best episodes of "Shark Tank" does not guarantee long-term success.
In a 2017 episode of "Shark Tank," Shane Cox entered the studio with a P.E. whistle and a dream. Dressed up in gym teacher duds, the nascent businessman pitched his idea for a product called Qball. Conceived as a tool for classrooms, Qball is a throwable, pliable ball with a built-in microphone. Cox explained that when a student is holding the Qball they have the floor, making the classroom experience more focused, dynamic, and interactive. When the ball is in motion, it automatically switches to a mute setting.
The sharks were ultimately won over by the Qball's compatibility with a range of audio systems, as well as its potential marketability towards companies and live events. Cox entered the studio in search of a $200,000 investment in exchange for 15% equity in his company. By the end of his pitch, he had secured investments from Mark Cuban, Lori Greiner, and Rohan Oza, signing a deal for $300,000 for 30%. Here's how the Qball has fared since the Season 9 episode of "Shark Tank."
Qball has expanded and netted millions
When Shane Cox entered the "Shark Tank" in 2017, Qball had already made $177,000 in sales, retailing for $179 a piece with a production cost of $52. Since then, the microphone with a twist has taken off. Per Lori Greiner's website, Qball netted over $3.9 million in sales in the two years after the episode aired. That's partly owing to the Qball's expanded market outside of the classroom, which includes business applications. It's not just kids, it would appear, that love lobbing a microphone ball around the room.
Qball has also made some key updates to appeal to a wider base, including compatibility with the Amazon software Alexa and Google Translate. It also syncs up with Microsoft applications, Google Hangouts, and Skype. The company also launched a second-generation Qball+, which offers USB functionality and a battery that lasts over twelve hours.
With these improvements, not to mention some key "Shark Tank" capital, Qball has expanded its team and marketed auxiliary products like sterilizers and fun-colored covers. It is also committed to its roots as a classroom tool, having introduced grant resources to educators looking to bring Qball to their schools.