The Subtle Sign At NBC Studios That Confirmed The Power Of This Is Us' Writing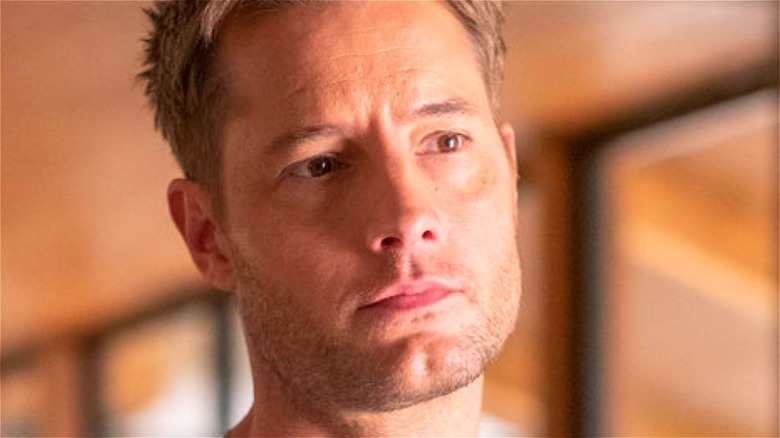 Ron Batzdorff/NBC
"This Is Us" is arguably known as the series to make even the coldest of hearts weep. Telling the story of the Pearson family through multiple generations and jumps in time has a way of cutting to the heart of life, often tackling universal struggles through the varied journeys of its characters. Even the main cast has admitted to the show making them cry on occasion, with each member choosing the scenes that cut them the deepest (via Entertainment Weekly).
Some have referred to the at-times heart-wrenching writing as "Fogeldust," moments from creator Dan Fogelman that make the audience glassy-eyed (via NPR). This isn't to say "This Is Us" is a series without its lighthearted moments. One such memorable scene came from guest star Sylvester Stallone, who appeared as himself starring in a fictional film featuring Kevin Pearson (Justin Hartley). It was a fun appearance with Kate Pearson (Chrissy Metz) telling Stallone how much his movies meant to her father.
However, there was a sign early on in "This Is Us" history that foreshadowed the effect the show was going to have for years. 
The network used to keep tissues with This Is Us logos in their offices
During a roundtable discussion, Dan Fogelman revealed that his show's reputation caught on rather quickly, even with people one would expect to be immune from staged emotion: TV executives.
After the first episode aired in 2016, Fogelman said "This Is Us" tissue boxes were being kept around NBC offices (via The Hollywood Reporter). Fogelman explained that some of the show's sadder moments being shared out of context from the rest of their episodes likely helped build its reputation as a tearjerker.
"I would write these artful scenes, and then all over the internet, it would be like, 'Share the moment' — and it's an out-of-context scene that makes people cry. It's not like we've ever sat around saying, 'I don't think we have enough to make people cry.' But people just cried a lot. I can't entirely explain it," the writer commented. The effect of the show's writing never let up, with Fogelman revealing that even pitching the 6th and final season turned out to be a uniquely emotional experience where some no doubt needed a few tissue boxes.
Dan Fogelman's pitch for the final season had executives in tears
While pitching the last season of "This Is Us" over a Zoom meeting with NBC producers, Dan Fogelman said he thought he'd need to take a break as people were crying and switching off their cameras (something super fans might already know about). 
Fogelman added that even he had been brought to tears on occasion while writing the more challenging scenes, including the death of William Hill (Ron Cephas Jones), the biological father of Randall Pearson (Sterling K. Brown), who ends up passing away from cancer. 
Brown shared with Deadline that Fogelman might be shocked at how emotional people get in reaction to his scripts, but he writes those scenes gladly and jokes with himself about how the show's sadder turns will affect the viewing nation. "He always says, 'I'm about to kill America.'"