The Supernatural Cast Gets Spooky In New Season 13 Photos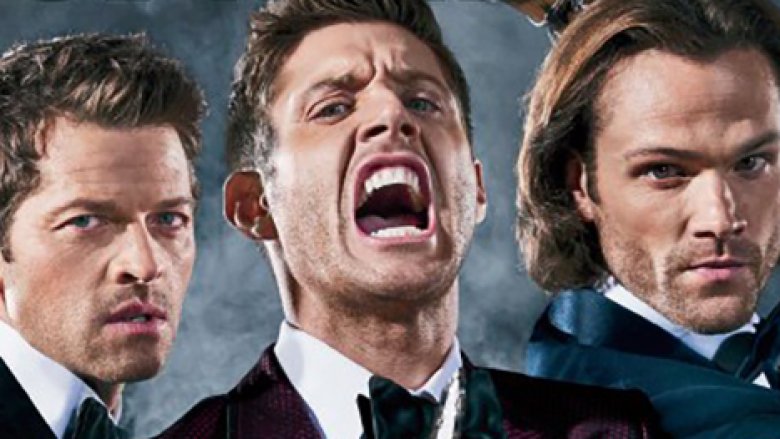 Entertainment Weekly
The boys are back and spookier than ever. 
Ahead of the season 13 premiere of the well-adored fantasy horror series Supernatural, Entertainment Weekly unveiled a bundle of new on-set photos and individual actor shots that show stars Jensen Ackles, Misha Collins, and Jared Padalecki getting into the Halloween spirit. 
The shoot features Ackles, Collins, and Padalecki roaming around a special graveyard stage built on the series' Vancouver set. Ackles dances with his skeleton partner and Padalecki motions for another skeleton to join him for a jive, while Collins gives his a piggyback ride and looks longingly into its non-existent eyes. 
From there, the snaps move to a white background. Ackles, who plays Dean Winchester, puts on a tough face while he poses with a pair of brass knuckles. Padalecki, who takes on the role of Sam Winchester, goes down a sillier path by grabbing a pumpkin in one hand and staring off in the distance. Supernatural fans will know the actor is totally channeling the season 4 episode "It's the Great Pumpkin, Sam Winchester!" Collins, who portrays Castiel on the show, is perhaps the goofiest of the three, seen wearing a cat-ears headband and drinking milk straight from the carton. 
Of course, the trio got a photograph together as well, in which Collins tries to lick Padalecki's face and Padalecki attempts to do the same to Ackles, who looks playfully confused by his co-stars' antics. 
The outlet also released exclusive season 13 stills alongside the Halloween-inspired photoshoot. We first see Ackles' Dean and Padalecki's Sam team up with Alexander Calvert's Jack, a hybrid creature made up of a human soul mixed with traces of angel known as a Nephilim. Another pic shows Adrian Holmes' James and Kim Rhodes' Jody Mills looking stern as they work on a case with Dean.
Finally, fans were treated to the official Supernatural-centered Entertainment Weekly magazine covers, three of which feature Ackles, Collins, and Padalecki on their own and a final one that has the trio together. Ackles holds a tiny black kitten in his cover, while Collins cuddles up to a cracked skull and Padalecki grins with a set of fake vampire teeth in their respective ones.
Supernatural returns for season 13 on Thursday, October 12. Until then, check out the full collection of photos below.