25 Movies About Babies That Are Fun For The Whole Family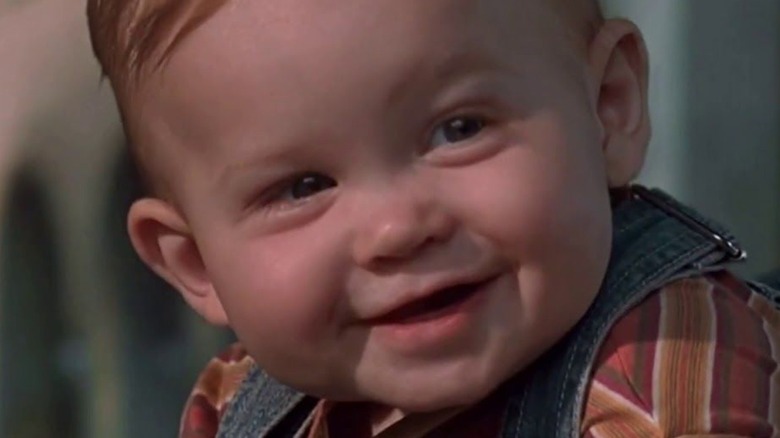 20th Century Studios
Whether they're kittens, puppies, or tiny humans, babies tend to take the top spot when it comes to the cutest things around. With that in mind, it should make sense then that there's no shortage of films to feature them front and center. We won't lie and tell you that each and every one of these films will be sweeping the Academy Awards anytime soon, but one thing they do have in common is that they all feature some of the youngest folks around, and are sure to be fun for the whole family.
You can expect the majority of our titles to bill themselves as comedies, dramas, or somewhere in between, though there are definitely a few surprises here. Below, we'll be rattling off 25 films about babies that are sure to make you go gaga. And while we won't be talking about anything close to the less than family-friendly "Rosemary's Baby," a few of our picks today do have at least a handful of adult themes, reflected by their PG-13 ratings.
Three Men and a Baby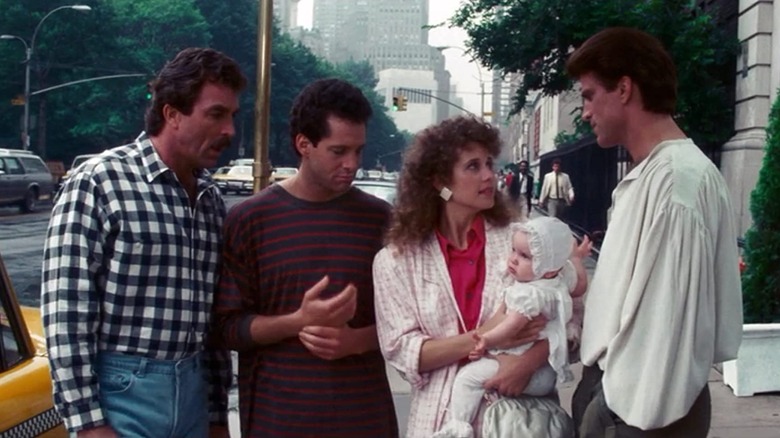 Buena Vista Pictures
Released in 1987, "Three Men and a Baby" was immediately a huge hit with fans and would go on to become one of the highest-grossing releases that year. While it's remembered as one of the best films in Tom Selleck's long filmography, the touching plot and performances by the other two leads help round out "Three Men and a Baby" as an instant classic for audiences of all ages. Unexpectedly, the film was also towards the middle of legendary actor Leonard Nimoy's concise directorial filmography, as well as the first theatrical release he would direct after "Star Trek IV: The Voyage Home."
Following the day-to-day happenings of three roommates, their lives are forever changed after a baby named Mary turns up on their doorstep one day. As it turns out, one of the three men is very much the father of the baby, who turns out to be the unexpected result of one of his many flings. Undergoing the change from their less than responsible lifestyle into a trio of family men is hard enough, but a wacky mix-up with a far more illegal delivery arriving on the same doorstep Mary wound up on further complicates the already zany situation. Lighthearted, hilarious, and full of tender moments, you can't go wrong putting this one on for a night of laughs.
Honey I Blew Up the Kid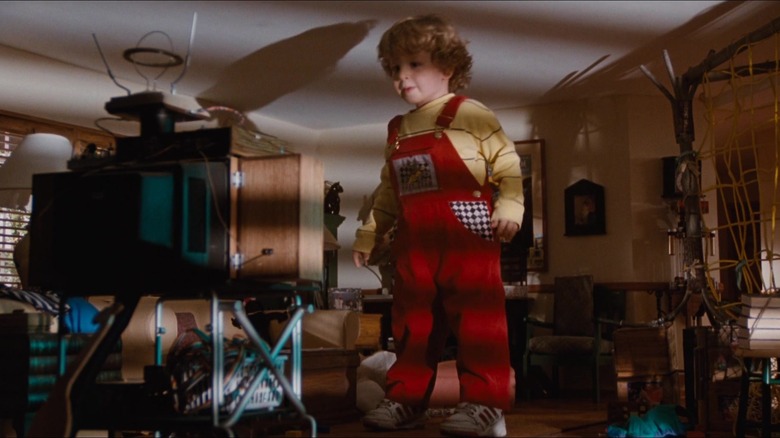 Buena Vista Pictures
Following the box office hit that was "Honey, I Shrunk the Kids," the sequel saw the youngest member of the Szalinski family fall victim to another one of their dad's crazy experiments. After tinkering with his infamous shrink ray and reversing its powers to make it capable of enlarging objects instead of shrinking them, Wayne opts to take it for a test run on his two-year-old son Adam Azalinski's adorable toy bunny. Reckless as ever when it comes to his family and passion for science, Wayne fails to notice Adam crossing into the beam, though it's an error he soon finds out in a big way.
While the effects of his latest invention aren't immediately apparent, one quick exposure to the rays from the family's household appliances is the final ingredient needed to transform Adam into the new largest member of the family. If you thought controlling a regular toddler was hard enough, just imagine how tough it would be to wrangle one that's seven feet tall. Wayne and the rest of the family didn't need to ponder the issue for long, however, since another blast from their television doubles Adam's size, sending him careening through the roof of the family home. Now firmly outside of just about anyone's control, he makes his way around town, growing bigger all the while until an ultimate showdown in Vegas between the U.S. Government, a now-100-foot-tall Adam, and one more unlikely test subject of Wayne's enlargement ray. A worthy follow-up to the first film, "Honey I Blew Up The Kid" definitely went bigger than the original.
Storks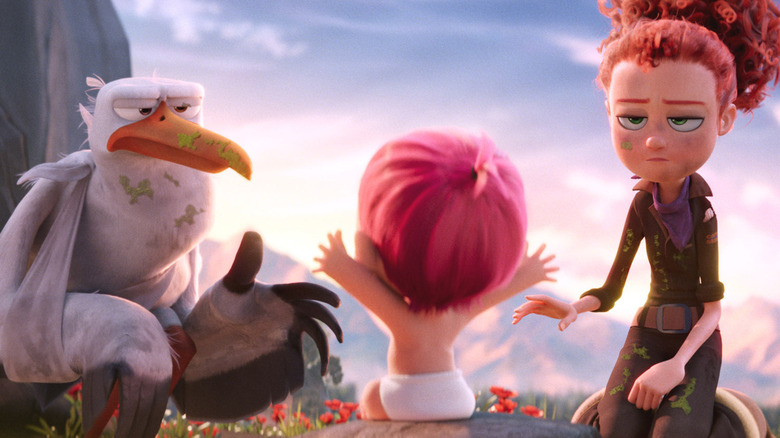 Warner Bros. Pictures
Playing off of the common myth often told to younger children that all babies are brought to families by storks, this one takes the concept and runs with it. As it turns out, the long-necked birds don't just deliver the babies to lucky couples in this universe, but for generations, used to actually make them by themselves inside a baby factory on the aptly named Stork Mountain. Notice the past tense there; the storks have since switched to regular old package delivery after a huge blunder by a former employee. 
That blunder resulted in one baby effectively rendered undeliverable, who's now been raised as an employee of the newly founded Cornerstone.com. Despite the now-adult Tulip spending her whole life around the company, it doesn't mean she's good at her job. Quite the opposite in fact, with her latest gaffe accidentally starting the baby factory up again, leaving her and one of her avian coworkers to try and deliver the newborn without their boss finding out. Fun, silly, and surprisingly bizarre at times, "Storks" is thoroughly enjoyable for kids and adults alike.
The Rugrats Movie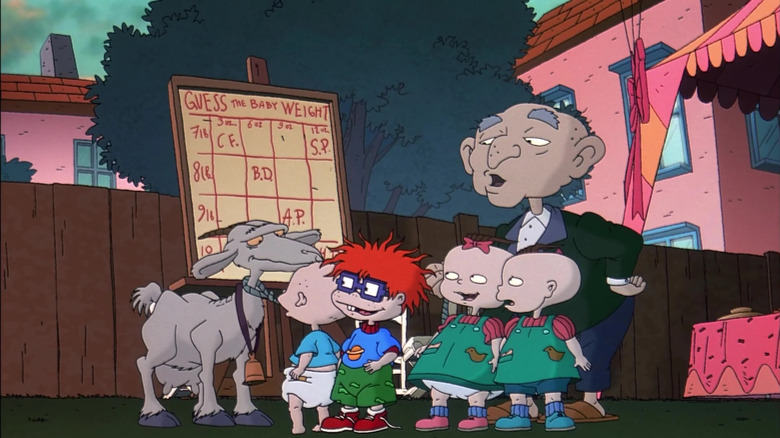 Paramount Pictures/Nickelodeon Movies
Undoubtedly the most recognizable project from animation studio Klasky Csupo, "Rugrats" absolutely dominated the cartoon landscape throughout the '90s and well into the '00s with an incredible nine seasons to its credit. Along the way, we got a handful of films bearing the iconic name, the first of which hit theaters in 1998 and introduced audiences to the newest member of the Pickles family.
Initially hesitant to welcome the arrival of yet another sibling, Tommy and the rest of the gang wind up having much bigger problems to worry about after they all find themselves stranded in the woods with no way home thanks to a joyride gone wrong. Though it turns out that getting out of their situation will be just as hard for the kids as finding a way to get along with their youngest sibling. Fans of the now-classic '90s cartoon, as well as those being introduced to the series for the first time, will both find lots to enjoy while watching any of the feature-length "Rugrats" films, but should definitely pick the first one as a starting point.
Look Who's Talking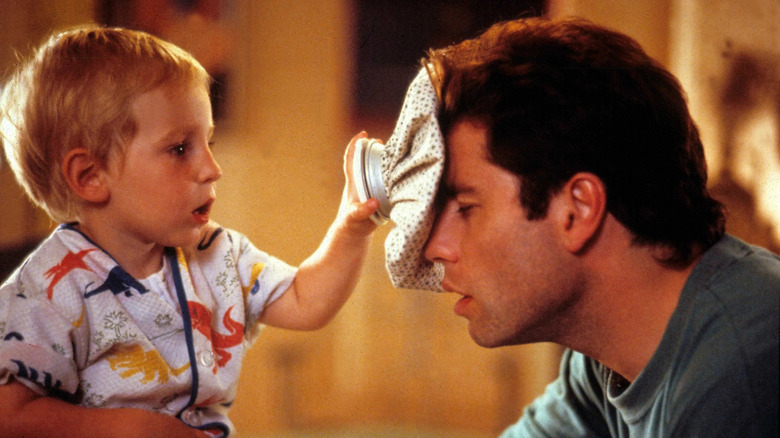 Tri-Star Pictures
Released in late 1989, "Look Who's Talking" still managed to become one of the top-grossing films of the year, beating out Sony Pictures' other biggest release "Ghostbusters II." That success is owed some in part to the big names cast, with both John Travolta and Bruce Willis with major parts alongside the film's lead Kirstie Alley. 
In the pic, Alley's Mollie Jensen unexpectedly becomes a single mother when a love affair leaves her pregnant. An unlikely but fortunate connection soon blossoms, however, on the day she's set to give birth — this time with the cabbie who drives her to the hospital. Part relationship drama, part baby-narrated comedy, "Look Who's Talking" lives up to the hype it received after release and is without a doubt the best of the three films in the series. Just keep in mind that the trio of films all got a PG-13 rating upon release thanks to a number of more adult-themed jokes, so families with younger viewers might want to tread carefully.
Labyrinth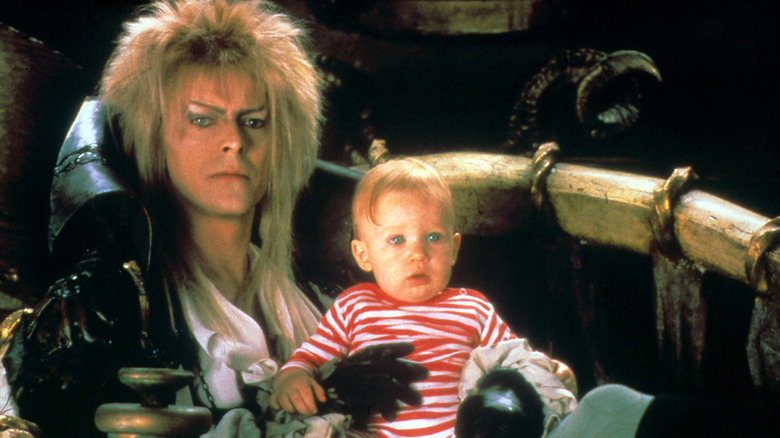 Tri-Star Pictures
Taking a break from animated fun and outright comedies, "Labyrinth" is a timeless fan favorite thanks to its endlessly imaginative world and talented puppetry from the incredible Jim Henson. Though the scenes that do have a baby are few and far between when compared to some of the other picks on our list, the handful we do get tend to feature David Bowie as a Goblin King alongside his horde of singing and dancing goblin cohorts.
After becoming fed up with her baby brother Toby, his teenage sister Sarah wishes him away to the realm of goblins. Turns out, someone was listening closely to her pleas though, with Bowie's character Jareth flying in to fulfill her wish. Immediately realizing the error of her ways, Jareth gives Sarah one last chance to undo her wish, challenging her to make it through his cryptic labyrinth or else lose her brother forever. Everything from giant lumbering creatures to tiny talking worms inhabit the overgrown passageways that make up the labyrinth, all while Sarah desperately tries to reach her brother before arriving at the deadline Jareth set for her. Unapologetically campy and even more blatantly '80s, it's hard not to love "Labyrinth" no matter how old you are.
Son of Godzilla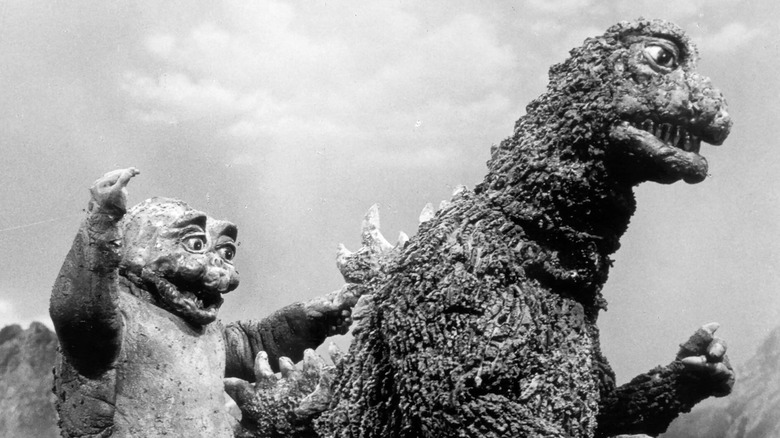 Toho
Bet you didn't see this one coming! Sure, he might not be as menacing as Godzilla himself, but this pint-sized kaiju can still pack a punch. And after a group of scientists unwittingly cause a radiation storm to rain down on a remote island as a result of an experiment gone terribly awry, they find that out the hard way. First transforming the praying mantises that call the island home to monstrous sizes, a long-dormant egg deep underground hatches soon after, revealing a baby Godzilla named Minilla.
Right before the giant mantises can tear him to shreds, however, the king of monsters himself races in at the last second, ready to defend the newborn monster no matter the cost. From there, Godzilla assumes the role of a father figure, teaching the newborn all the necessary skills to make it as a giant monster in the world. Sure, he might be a city-leveling behemoth with atomic breath, but you can't say he's a bad father. Fun visuals and even more fun monsters give "Son of Godzilla" a timeless appeal, even if the costumes are undeniably dated by today's standards.
Nanny McPhee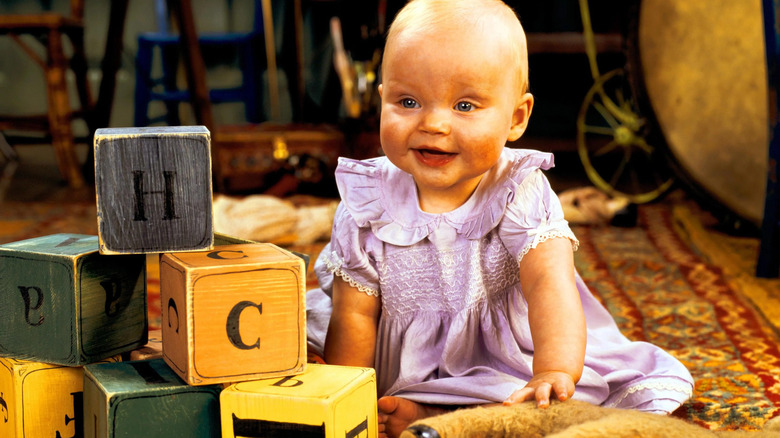 Universal Pictures
Set entirely during Victorian-era Britain, "Nanny McPhee" is just as much about the titular nanny as it is about the seven children she becomes the caretaker for. All mischievous in their own ways, every nanny that's cared for them so far has cracked under the immense pressure of living with them. The situation isn't helped by their father Cedric, largely absent from family life after his wife's untimely passing. Despite the odds, there's still a glimmer of hope though. The first signs that some major changes are about to take place come in some ominous warnings about the mysterious Nanny McPhee, followed by her turning up on their doorstep one dark and stormy night.
While she might be unassuming at first glance, McPhee proves she's not to be messed with. A commanding personality (with magical powers to boot) makes her a force to be reckoned with by the group of juvenile pranksters, who end up getting whipped into shape pretty quick. From there, the children learn to be more mature, and even how to go about handling an even bigger conflict descending upon their lives. Charming and sweet, "Nanny McPhee" is one of the best picks on our list for anyone and everyone.
Mr. Mom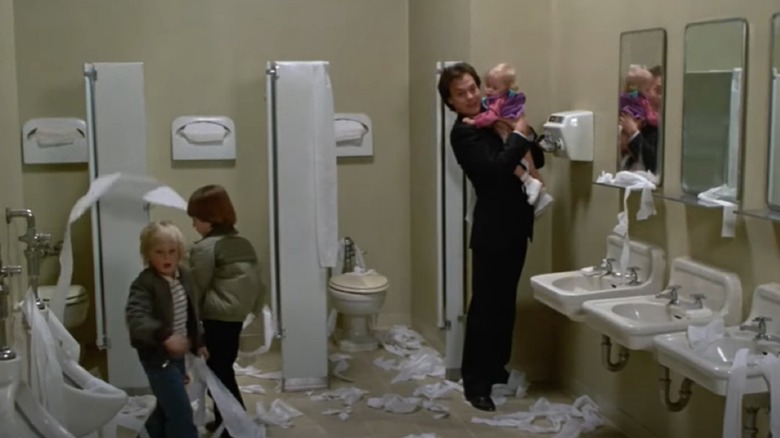 20th Century Fox
Before Michael Keaton would take on the lead role in the moody 1989 comic book classic "Batman" or as the titular poltergeist in the dark comedy "Beetlejuice," he would be the star of this lovable fish-out-of-water comedy. After losing his job, the status of Keaton's Jack Butler as the family's breadwinner goes with it. With his more than capable wife heading off to make a career for herself, it means that he's left to take care of the kids back home. While the misadventures and mayhem the kids get into are to be expected, Jack's eventual warming up to his newfound role as a homemaker has some unexpected results.
Putting the somewhat dated '80s family stereotypes aside, "Mr. Mom" still endures as a hilarious entry worth putting on any night of the week. And while there are plenty of gags for the youngest viewers to enjoy, some jokes will definitely go over their heads and head right for every adult's funny bone.
Rob-B-Hood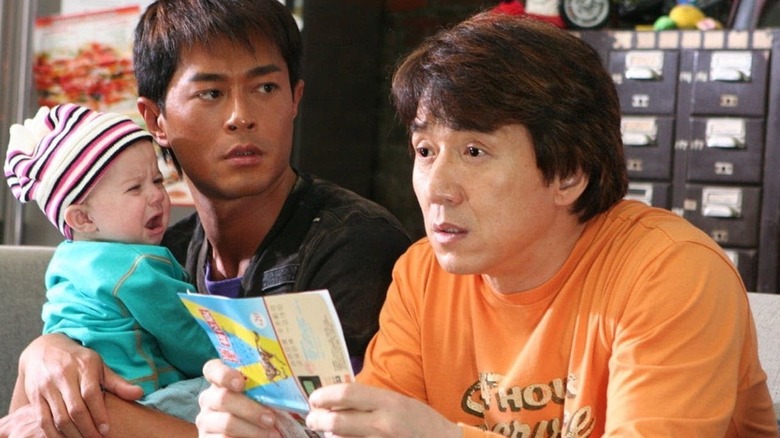 JCE Movies Limited
If you imagine your favorite heist movie, add in Jackie Chan, an adorable baby, and a good bit of humor, you'll start to have a pretty good idea of what the 2006 action-comedy "Rob-B-Hood" looks like. Chan's character  Thongs is one member of a trio of thieves, all of whom agree to take on an unusual job on behalf of a senior leader of the triads. Claiming to be related to him by blood, the triad boss wants Chong and his friends to kidnap the infant son of a wealthy family for a hefty reward. Successfully kidnapping the baby turns out to be easy enough for the gang, but handing him over is anything but.
Since it was released in Hong Kong, you'll have to choose between the dubbed or subtitled version if you're looking to check this one out. Nonetheless, it's a solid entry in Jackie Chan's filmography and one that blends comedy and action into one great final product.
Baby Boom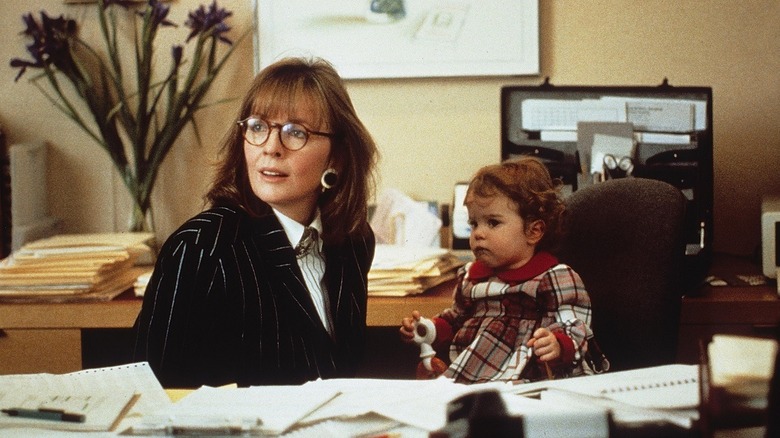 MGM/UA Communications Co.
Everything is going great when we first meet "Baby Boom" lead J.C. Wiatt, portrayed by Diane Keaton. With a powerful position at her Manhattan-based company, a stable relationship with her boyfriend, and little interest in starting a family, her world is turned upside down after a distant family member's untimely passing. As it turns out, her recently deceased cousin left Wiatt with a 14-month-old inheritance that threatens to throw a wrench in her entire way of life. While trying to balance her newfound responsibility to the toddler and her demanding career, her boyfriend calls it quits, forcing Wiatt to go it alone when it comes to parenthood.
Things go from bad to worse when the pressure from her bad luck proves to be too much, and her previously upward-moving career takes a nosedive. A drastic lifestyle shift soon follows, as Wiatt ultimately has to make a tough decision to either reorient back towards her fast-paced way of life or take a leap of faith on something new entirely. Full of heart, humor, and a fair bit of drama, "Baby Boom" is a must-watch for audiences looking for a cozy feel-good entry.
The Boss Baby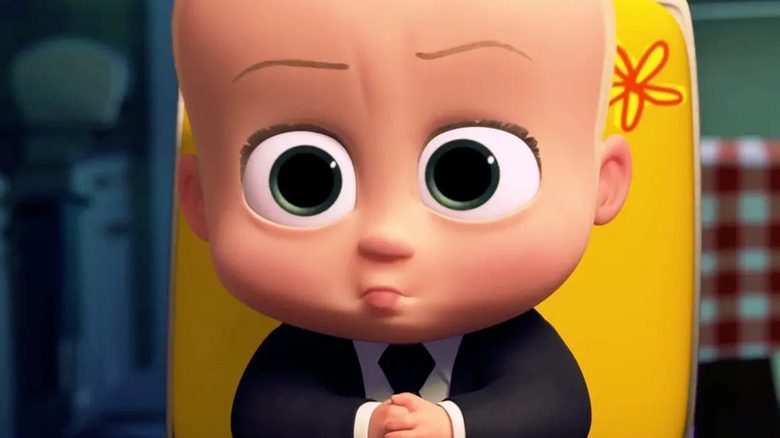 20th Century Fox
Having a new sibling can prove to be challenging enough, especially for a young kid. But when that new sibling is voiced by Alec Baldwin and winds up being an unexpected business mogul for the fictional Baby Corp, things just get weird for 7-year-old Tim Templeton. Turns out his highly intelligent little brother is pretty secretive when it comes to showing his true colors, and refuses to do so in front of any adults. The reason, of course, is that he's actually a secret agent waging a war against puppies for the title of cutest creatures in the world.
Showing the unseen bureaucracy of the world of babies is a fun idea that's fully explored, and some visual gags help to round out "Boss Baby" as a lighthearted flick to put on any day of the week. That's not to say there isn't plenty of juvenile humor throughout, though, which is sure to get a chuckle out of all but the most stoic fans.
Father of the Bride Part II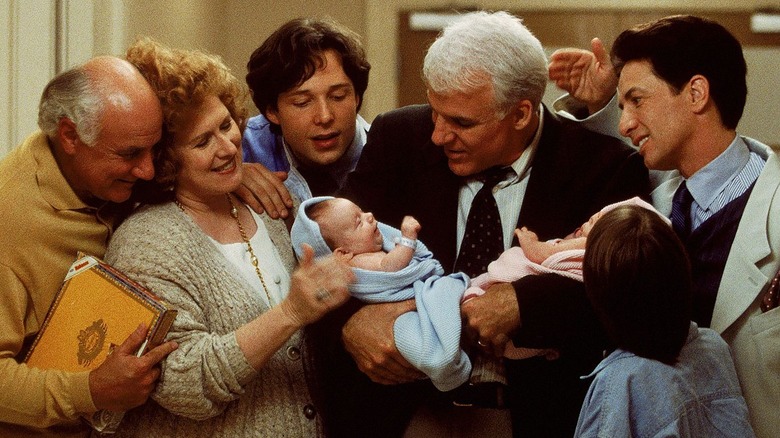 Buena Vista Pictures
Another entry to star Diane Keaton, this time around she would reprise her role as Nina Banks in the sequel to "Father of the Bride," portraying the wife of a wealthy business owner who's far more accepting than her husband George is when it comes to their daughter's choice of partner. And though he would eventually come around and support his daughter Annie's decision in the first film, his whole world is turned upside down a few years later after she announces a baby on the way.
Afraid of becoming a grandfather, George enters what can only be described as a mid-life crisis. He winds up doing everything he can to feel young again, even going so far as to sell the family house in the midst of his panicking. He only has the sense to put his attitude on hold for a brief moment when his wife begins to feel unwell. After a brief doctor visit, what's really happening to Nina winds up overshadowing all his fears so far and makes them look pretty minor in hindsight. While it doesn't quite compare to its predecessor, "Father of the Bride Part II" still delivers on the tender moments and laughs we can expect.
Look Who's Talking Too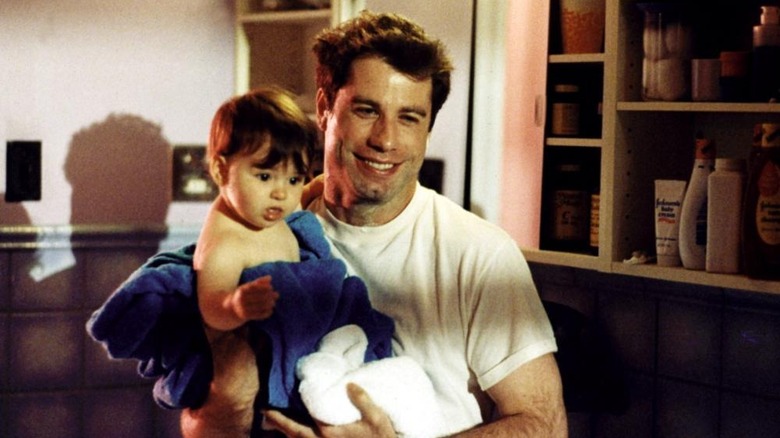 Tri-Star Pictures
Following in the footsteps of its predecessor, "Look Who's Talking Too ' revisits Mollie and James, who now find themselves a newlywed couple raising their toddler child with another one on the way. When their daughter Julie finally arrives, though, there's trouble in paradise as the entire family's dynamic starts to fall apart. Their marriage looks to be dead in the water when James, overworked and unable to see eye to eye with his new wife, moves out of the family home. This dramatic event in turn causes their son to turn on his baby sister, leaving every member of the family with some serious self-improvement to do if they want to come back together again.
While the first entry in the trilogy hit all the right beats for a smash-hit family comedy, the sequel does tend to blur the line between genuinely and ironically enjoyable thanks to its hit-or-miss humor. Still, "Look Who's Talking Too" is a pleasant pic for fans of the series and continues the bold tradition of giving its babies a unique spotlight.
Baby Geniuses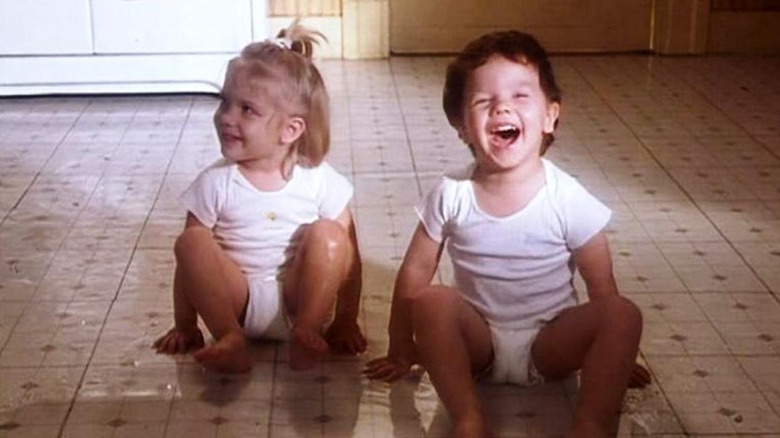 Columbia TriStar Pictures Releasing
Films about babies often either incorporate some real-world drama and balance it with over-the-top cuteness, or they go the distance with their absurdity. "Baby Geniuses" is firmly in the latter category, and hit theaters in early 1999 with less than stellar results when it came to reception from critics and audiences. However, it wound up with ticket sales to the tune of triple its budget, which meant a few years later, fans got to revisit the story in "Superbabies: Baby Geniuses 2."
The film follows a pair of scientists trying to uncover a secret language only spoken by babies, who keep a handful captive for experimentation to try and crack the code. Their studies are complicated, however, after one of their test subjects escapes into the outside world. Though that premise might make it sound like the plot of a horror movie that's anything but family-friendly, in reality, the film is packed with talking babies spitting some of the corniest dialogue imaginable. While adults might be inclined to laugh at, not with the pic, it's still a spirited and family-friendly romp.
Willow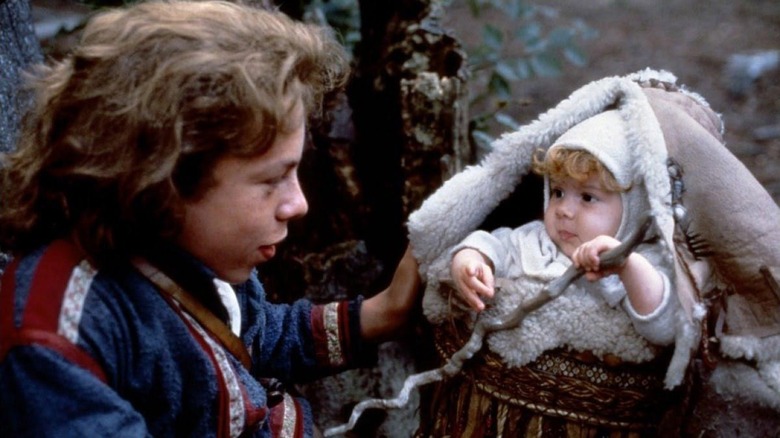 MGM/UA Distribution Co.
Another pick entering into the world of fantasy, "Willow" was brought to us from the talented minds of the film's director Ron Howard, with the legendary George Lucas credited as a writer. And while the end result was a far cry from critically acclaimed, audiences still found it thoroughly enjoyable. Full of imagination, some dated effects and goofy humor make us hesitant to call it timeless, though it definitely is not without a certain charm some three and a half decades on.
After an abandoned baby finds its way to the village of Nelwyn adrift on a raft, the villagers quickly take it in under their care. Unbeknownst to them, the newborn is actually prophesied to overthrow the evil sorceress Bavmorda, who was responsible for the child being cast away to begin with. Not satisfied with the baby living in exile, though, it soon becomes apparent that Bavmorda is looking to get rid of the threat once and for all, leading the titular Willow and his allies to go on a journey to bring the baby to safety. Sure, it's jam-packed with genre tropes that might make a few Tolkien fans roll their eyes, but that doesn't detract from "Willow" being a fantasy epic that'll leave viewers of all ages with something to enjoy.
Baby's Day Out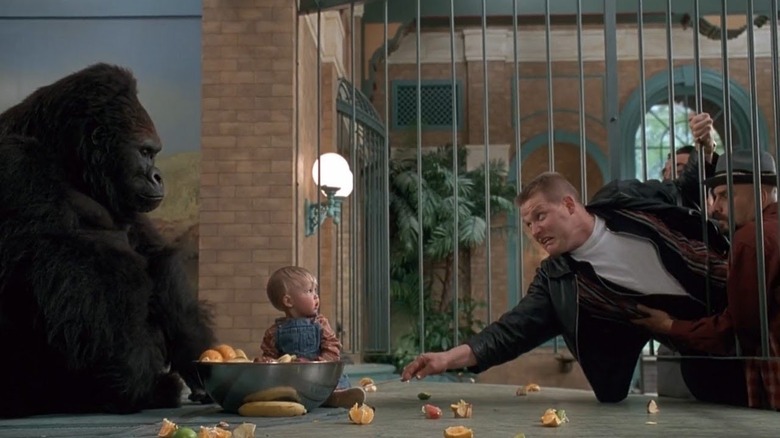 20th Century Studios
If you can't tell by now, the premise of babies getting caught in incredibly wacky scenarios is a pretty common theme for the genre. "Baby's Day Out" (written by John Hughes) was no exception, as the well-to-do Cotwell family tragically has their infant son kidnapped by a trio of bandits seeking to get a huge ransom for his safe return. The Cotwell's son proves to be more than the crooks bargained for, however, as he has a penchant for getting himself in some sticky situations with painful consequences for anyone who tries to stop him.
Whether he's behind the bars of a monkey enclosure or setting one of the thieves' pants on fire, the slapstick comedy on display in "Baby's Day Out" is only matched by Baby Binks's seemingly limitless ability to evade his captor's grasp. Sure, it may not be the most riveting storyline or the best-written dialogue, but this one isn't afraid to fully embrace its goofy premise. In light of less than stellar reviews, we think "Baby's Day Out" checks all the boxes when it comes to what you can expect from a baby-centric comedy.
The Boss Baby: Family Business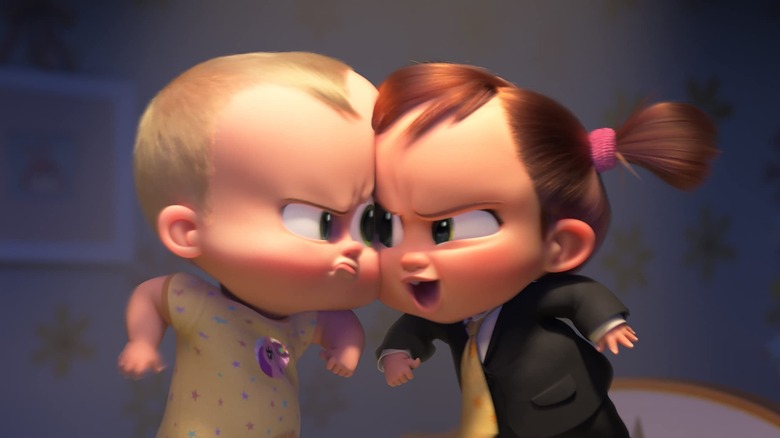 Universal Pictures
Picking up right where we left off after the huge time jump at the end of the first film, Tim is now all grown up and has a family of his own. And while his youngest daughter Tina seems to be a normal baby girl at first, she winds up being anything but. Revealed to be another agent working for Baby Corp, her mission is to reunite Tim with his long brother Ted, and to bring the pair of them along for a secret mission with much more serious stakes than last time around.
Tasked with investigating the suspicious dealings of the local school's principal, Tim and Ted undergo a temporary age-reversal to blend in with the rest of the students. Along the way, they uncover the principal's true intentions, as well as his own secretive past. Packed with the same gags and humor as the first entry in the series, "The Boss Baby: Family Business" is a surefire hit for fans of all ages who loved the first one.
Look Who's Talking Now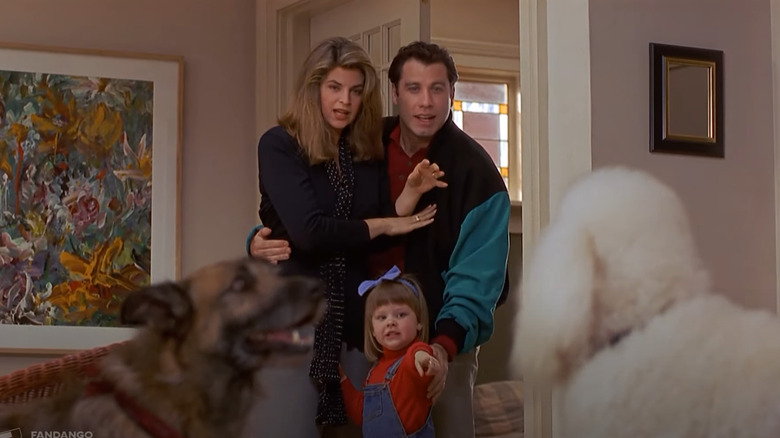 TriStar Pictures
As the holiday season bears down upon the Ubriacco family, there's some serious potential for a few four-legged friends to join in the fun. Though it winds up being far less simple than just adopting the pups since the kids aren't the only ones who can talk to each other this time around. Even more worrisome is the fact that one of the dogs is owned by James's boss, who may or may not be trying to drive a wedge in a marriage that by this point has proven to be anything but stable.
The third and final entry in the series, "Look Who's Talking Now" is a far cry from the original in a lot of ways. While it's certainly less comparable to where the series started off, it's still well worth watching for "Look Who's Talking" completists.
Air Buddies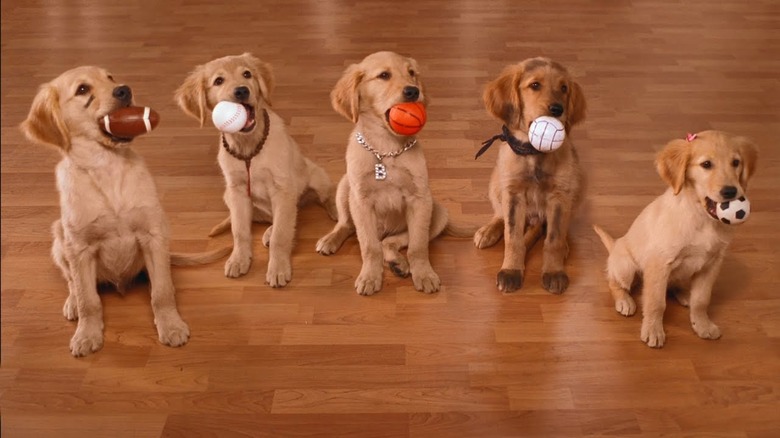 Buena Vista Home Entertainment
Making his film debut in the 1997 film "Air Bud," everyone's favorite basketball-playing golden retriever proved fetch wasn't the only game he could play. Though the film got off to a ruff start when it came to ratings, it still kicked off a number of similar films all featuring the titular canine putting even the most skilled athletes to shame. And while interest for the series eventually wound up in the doghouse, a spin-off series featuring even more adorable pups was just what was needed to continue the story.
Following Air Bud's five children, each of the talking puppies finds themselves in big trouble after Air Bud is dognapped by an unscrupulous canine breeder's henchmen. The buddies wind up having to learn some new tricks and rely on a few newfound friends if they ever want to bring their dad home. A fur sure hit with dog fans of all ages, by the time you finish this one there are plenty more films in the "Buddies" series for the most rabid fans to sink their teeth into.
Superbabies: Baby Geniuses 2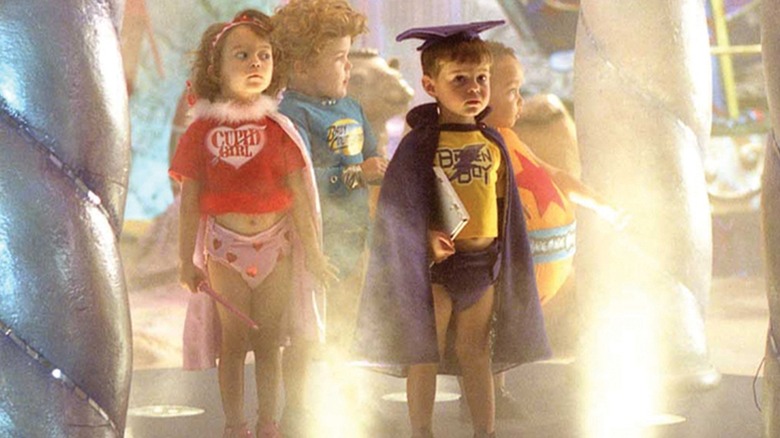 Triumph Films
With a breathtaking 0% critical score on Rotten Tomatoes and not many more positive reviews anywhere else, we'd be hard-pressed to give you a glowing recommendation for the follow-up film to "Baby Geniuses." Despite that less than promising introduction to this title, if you're a fan of films that find themselves firmly within the "so bad it's good" genre, bear with us.
If you thought the plot of the first film was off-kilter, the events of the sequel are sure to make your head spin. Following a group of normal babies going about their lives, a mysterious new figure named Biscane arrives with nefarious ambitions far beyond just their daycare. The babies are forced to rely on Kahuna, the seemingly immortal and superpowered baby to give them the strength needed to take down Biscane and put a stop to his plans. Much like the title that came before it, the youngest film buffs among us will likely be entertained enough by its comical scenarios to stay engaged for the film's 88-minute runtime, though older audiences will probably be shaking their heads with a bit of disbelief throughout the film.
Son of the Mask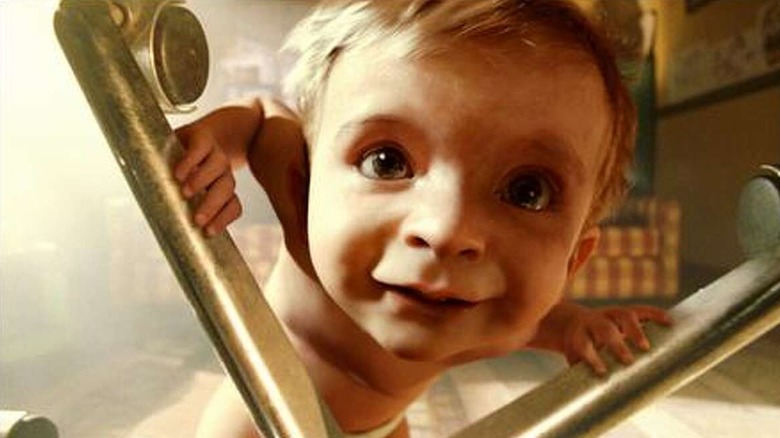 New Line Cinema
While it wasn't the absolute pinnacle of his career, Jim Carrey's "The Mask" still stands as one of his best performances to date. The smooth-talking and eccentric antihero known as "The Mask" was a role Jim Carrey was practically born to perform, and ultimately was the leading contributor to the film's status as an icon of everything '90s. It also spawned an eventual sequel, "Son of the Mask," which notably did not feature Carrey reprising his role.
Chronicling the journey of the mask, as well as the mischievous antics of its latest owner's son, the sequel also expands on the lore behind the powerful disguise's original creators. Saying the film wasn't popular is an understatement, of course, but younger audiences more in line with the film's PG rating will likely get a kick out of it. Just make sure you've got a copy of the original close by for the fans that grew up on it.
Bobbikins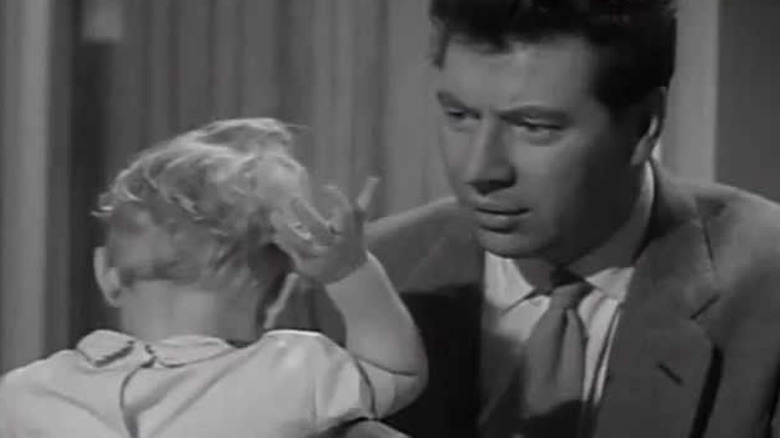 20th Century Fox
Long before we were delighted by super intelligent babies from both "Baby Geniuses" and "Boss Baby," this 1959 drama had us covered. Living off of his salary as a sailor, the normal life and marriage between Ben and Betty Barnaby change forever once a bundle of joy enters their lives. Named Bobbikins, their son seems to be pretty normal as he grows up. At least, it seems that way to everyone except for Ben. Truth is, baby Bobbikins is incredibly proficient when it comes to the stock market, and the family starts raking in some serious cash after listening to his advice.
While that sounds like a dream come true, Ben has a hard time convincing anyone how he's suddenly turning his financial status around. Worse still, Bobbikins refuses to demonstrate his superpowers to anyone but his father, leading some to believe he's simply gone insane. Paving the way for the genre of babies that proved to be wise beyond their years, "Bobbikins" might prove difficult to track down due to its age, but is still a family-friendly, if not incredibly goofy pick.
Quints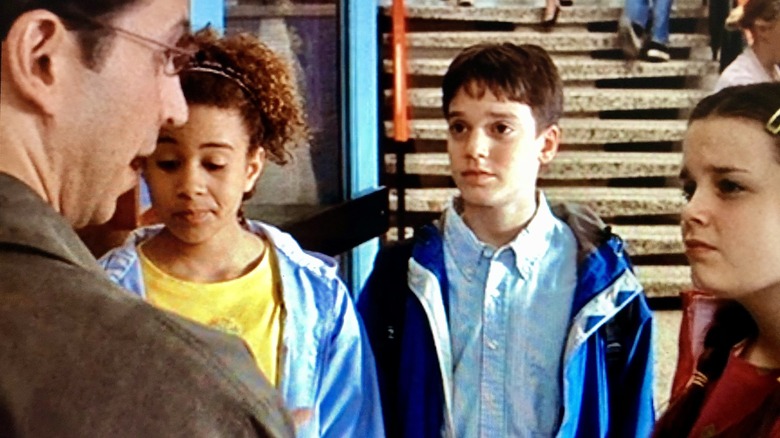 Disney Channel
Between hitting puberty and her overbearing parents, 14-year-old Jamie Grover's life can't seem to get any more annoying. That is, of course, until her mom makes the shocking announcement that she won't be an only child for much longer. And as the name suggests, her mom and dad are about to be the proud parents of a gang of quintuplets.
Predictably, Jamie's life is turned totally upside down once her new siblings come home from the hospital. Losing out on her parents' attention so suddenly only causes her to resent the newest additions to the Grover family, as do the newfound financial burdens that come with them. And though things go from bad to worse for Jamie, she just might find a way to have a change of heart when it comes to the youngsters. A coming-of-age story with plenty of early '00s Disney Channel charm, "Quints" balances its commentary on growing up with the same comedic moments you might expect from similar films Disney Channel was making at the time.
Raising Arizona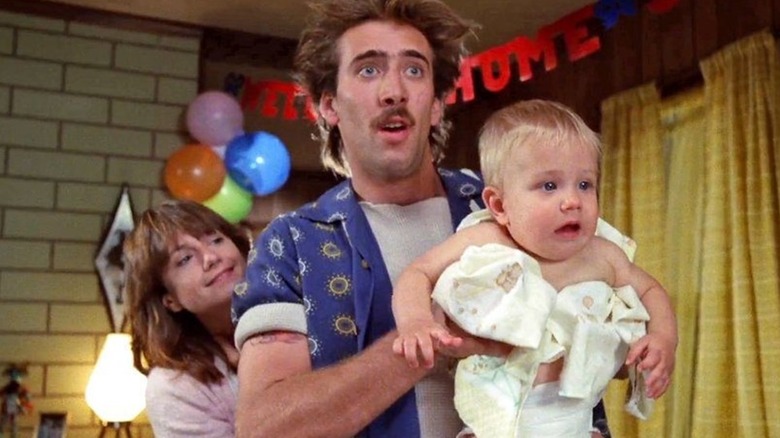 20th Century Fox
Depending on who you ask, "Raising Arizona" might just be one of the best films ever released by the Coen Brothers. And when you're comparing it to such famous titles like "The Big Lebowski" and "Fargo," that's definitely saying something. The oddball comedy saw Nicholas Cage's "Hi" McDunnough in an unlikely romance with a policewoman named Edwina, who he just so happened to meet during his latest stint in the clink for armed robbery. Fast forward to his release from prison, the two are happily married and hoping to have a few kids, which winds up being practically impossible for the couple.
While most would just call it quits there, it seems old habits die hard after Hi kidnaps a wealthy businessman's infant son for himself. He gets more than he bargained for, though, when some old cellmates turn up on his doorstep, leading to the poor kid being once again kidnapped and Hi on a rescue mission to right his wrongs. One of the most hilarious entries on our list, "Raising Arizona" does have some more mature themes with its PG-13 rating, but families with older kids well certainly get a kick out of it.