Who Is The Woman With Reginald At The End Of The Umbrella Academy Season 3?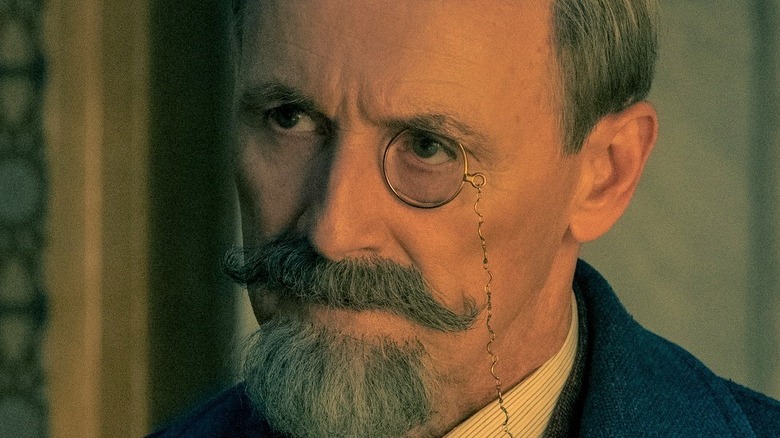 Christos Kalohoridis/Netflix
Contains spoilers for "The Umbrella Academy" Season 3.
After the huge cliffhanger at the end of "The Umbrella Academy" Season 2, the long-awaited Season 3 has arrived with huge expectations. This twist sees Five (Aiden Gallagher), Viktor (Elliot Page), Diego (David Casteñada), Allison (Emmy Raver-Lampman), and Luther (Tom Hopper) land in a brand new timeline where they were never adopted by the abrasive and disturbing Sir Reginald Hargreeves (Colm Feore). It's a fascinating concept that leans into everything that makes time-travel adventures great, as its core mystery lies in the past. What did they change in their time back in the 1960s that drastically altered the present day? Can they find a way to stop yet another apocalypse? Will they ever be a normal family? 
All of those queries pile on top of the other long-standing mysteries of the series, some of which are given answers in Season 3, while others are deepened thanks to intriguing new details. One of the evergreen questions of "The Umbrella Academy" revolves around Reginald and where he really comes from, as the previous seasons confirmed that he's actually an alien in disguise. And the show even packs another mystery into the ending, as the rebooted universe's Reginald has an entire empire of businesses that dominate the skyline. We also see a shot of him looking over the cityscape with an equally mysterious woman by his side ... But who is she, and why is she so important?
The mysterious woman is Reginald's wife, Abigail Hargreeves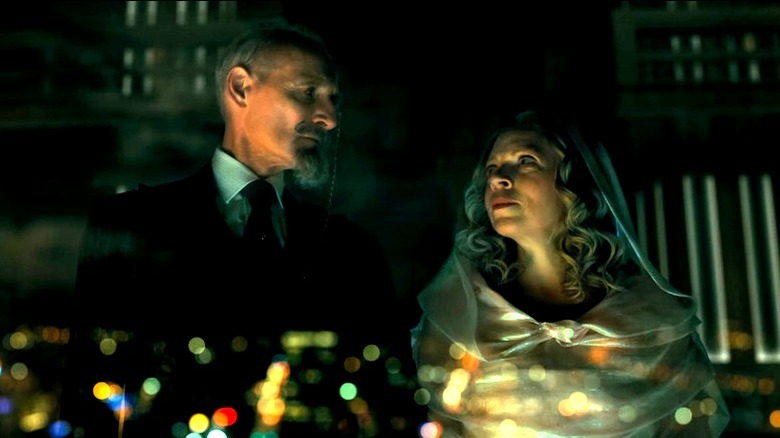 Netflix
The woman standing with Reginald is his wife, Abigail Hargreeves (Lisa Repo-Martell), and her presence could mean big things for "The Umbrella Academy" Season 4. Cast your mind back to Season 1, Episode 10, "The White Violin" — a flashback reveals that Abigail died years before Reginald even arrived on Earth. It's not clear what she died from, only that she was suffering from some kind of illness. She tells her partner that their world needs him, though, annoyingly, the show hasn't yet revealed why he was such an important figure.
Another piece of the Abigail puzzle comes in the opening flashback of Season 3, Episode 9, "Seven Bells," which shows Luther struggling to cope while on his lonely lunar mission for Reginald. The episode briefly shows Abigail's cryogenically preserved body in a restricted area of the moon that Luther can't get to. However, Reginald never reveals why he's kept his wife's body — perhaps he had hopes of resurrecting her. It's possible that we'll never know because that took place in a previous timeline.
But now that Abigail is alive in the rebooted universe, we have to wonder how her presence in the present day will affect Reginald's decision-making. Perhaps she's the reason why none of the Umbrellas have powers, and it's entirely possible that her guidance has helped Reginald grow the Hargreeves empire into the corporate behemoth that dominates the city in the season's final moments.
Basically, we need a Commission briefcase to jump ahead to when Season 4 is already on Netflix.