The Former US President That The Boys' Showrunner Doesn't Forget Is A Fan
"The Boys" has quickly become one of the most beloved and watched series on Amazon Prime Video. It consistently earns rave reviews across the board, and it's easy to see why. Superhero fascination is at an all-time high with the continued success of the Marvel Cinematic Universe and DC Extended Universe. "The Boys" adds something noteworthy to the superhero mythos while deconstructing the genre to offer something completely new. Not only that, but the show effectively comments on politics and the state of society in an often hilarious manner.
With so much going for it, it should come as no surprise to hear that the show has already been picked up for a fourth season while it's still in the midst of its third. That means plenty more gore, swearing, and destruction to come, which is excellent news for its fans, which amazingly includes a former president of the United States.
What do you think Barack Obama thought of the first 11 minutes of The Boys Season 3, Episode 1?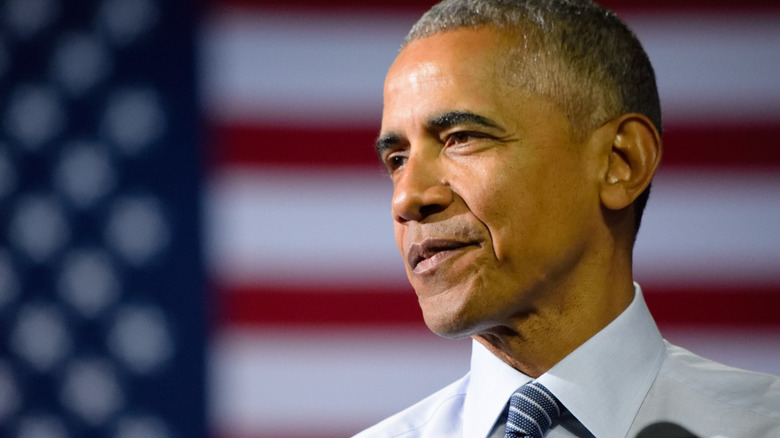 Evan El-Amin/Shutterstock
Every year, President Barack Obama releases a list of his favorite movies, music, and TV shows from the last year. In December 2020, he included many noteworthy shows on his personal favorites list, plenty of which make sense, including "The Queen's Gambit," "The Good Place," and "I May Destroy You" (via Variety). However, among this prestige television also just so happens to be "The Boys," which almost certainly means he saw the sequence of everyone's heads exploding during the congressional hearing scene. 
"The Boys" showrunner Eric Kripke is all too aware of Obama's enjoyment of the show, and during an interview with Rolling Stone, he was asked if he could believe that someone of Obama's stature liked his show. He responded, "You have to be a little brave to say that you that you watch this show, so I can't imagine him lying about it."
He went on to discuss whether Obama's viewership influences the making of the show. "You know, more than once in editing and post-production on the exploding penis sequence [this season], the thought has come up many times," he explained. "Like, 'Can you imagine President Obama watching this scene right now? And what he must be thinking?' I really hope we make his list again. But I also understand why we might make a 'Dear God, I've made a terrible mistake' list. I feel like it could go either way." With the infamous "Herogasm" episode coming out this Friday, June 24, we'd be super interested to hear what Obama thinks of that.