This BTS Look At Vecna Has Stranger Things Fans All Saying The Same Hilarious Thing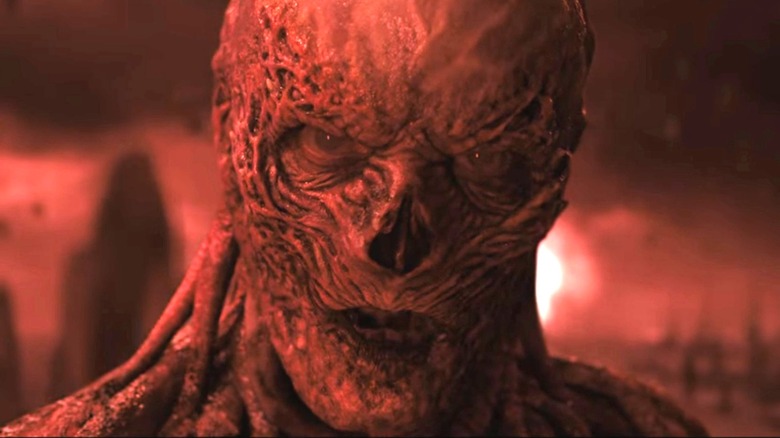 Netflix
After nearly three years, Netflix's hit sci-fi horror series "Stranger Things" made its triumphant return, with the highly anticipated Season 4, Volume 1 having been released in late May 2022. This time around, the gang is scattered as a mysterious force begins to cause a multitude of grizzly deaths in Hawkins, which naturally births unrest among the townspeople. While "Stranger Things" Season 4, Volume 1 introduces new characters and showcases fun moments, it also takes the series to some heavier, darker places that fans may not have seen coming. The series seems to amp up the nightmarish concepts with every new season, and Season 4 is no exception. From Hopper's (David Harbour) harrowing fight for survival in the Russian prison to Eleven's (Millie Bobby Brown) return to Dr. Brenner's (Matthew Modine) facility to a horrifying cameo by Robert Englund, "Stranger Things" certainly came back with a spine-chilling bang.
Easily one of the most terrifying additions has to be that of the main villain, Vecna (Jamie Campbell Bower). A bizarre, lovecraftian-esque creation of the Upside Down, Vecna uses his powers to haunt individuals with their past mistakes and eventually murder them in a grotesque fashion. It may be surprising to some that Vecna's elaborate look was not accomplished by CGI, but rather by a full prosthetic outfit that took hours to put on. A behind-the-scenes video showing the process has had fans not only even more wowed but oddly enough, laughing as well.
Even Vecna needs a Starbucks fix
In a time-lapse video posted on Facebook by Netflix Geeked, we get to see the process that transforms Jamie Campbell Bower into Vecna, and it's an impressive feat of practical makeup that is rarely seen in show business nowadays. Many of the comments follow this sentiment, with fans in awe of the level of effort and time put into the process. And since it takes a team of four people over six hours to do (via Variety), it truly is an immense feat to pull off.
Thankfully, it seems that Bower isn't expected to sit still and do nothing while the prosthetics are being applied. The video shows him engaging in ordinary activities such as talking on his phone and even sipping on a Starbucks drink, all while in the Vecna makeup. Facebook users noted the comedically casual actions of the intimidating "Stranger Things" baddie. Esther Coco Berg called it, "The best Starbucks ad ever!" Similarly, John Arrambide jokingly commented, "Make sure Vecna gets his Starbucks fix. He gets cranky without his morning dose of caffeine."
Others imagined whom Vecna could possibly be contacting. Lindsay Halik believes he'd be in talks with the show's main villain, the Mind Flayer, casually asking what it's up to. For as hefty as "Stranger Things" Season 4 can be, it's nice that fans can see the lighthearted and fun side of the show's production while admiring the effort of its creative team.