The John Malkovich Role You Likely Forgot About In Places In The Heart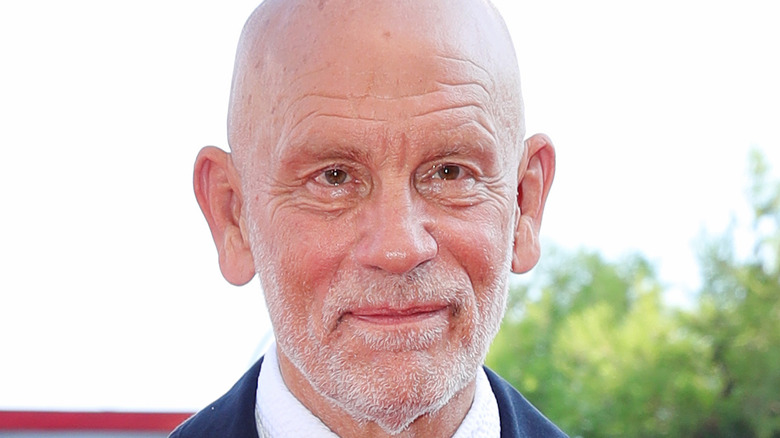 Vittorio Zunino Celotto/Getty Images
John Malkovich has built up quite a career for himself over the course of four-plus decades. In the mid- to late '70s, the actor juggled duties as a Steppenwolf Theatre ensemble member with a move into film and television. As his IMDb profile reminds us, Malkovich made his on-screen debut in the 1978 Robert Altman movie "A Wedding," starring Carol Burnett, where he plays an uncredited guest in the crowd. From there, he appeared in smaller roles on TV movies "Word of Honor," "Say Goodnight, Gracie," and "Death of a Salesman." His star would continue to rise throughout the '80s thanks to memorable turns in "The Glass Menagerie," "Empire of the Sun," and "Dangerous Liaisons."
Malkovich ascended to the top of the A-list throughout the 1990s with "Queens Logic," "Of Mice and Men," "In the Line of Fire," "Con Air," and, of course, "Being John Malkovich," which saw Malkovich play an exaggerated fictional version of himself and was nominated for three Academy Awards (via IMDb). In the 2020s, fans have seen the two-time Oscar nominee return to television in a major way with his roles on the television series "Billions" and "Space Force" as Grigor Andolov and Dr. Adrian Mallory, respectively.
Over the years, Malkovich has developed something of a reputation for being extremely dedicated to his craft, allowing him to continue to get considerable notice as he gets older and adds more on-screen credits to his ever-growing resumé as an actor. However, back in the 1980s, there was one particular supporting role that you likely forgot about in the Robert Benton-directed "Places in the Heart" that seemed to help put him on the map.
John Malkovich plays Mr. Will in Places in the Heart
"Places in the Heart" follows a recently widowed woman named Edna Spalding (Sally Field) and her children in 1930s Texas as they try to keep their land during The Great Depression. In order to help her stay, Edna receives assistance from a handyman named Moze (Danny Glover) and a blind man named Mr. Will, who pays rent to stay at the house and assist Edna. Mr. Will is played by none other than John Malkovich, who, at the time, was coming off of his role as Steve in the TV movie "Say Goodnight, Gracie." The part of Mr. Will is small but incredibly influential within the plot of "Places in the Heart." When the audience first meets the character, Mr. Will is a little reserved. However, he ultimately saves Edna's daughter during a tornado and goes to great lengths to defend Moze near the end of the film.
Malkovich's performance in "Places in the Heart" was so well-received that it earned him his first Oscar nomination in 1985 (via IMDb). The late film critic Roger Ebert even noted in his 1984 review of the acclaimed feature that it certainly has "unforgettable characters," including Mr. Will, although he would only award the film three stars (via RogerEbert.com). Either way, an Oscar nomination is certainly something that will put an actor on the radar for future projects despite reviews, so it's arguable that "Places in the Heart" served as Malkovich's breakout movie.