Eugene Is Still 'Firmly Negan' In The Walking Dead Season 8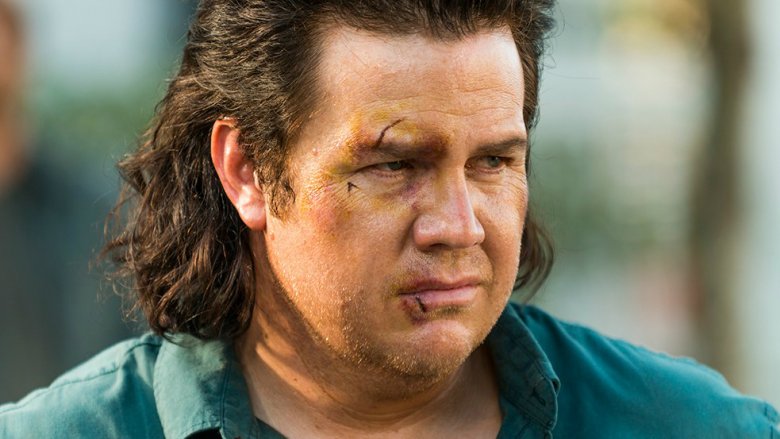 AMC
After all, who can turn down a fully stocked fridge and flat screen TV in a post-apocalyptic world?
During the seventh season of The Walking Dead, Eugene, the mullet-wearing survivor played by Josh McDermitt, shocked everyone when he turned against his friends in Alexandria and decided to join Negan (Jeffrey Dean Morgan) and the Saviors. While his motives weren't immediately clear, his cushy new room at the Sanctuary and his professed loyalty to Negan sure made it seem like he wouldn't be going anywhere in season 8.
McDermitt recently confirmed as much in an interview with Entertainment Weekly. "[Eugene] is firmly Negan," he said. "He either chooses Alexandria or he chooses Negan, and he's decided to go with Negan. I don't think that there is a [sense of], 'Well, I'm going to be Negan and then I'm going to be subversive and work against him' or any of that because, again, Eugene's all about his own survival. So as long as he's living in the Sanctuary, he's Team Negan."
Still, it won't be easy for Eugene to watch his old pals suffer. "It's definitely hard on him," McDermitt said. "He's trying to survive. He's trying to do the right thing, and it is hard to see people like Sasha (Sonequa Martin-Green) dying. It's hard to see Abraham (Michael Cudlitz) die and Glenn (Steven Yeun) die and that sort of thing, but I think he also knows that if he steps up to Negan, he's going to die too, and that's what he doesn't want to happen. So it remains to be seen what his game plan is, if he even has one, but he's definitely trying to stay alive so that he can implement said game plan if there is one."
But it doesn't necessarily mean that Eugene won't return from the dark side. He's just trying to live. "He's not Daryl (Norman Reedus), you know?," McDermitt said. "There's a reason Eugene didn't end up naked in the prison cell, and it has nothing to do with my beautiful body not wanting to be seen on television. It has everything to do with the fact that that's who Daryl is, and Eugene's going to take a different approach. So it's very hard on him to see his friends die. I think he just wants to ensure that he continues living and survival of the fittest, I guess."
We'll find out more when The Walking Dead returns to AMC on Oct. 22. And this time, it'll be "All Out War."