Stranger Things 2 Reveals New Episode Titles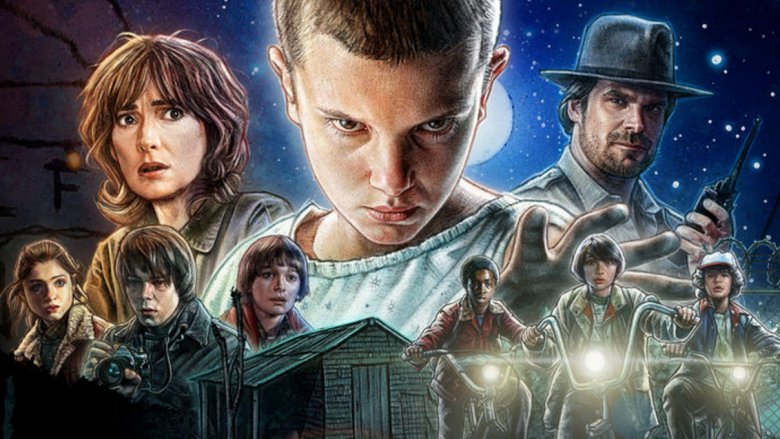 Netflix
Well, this should throw off anyone who already tried to work out the plot of Stranger Things 2 based on the previously released episode titles.
Just as the Duffer brothers teased they might, they've apparently changed the titles of several of the upcoming episodes. The official Stranger Things Twitter account shared a video that reveals the names of the new chapters, and some of them are new. Watch it below.
It's not clear if the titles are in order, but it seems like they are. If that's true, then here's what we know so far. The season premiere will be called "Madmax," which is what we heard before. It's likely a reference to the new character named Max (Sadie Sink), a tomboy who, according to script pages, beats Dustin's high score on a video game at the local arcade.
However, things get a little murky from there. The new video says the next episodes are called "Trick or Treat Freak," "The Pollywog," "Will the Wise," "Dig Dug," and "The Spy." All of those are new except for "The Pollywog," but that episode was previously believed to be the sixth of the new season. If the new titles are in order, then it would be the third. 
It's also worth noting that there are no titles listed for chapters seven, eight, and nine. It seems like the Duffers don't want to give away too much about them just yet. However, the scrapped titles include: "The Boy Who Came Back to Life," "The Pumpkin Patch," "The Palace," "The Storm," "The Secret Cabin," "The Brain," and "The Lost Brother."
When those first titles were announced, Matt Duffer said, "We wanted to provide some hint of where we were going in season 2 without giving anything away. I do think some of the titles will change. There were titles we didn't want to put on there because we felt like it would give too much away... they're ambiguous enough that no one is going to be able to figure it out."
We'll find out everything for sure when Stranger Things 2 arrives on Netflix on Oct. 27.
The story continues. New chapters on October 27. #StrangerThings pic.twitter.com/NPF1NPNQSt

— Stranger Things (@Stranger_Things) October 9, 2017