Yellowstone's Kevin Costner Reveals The Hardest Part About Making A Good Western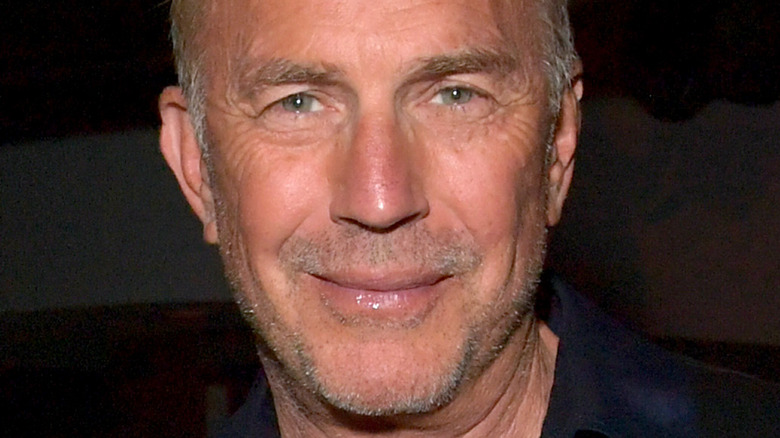 Lester Cohen/Getty Images
If there's any modern actor who knows a thing or two about Westerns, it's Kevin Costner. While he has numerous credits to his name, he really made a name for himself for starring in and directing one of the most significant Westerns of the 1990s — "Dances With Wolves." And even though many modern audiences may believe the genre to be dead, Costner has proven it's alive and well time and time again with the likes of "Silverado," "Wyatt Earp," and "Open Range," the last of which he also directed.
Costner's kept the Western genre going for all these years, and he hasn't deviated too far away from it as of late, especially seeing how he plays the family patriarch John Dutton on "Yellowstone." The show's gone on to be one of the most popular on the air in the past few years, and that's in no small part thanks to Costner's down-to-earth grittiness and the talented direction of Taylor Sheridan who's no stranger to the Western genre himself. In an interview, Costner even admitted that it can be tough to get the tone of a Western right, but Sheridan knows what he's doing every step of the way.
Kevin Costner admits it's hard to do a Western right
If Kevin Costner kept the Western alive in the 1990s, then Taylor Sheridan has kept it going throughout much of the 21st century. He was nominated for an Academy Award for Best Original Screenplay for "Hell or High Water," and he soon took his Western sensibilities to the small screen to create "Yellowstone." The show quickly became a hit, and it wasn't long until Sheridan was building out a fully-fledged "Yellowstone" universe, complete with the prequel series, "1883." Plus, it'll soon expand even further with "1932," which is set to star Harrison Ford and Helen Mirren. 
With that kind of pedigree, it's safe to say that Sheridan has mastered the art of the Western, which Costner commented on during an interview with CBS News. "Westerns, specifically, they can look really dumb, they can look obvious," Costner stated. "They're hard to make, and that's the problem. It's like, it's hard to make a Western you can relate to." That's what Sheridan has managed to accomplish so well with his various series. It's not just cowboys fighting outlaws. There are no tired clichés, and there are still plenty of human experiences to draw from with these larger-than-life characters.
With that kind of progression, hopefully, audiences won't have to say goodbye to John Dutton any time soon.