Bob Odenkirk's Life Was Saved Thanks To One Man Not Answering His Door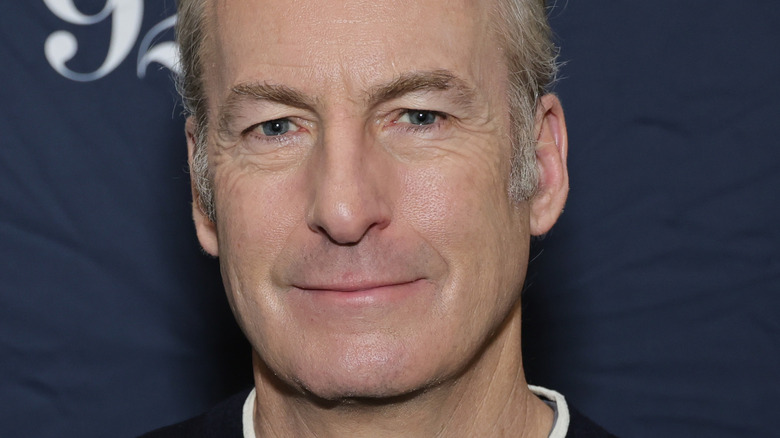 Theo Wargo/Getty Images
Bob Odenkirk has had an extraordinary career. In the 1980s, he got hired to be a writer for "Saturday Night Live," ultimately leaving in 1991. Later that decade, he'd start another sketch comedy institution with "Mr. Show" alongside David Cross. That series helped launch the careers of many up-and-coming comedians, and just when people thought they had Odenkirk pegged, he goes and completely flips the script on them. 
In 2009, he appeared as Saul Goodman in the hit drama series "Breaking Bad." He may have functioned as the comic relief on the show for a bit, but he also had a chance to show off a tougher edge to his persona. It led to him getting his own spinoff series, "Better Call Saul," where he really gets to show what a first-class actor he is. 
Odenkirk talked about all of this and more on the June 15, 2022 episode of "Fly on the Wall with Dana Carvey and David Spade." The episode concludes with the three funny men talking about Odenkirk's health scare in July 2021 when he suffered a small heart attack while filming "Better Call Saul" Season 6. He's all better now, but he revealed an intriguing tidbit that a big reason he's still here today is because of pure happenstance.
Bob Odenkirk's lucky to be alive
Bob Odenkirk talks about everything from "SNL" to "Nobody" on the podcast episode, but Dana Carvey, who also has a history of heart problems, ended the episode by inquiring into Odenkirk's health. And it sounds like he's all better and doing good, but the actor revealed that the only reason he's still here to continue filming a litany of projects is due to one person not answering their door.
Odenkirk explains around the 66-minute mark of the episode, "I was supremely lucky, you guys. Not only that, listen, I learned this a few days ago. The [Automated External Defibrillator] device that Rosa Estrada used to jack me up and ... It took three runs; it took three tries. She had that in her car because she was trying to return it to somebody she borrowed it from, and she'd been trying to return it for weeks. And this guy was never home, but otherwise, there wouldn't have been one anywhere near." Thanks to some random guy Odenkirk doesn't even know, Estrada had the AED device in the trunk of her car and was able to use it on Odenkirk to keep him alive. 
That's the kind of lucky coincidence we can all get behind, and it's bound to have Odenkirk saying, "S'all good, man."