The Worst Fire In Chicago Fire Season 8
Longtime fans of "Chicago Fire" are used to watching the characters put themselves in peril. After 10 seasons and over 200 episodes, the series' team of firefighters and first responders have faced every type of emergency imaginable, whether it was a boating accident, flesh-eating bacteria, or a chemical spill.
Ahead of Season 8, "Chicago Fire" did plenty to keep viewers hooked by introducing new characters like Blake Gallo (Alberto Rosende) and Darren Ritter (Daniel Kyri), as well as bringing Sylvie Brett (Kara Killmer) back to Firehouse 51. The tragic death of Otis (Yuriy Sardarov) in the premiere casts a pall over the whole season, giving the remaining episodes an overarching tone of sadness, albeit with some much-needed moments of levity and romance mixed in throughout. While the Season 7 fire that killed Otis may have been the most personal blaze yet, every one of these incidents drudges up a unique emotional response for the members of Firehouse 51. Here's one fire from Season 8 that had a particularly challenging aftermath.
A suburban blaze hits home for Gallo and Casey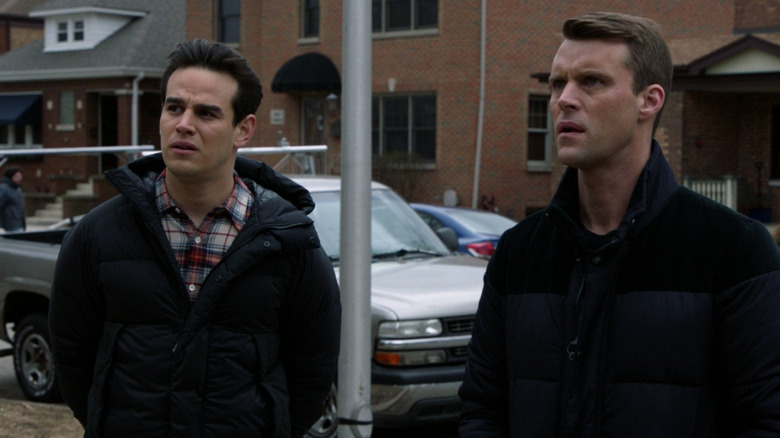 NBC
In Season 8, Episode 17 ("Protect a Child"), Firehouse 51 encounters a house fire that's especially personal for the crew. This is immediately evident for rookie Blake Gallo, who lost his family in a fire when he was 12 years old. When the team arrives, they learn that a young boy is still in the burning house. In attempting to convince the child to come to safety, Gallo is uniquely positioned to establish empathy. Moreover, he removes his helmet and mask, exposing himself to the noxious smoke, all in the effort to save a life and reunite the boy with his mother.
While some blazes on "Chicago Fire" are especially lengthy and deadly, the Episode 17 fire is fairly quick with no casualties. However, "Protect a Child" is particularly successful in exploring how the trauma of fires transcends the time of the blaze itself. After the fire, a nosy neighbor gets involved, calling the Department of Children and Family Services and alleging that the homeowner, a woman in a wheelchair, isn't fit to take care of her kid.
The conflict strikes a nerve with Casey (Jesse Spencer), who briefly fostered a child with Gabby (Monica Raymund) in Seasons 4 and 5. When the boy's biological father returned and demanded custody, Casey lost Louie, opening his eyes to the heartbreak of being separated from a child. He cites this experience to the DCFS rep, ultimately appealing to her emotions and stamping out the ableist allegations. All of that said, the lingering trauma of this blaze makes it our pick for the worst fire of Season 8.