Agents Of SHIELD Season 5 Premiere Date Revealed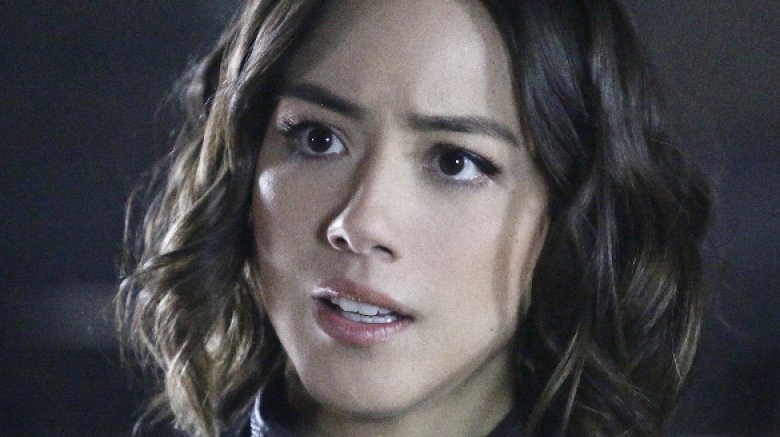 ABC
Warning: This article contains mild spoilers for Marvel's Agents of SHIELD seasons 4 and 5.
We finally know when Marvel's Agents of SHIELD will head back to ABC for its next season.
As reported by Deadline, the much-adored Marvel comic series is set to premiere its fifth season on December 1, just after Marvel's Inhumans concludes its season run and one month earlier than the rumored premiere date of January 2018 that was discussed a few months ago. At the Agents of SHIELD panel during New York Comic Con on Saturday, Marvel Television head Jeph Loeb announced that the series' fifth season will kick off with an extra-special two-hour premiere beginning at 8 p.m. ET, and will return to its regular broadcast schedule of 9 p.m. ET starting December 8. 
ABC Entertainment president Channing Dungey spoke about the exciting announcement, promising that the upcoming season is going to seriously impress fans across the board. "We're so proud of the way that Marvel's Agents of SHIELD has grown creatively every season. The series is a top performer for us especially in delayed viewing where we see almost triple-digit increases," said Dungey. "Season five is their strongest season yet, and we can't wait for the fans to see it. We feel that the move to Friday, creating a 'genre night' on ABC, appeals to the show's loyal fan base."
Loeb also confirmed that the new season will take place in space, which makes perfect sense given where season four left off. We last saw Agent Coulson (Clark Gregg) and the team, along with the help of Ghost Rider, saving the world from danger. However, the celebration was quickly shot down when a mysterious man, accompanied by an elite squad, interrupted their good time. Coulson was then seen on a ship in, you guessed it, deep space. 
Season five of Agents of SHIELD will feature the return of Gregg, as well as Ming-Na Wen as Agent Melinda May, Chloe Bennet as Daisy Johnson, Iain De Caestecker as Agent Leo Fitz, Elizabeth Henstridge as Agent Jemma Simmons, Henry Simmons as Agent Alphonso "Mack" MacKenzie, and Natalia Cordova-Buckley as Elena "Yo-Yo" Rodriguez. According to Loeb, the new season will also feature the directorial skills of none other than Gregg himself, as he directed the sixth episode of season five. "It was really an amazing experience," Gregg said. "There's some amazing fight [scenes] in it."
During the show's panel at the event, fans also got to view the first 20 minutes of the new season's premiere episode. As detailed by Deadline, the episode starts off with the team getting kidnapped, but this time, we see it from the perspective of the man who abducted them. It turns out that everyone was taken, but the only one left behind was Fitz. The reason for his omission? He wasn't "on the list."
From there, the team is sent through a monolith that transports them to a space station, where Daisy, Coulson, Mack, Simmons, and Yo-Yo face off with an alien monster. On the sidelines, May sits injured after being impaled during the journey, and is then captured by a man wearing a mask reminiscent of Star-Lord's from Guardians of the Galaxy. 
Here's the official logline for Agents of SHIELD season 5: "Last season, Agent Coulson and the team saved the world with the help of Ghost Rider. In a rare moment of celebration, the team's night off was interrupted by a mysterious man and an elite squad. The next thing we saw was Coulson onboard a ship... in deep space! Together, they will have to discover where they are and how to get home while the clock ticks out on humanity. These secrets and mysteries are only the beginning for what is sure to be the most surprising and exhilarating SHIELD adventure yet!"
Based on all this new information, Marvel's Agents of SHIELD simply can't return soon enough.