Read The First Six Pages Of DC's Watchmen Crossover Comic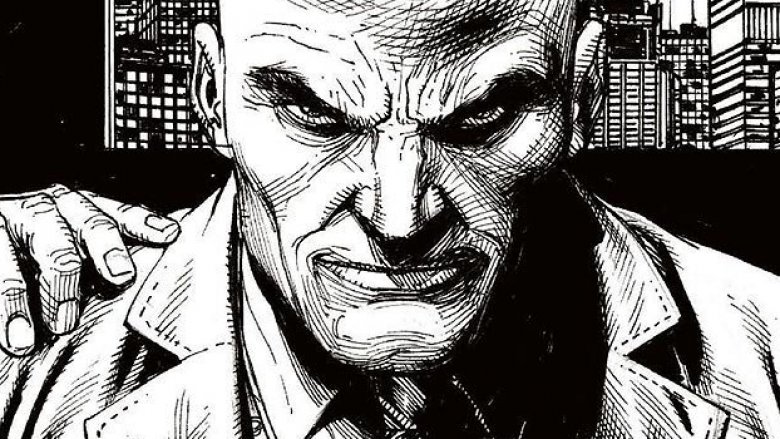 DC Entertainment
The doomsday clock is ticking again.
Amidst the New York Comic Con fanfare, DC Films president Geoff Johns unveiled something extra special: the first six pages of Doomsday Clock, the 12-issue Watchmen comic series that introduces the Watchmen universe to the DC pantheon.
Johns walked fans through the opening of Doomsday Clock, which takes place eight years after the finale of the classic 1984 Watchmen series by Alan Moore and Dave Gibbons, and includes the superheroes we know and love. Written by Johns and illustrated by Gary Frank, Doomsday Clock is reminiscent of what Moore and Gibbons did on the page, especially in terms of how intricate the structure and design is, but the events that take place are something new, offering a surprising look at what happened after Ozymandias planned to save the world. 
Speaking with Entertainment Weekly, Johns discussed the new comic and detailed what will go down. The comic will pick up in 1992, opening on a variation of the same grid that begins Watchmen. From there, the story goes through many famous Watchmen locations, including "the New York streets, Ozymandias' business, his northern fortress, and the prison where Rorschach was once kept." Johns added, "It's all very deliberate because you want a tour of all these places we've been before, but now you see a different side to all of them. Clearly, there's a lot going on here we weren't aware of, and there are things that are gonna happen in the prison that is all new."
Johns then stated that he and artist Frank believe it's important that the comic "feels and looks somewhat like what [Moore and Gibbons] established," but incorporates fresh content. "We're going to do some very different things than they did, and we hope we're telling a story that's going to stand on its own," he explained. "The pressure is on for us to deliver a story that's worthy of using these characters. That's all we're trying to do. We believe in our story and we think it will deserve their time and readers' time."
He also talked about the influence Watchmen has had on him and Damon Lindelof, who is hard at work on a Watchmen series at HBO, and why now is the right time to bring the characters back to the forefront of pop culture.
"Watchmen had such a massive impact on people like myself and Damon, so we're just interested in it. I also think we're in a time where the world is at a strange, kind of insane place," Johns said. "Things are happening that I never imagined I'd see in my life. Revisiting these Watchmen characters in a new way, in the context of the DC universe, and with what the world's going through, I just thought it was time. Gary and I thought it was time. We know some people will think these characters should never be touched, but we're hoping the work we put into this and the first issue itself will give people pause and let them know that we have a story to tell and it's a story worth telling."
Though long-time Watchmen fans will likely be super pleased about Doomsday Clock, Johns assured that the upcoming comic doesn't require a ton of backstory to understand, giving those new to the franchise a chance to enjoy it. And while it has been described as a crossover comic, no major tie-ins have been confirmed as of yet.
What we do know, however, is that one important character will return: Rorschach. Despite being apparently killed by Dr. Manhattan in the conclusion of Watchmen, the six preview pages show the anti-hero in all his glory. Johns explained the reveal and what may come after. "That's where we end the six pages, but you really get a sense of the time, the state of the world, and we introduce you to one of our main players in the series," Johns said. "Rorschach really is front and center for the entire series. He's a very important character in the book, and his role in the book will, I think, surprise people."
The first issue of Doomsday Clock is set for release on November 22. Until then, check out the first six pages (courtesy of Entertainment Weekly) below.