Hulu Releases Teaser Trailer For Marvel's Runaways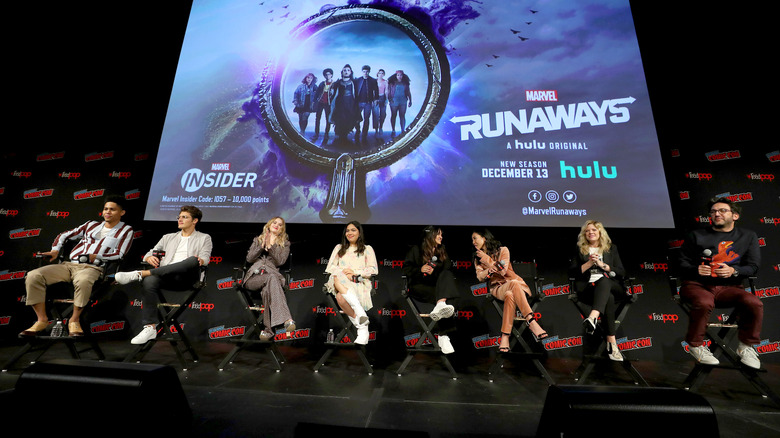 Cindy Ord/Getty Images
Teenagers generally think they're parents are evil, but for kids at the center of Hulu's series Marvel's Runaways, their dear ol' moms and dads actually are. 
Now, we have our first in-motion look at the upcoming show, which is based on the 2003 Marvel comic of the same name. The teaser trailer follows a rag-tag group of teens who can barely stand to be around each other, but who must set their differences aside to fight their common enemy: their parents, known collectively as the super-villain team called The Pride. Upon learning the truth of their parents' identities, the teenagers band together to run away (hence the title) from home to atone for their parents' actions and unlock even more hidden secrets. 
On the Runaways side, there's Gregg Sulkin (Faking It) as Chase Stein, the high school jock with a secret passion for engineering, and Ariela Barer (One Day at a Time) as Chase's rebellious love interest Gert Yorkes, who will do anything to get a taste of justice and who (in the Marvel comics) possesses telepathic powers and connects with a genetically engineered dinosaur named Old Lace. There's also Lyrica Okano (The Affair) as Nico Minoru, a rough-around-the-edges Wiccan who takes charge as leader of the Runaways; Rhenzy Feliz (Casual) as video game nerd Alex Wilder; and Virginia Gardner (Project Almanac) as Karolina Dean, who wants to prove she's more than just a pretty face. Allegra Acosta (100 Things to Do Before High School) rounds out the teen cast as the enthusiastic Molly Hernandez, known in the comics as Molly Hayes, who just wants to find her place in the world. 
As for the nefarious parents, James Marsters (Buffy the Vampire Slayer) and Ever Carradine (The Handmaid's Tale) play Chase's parents, Victor and Janet Stein; Kevin Weisman (Alias) and Brigit Brannagh (Army Wives) play Dale Yorkes and his wife; Brittany Ishibashi (Teenage Mutant Ninja Turtles: Out of the Shadows) and Broadway actor James Yaegashi portray Tina and Robert Minoru; Angel Parker (The People v. O.J. Simpson: American Crime Story) and Ryan Sands (The Wire) portray Alex's parents; and Kip Pardue (Remember the Titans) and Annie Wersching (Castle) play Allegra's mom and dad. 
Marvel's Runaways Josh Schwartz, Stephanie Savage, Jeph Loeb, Jim Chory, and Lis Rowinski. The series is set to premiere on Tuesday, November 21 on Hulu.