How The Walking Dead's Norman Reedus Saved Daryl Dixon From The Chopping Block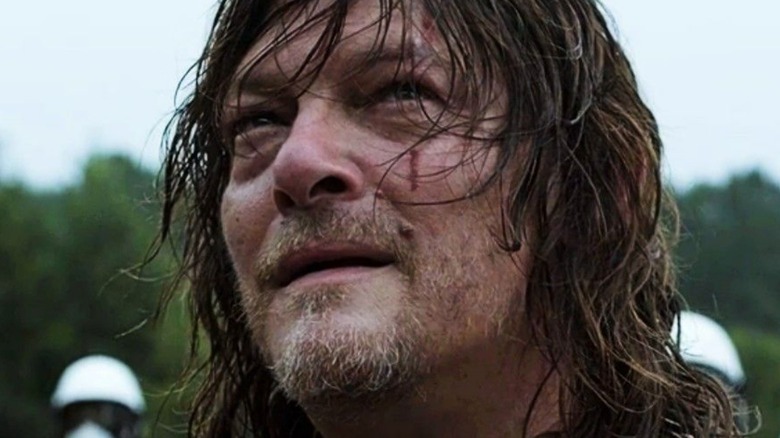 AMC
It's no secret that if you're a "Walking Dead" fan, it's not in your best interest to get too attached to the characters. In a world overrun by zombies and ruthless human opportunists, sudden death is a sad fact of life that all survivors must contend with. As a result, the series has put the spotlight on a revolving door of heroes and villains, with only a scant few managing to stay alive for the long haul. One of these outliers is Daryl Dixon (Norman Reedus), who debuted early in Season 1 and has made it to the 11th and final season.
As one of the few TV characters that doesn't have his roots in Robert Kirkman's "Walking Dead" comic series, Daryl has the benefit of not needing to adhere to a set arc. The showrunners can do pretty much anything with him without worry of doing a disservice to the source material. Thus, he's gotten to go on a variety of adventures and meet a wide swath of characters over the years. Not to mention, he's the lead of his own spin-off, which he almost shared with fellow tenured "TWD" character Carol Peletier (Melissa McBride).
It's surprising to think that all of Daryl's success nearly didn't come to fruition. In fact, without Reedus, he would've wound up on the chopping block in no time. Here's what kept him around.
Reedus' approach to Daryl kept the character alive longer than expected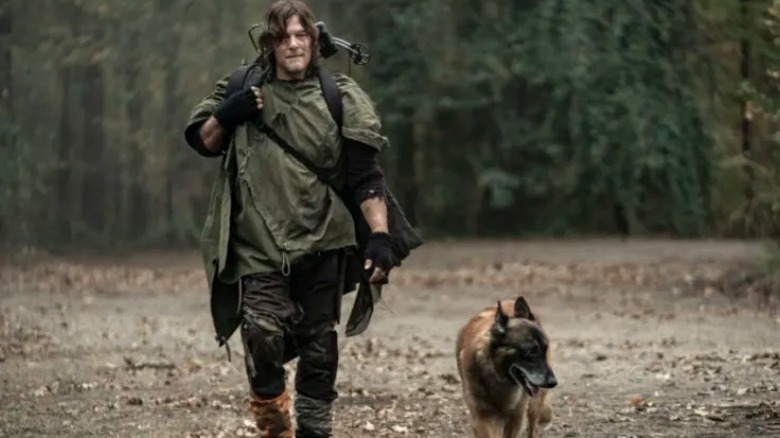 AMC
Back when production on "The Walking Dead" Season 1 began, Norman Reedus went out of his way to get his foot in the door. As he told Details Magazine (via Business Insider), he was happy just making a small guest appearance on the show. This led to him reading for the part of Merle Dixon: Daryl's loud-mouthed, bigoted older brother. He didn't land the role, with it going to Michael Rooker instead, but executive producer Frank Darabont didn't want to leave Reedus hanging. Thus, Daryl was born, and Reedus' work in the role became so popular that he didn't end up swiftly killed as initially planned.
For most fans, Daryl's presence has been a positive for "The Walking Dead," hence why he went from a cool supporting character to a main player within a few short years of his arrival. At the same time, for Norman Reedus, getting to play the part for so long has been an experience like no other — one that wasn't easy to let go of when the series wrapped. "I think what I'll miss the most is the people, not just the cast, but the crew. You become very tight with the crew after that long," he told People, recalling that the final day of his 12-year run on "TWD" was incredibly emotional and it hit him hard when he got home that evening.
What began as a minor role grew to become one of the staples of "The Walking Dead." Daryl Dixon, and therefore Norman Reedus, will remain integral parts of the AMC title's legacy for years to come.