The Surprising Part Of Filming Hustle That Juancho Hernangomez Found To Be A Challenge
Netflix's recent basketball drama, "Hustle," casts Adam Sandler in a light many may not be used to seeing him. He's not doing a silly voice or playing an embarrassing man-child. Instead, he plays Stanley Sugerman, a basketball scout looking for the next great NBA player. He finally finds his chance to get out of the hustle and spend more time with his family when he meets a young player by the name of Bo Cruz (Juancho Hernangómez). Bo has some of the skills necessary to make it big, but he just needs a little fine-tuning to make it in the American league.
The film is carried by the central relationship between Stanley and Bo, and professional basketball player Juancho Hernangómez proves himself to be a force to be reckoned with in his debut film role. He more than holds his own against the Sandman, and while one would think the actual basketball skills involved in the part would come naturally, Hernangómez recently spoke about how it was more challenging than one might realize. 
Juancho Hernangómez had trouble with the basketball scenes in Hustle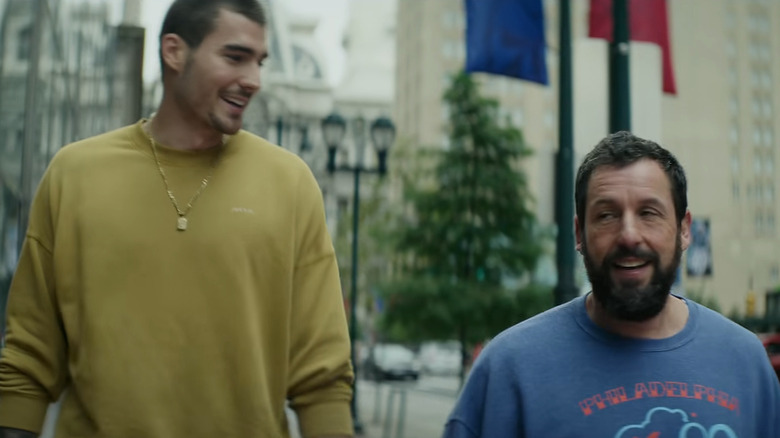 Netflix
Juancho Hernangómez has been with the NBA since 2016, playing for such teams as the Denver Nuggets, Minnesota Timberwolves, and most recently, the Utah Jazz. With that kind of experience under his belt, one would assume he wouldn't have an issue filming the basketball scenes in "Hustle," but as he revealed in an interview with Esquire, the opposite turned out to be the case. 
The basketball player revealed that he had a surprisingly tough time getting in the swing of things due to the nature of filming. He stated, "The hardest part for me was the basketball. Because I'm used to [working out] three or four hours a day straight. You don't stop for 20 minutes to change the camera and do it again. It's tough to warm up again and then start jumping, start playing defense, and start blocking shots. Then it stops again. Then do it again for another angle."
He goes on to describe the first game his character plays in the film, which involves him shooting hoops on the streets while wearing work boots. Apparently, running and jumping in boots rather than sneakers is precisely as fun as it sounds, and everything hurt by the end of shooting the sequence. Hopefully, for his next film role, he gets to do more laid-back scenes.