The Staggering Value Of A Vintage High Wheeled Bicycle On American Pickers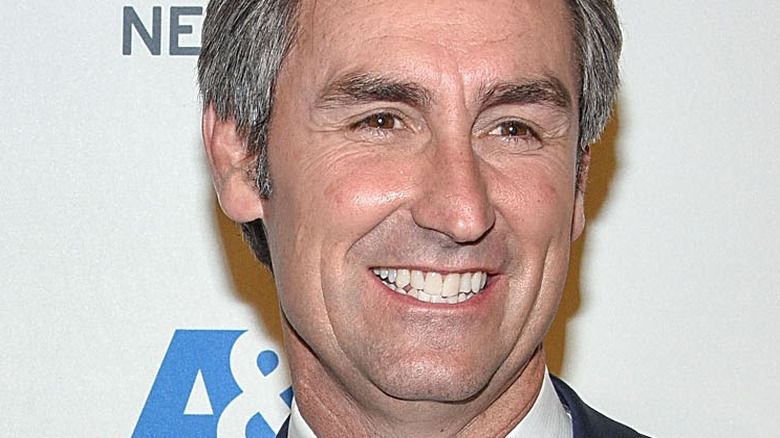 Grant Lamos Iv/Getty Images
Mike Wolfe has had a passion for picking ever since he was a kid. As he would tell in an interview with "CBS This Morning," as a child, he found a bike in the trash. His family didn't have a lot of money growing up, so he couldn't buy a bike of his own. But he became so transfixed with a bicycle ending up in the trash that he gradually began to wonder what else people might throw away. 
He didn't merely get a bike that day; he also discovered his love for picking. And it's an obsession he's carried with him well into adulthood, as evidenced by his role in the hit History TV series "American Pickers." With over a decade on the air, Wolfe has found plenty of items to later sell for a pretty penny, including a rare find on the Season 18 episode, "Rat Rod Rolls." 
The bike spruced up could fetch $2,800
Mike Wolfe and Frank Fritz come across something truly remarkable in the episode. In a carriage house, they stumble upon an old-timey high-wheeled bicycle on the wall. It's the kind of bike with one massive wheel in the front and a small wheel in the back that provides a smoother ride, especially when traveling across bumpy terrain. It's a great find, and Wolfe is someone who loves his vintage bikes. He may be more interested in old motorcycles and the like, but he knows he has to get his hands on this piece, too. 
Wolfe offers $1,800 for the bike, but the family wants $2,200 for it. That's when Wolfe breaks everything down, showing how he'll probably only be able to sell it for $2,800 once it's restored and rideable, so he only ups his offer to $1,900. The family accepts the deal, and everything's good to go. The episode later breaks down the math and shows how Wolfe can spruce it up for $400, making out with a $500 profit when everything's said and done. 
$2,800 is apparently a good deal on these bikes. When looking around online at others, you'll come across one that sold for $17,250 at auction. It's clear high-wheeled bikes are still in demand for those who love old-school Americana.