The NBA Legend Juancho Hernangomez Was Most Excited To Work With On Hustle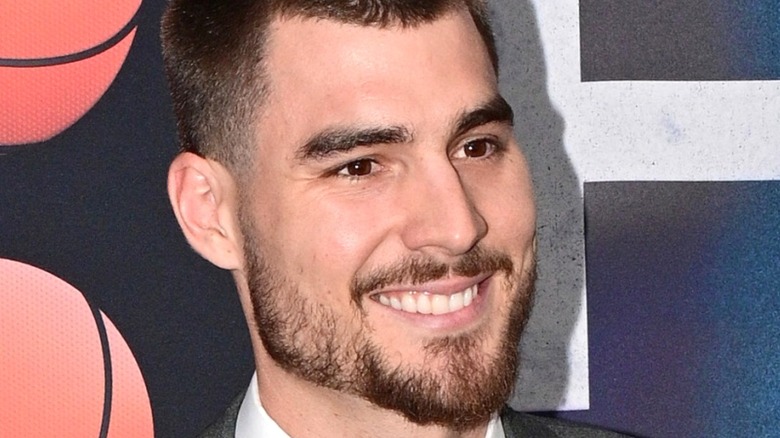 Lisa Lake/Getty Images
The NBA has been well represented in the entertainment world in 2022, first with the controversy-generating HBO series "Winning Time," and now with the new Netflix original movie "Hustle."
"Hustle" stars Adam Sandler as Stanley Sugerman, a road-weary NBA scout looking for the missing piece of the player equation that will put the Philadelphia 76ers over the top. Sugerman, a former college star turned coaching hopeful, believes he found a diamond in the rough with Bo Cruz (Juancho Hernangómez), a dominant street baller in Spain who earns a tough living as a construction worker. There are obstacles for Sugerman to overcome to get his new find into the NBA, though, including resistance from Vince Merrick (Ben Foster), the vindictive son of the late team owner who has a dislike for his dad's longtime favorite. Also hampering the scout's efforts is Cruz's mysterious criminal record — a red flag for any team willing to draft the basketball phenom should he make it in the draft at all.
Hernangómez is a real-life NBA player, and far from the only one to show up in "Hustle." In fact, several NBA stars past and present have cameos in the film. And as it turns out, there was one legendary player that Hernangómez was thrilled to meet for very sentimental reasons.
Working with Julius 'Dr. J' Erving was a highlight for Hernangomez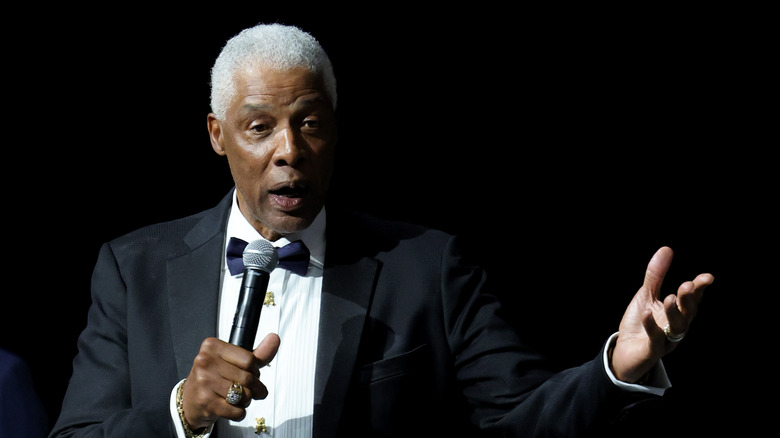 Ethan Miller/Getty Images
Since Juancho Hernangómez has been in the NBA since 2016, he has no doubt become quite accustomed to being around the league's stars. In fact, "Hustle" features a bevy of current players that his character Bo Cruz squares off against, notably Minnesota Timberwolves 2022 rookie standout Anthony Edwards, who appears as Cruz's fierce draft pool competitor, Kermit Wilts. "Hustle," though, also features some bona fide basketball legends, including Shaquille O'Neal, Charles Barkley, and former 76er Allen Iverson. During an interview with Esquire, Hernangómez was asked which legend in the film he was the most excited to meet, to which he replied, "I'm going to say Dr. J."
Iconic 76er Julius "Dr. J" Erving appears in more than just a cameo as himself in "Hustle." In fact, the 1981 NBA Most Valuable Player winner takes part in a key scene in the third act of the film that drives Bo Cruz's story toward its exciting conclusion. The pivotal scene not only gave Hernangómez an opportunity to act opposite Dr. J, but it also helped the star create an emotional memento for his father. "[Dr. J] was the favorite player of my dad and I did a scene with him," Hernangómez told Esquire. "He sent a video for my dad and he was crying to see him. He was MJ [Michael Jordan] before MJ was MJ. So he was huge. I asked him a lot of questions."
Produced by LeBron James and also starring Queen Latifah, Kenny Smith, Jordan Hull, and Robert Duvall, "Hustle" is streaming exclusively on Netflix.