Chris Evans And Oscar Isaac Brought The Same Family Attribute To The MCU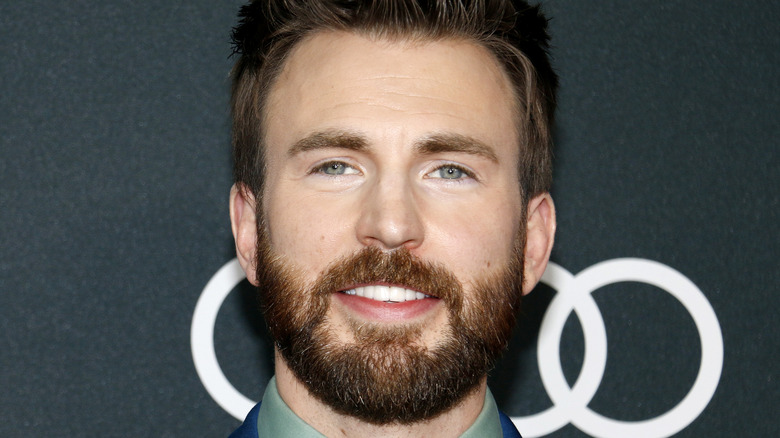 Tinseltown/Shutterstock
Chris Evans and Oscar Isaac are close in age, and both men have played superheroes in the Marvel Cinematic Universe. However, the actors have gone through different career trajectories.
Evans started out playing teenage characters in projects like "Not Another Teen Movie" and "The Perfect Score" before eventually hitting his stride as a leading man in "Captain America: The First Avenger" and "Snowpiercer." After Cap seemingly leaves the MCU after "Avengers: Endgame," Evans joined the ensemble cast of "Knives Out" in 2019, playing against type as the entitled son of wealthy parents, Ransom Drysdale.
After graduating from Juilliard at age 26, Isaac took a series of small, crucial supporting roles throughout the late 2000s. His breakthrough role was as the titular folk singer in 2013's "Inside Llewelyn Davis." Isaac's charisma and obvious intelligence made him perfect for drama, appearing in ambitious works like "A Most Violent Year" and "Ex Machina." He eventually joined the "Star Wars" sequel trilogy as Poe Dameron before playing the title character of the MCU Disney+ series "Moon Knight."
Evans and Isaac haven't starred in any films together, either as their Marvel superheroes or as other characters, but they do have something else in common.
Evans and Isaac asked younger siblings to be stand-ins
Hiring an actor's sibling to aid with stunts or double for the performer isn't unusual. For example, Laverne Cox's twin brother, M. Lamar, was hired to play her character on "Orange Is the New Black" in flashbacks that took place before Sophia's gender confirmation surgery (via Yahoo! News). And both Chris Evans and Oscar Isaac got their younger brothers to play stand-ins for their MCU characters.
Evans disclosed in an interview with CinemaBlend that he has never recorded anything for Captain America merchandise. Although he had the chance to do so for one toy, he ended up asking his younger brother to provide the voice work instead.
Meanwhile, since Oscar Issac plays dual characters feuding over the same body on "Moon Knight," his brother, actor Michael Hernandez, would stand in as the other personality, he told TheWrap. That way, Isaac had someone he could interact with on set. "It's the closest thing to me there is, is my little bro," the actor explained, ultimately calling the experience of working with his sibling nothing short of "fantastic."