The Scariest Moment For Deadliest Catch's James Gallagher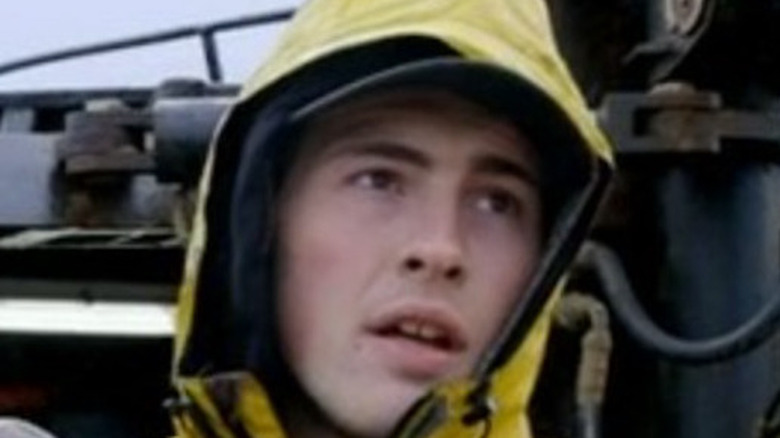 Discovery
While many fans of "Deadliest Catch" debate whether the show is really unscripted, the fact is that crab fishing can be extremely dangerous, whether a camera crew is filming or not. A report released in July 2010 by the National Institute for Occupational Safety and Health (NIOSH) revealed that 47% of commercial fishing deaths between 1992 and 2008 were fishing for crab and shellfish (via CDC).
Viewers have also become acquainted with the deaths and injuries related to crab fishing since Season 1, Episode 6 ("Man Overboard") when the boat Big Valley sank with six men on board, and Cache Seel was the only survivor. "I have no idea what happened," Seel told The Seattle Times. "I was asleep when it started to roll over on its starboard side." Just recently in Season 18, Episode 3 ("One Hell of a Story to Tell"), the U.S. Coast Guard had to rescue Francis Katungin off the Patricia Lee after he was hit by a 700-pound crab pot (via Olean Times Herald). Needless to say, frightening moments while crab fishing are all too common. 
Moving on to other cast members, James Gallagher, a deckhand and engineer on the Lady Alaska, has his own experience of being hit by a crab pot, but it's not his scariest moment, as he later revealed in a Q&A session with "Deadliest Catch" fans.
James Gallagher remembers when the boat iced over
James Gallagher has only been on "Deadliest Catch" since 2020, but he's had quite an experience so far. In a Reddit AMA, he was asked about his scariest situation, and Gallagher had quite the story to share. During a particularly freezing day when Lady Alaska had iced up on the sides, Gallagher had to save the day when "one of [the] guys broke the chains loose and they slipped out of his hand," he recalled. "Not only were they frozen to the rail but were now dangling in the water and threatening to get sucked in the wheel. I basically had to climb down a solid wall of ice and beat the chains free with a crow bar [sic] then climb back up said wall of ice while carrying the chains as waves were literally crashing over my feet."
Climbing down a wall of ice not only sounds extremely scary but also dangerous. But this is the life of crab fishing — a job in which people can die after getting caught in the crab trap rigging, drowning, or internal injuries caused by crab pots and other heavy equipment (via Maritime Injury Guide). When Gallagher remarked during the aforementioned Reddit AMA that he'd almost died 10 times, there is probably a lot of truth in his comment, but this is also part of what makes "Deadliest Catch" so exciting to watch.