Chris Evans Reveals Why Lightyear Is Probably Deeper Than You Think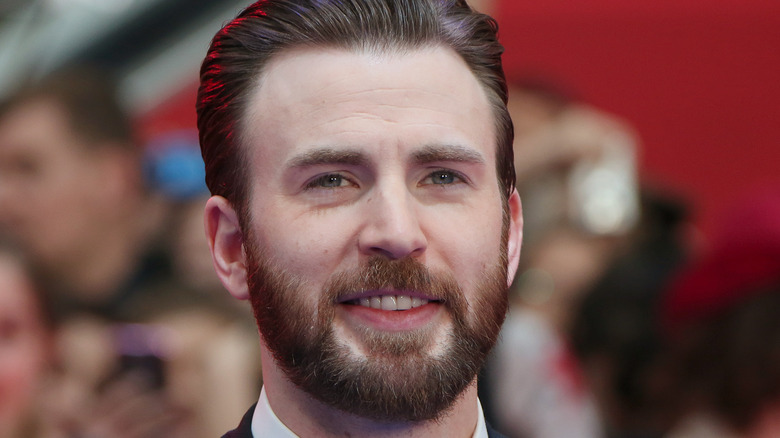 BAKOUNINE/Shutterstock
The next Disney Pixar film, "Lightyear," is mere days away from its June 17 release date. Directed by Angus MacLane (who co-wrote the screenplay with Jason Headley), "Lightyear" explores the origin story of Buzz Lightyear (Chris Evans), the human space ranger that later inspires the familiar Buzz Lightyear toy in the more familiar "Toy Story" timeline. This new film follows Buzz as he finds himself trapped on a planet 4.2 million light-years from earth. With the help of other space rangers — and the robot cat Sox (Peter Sohn) — Buzz must find his way back to earth. It's undeniably a fun and intriguing premise, and as MacLane told Animation Magazine, "I always wondered, what movie was Buzz from, you know? Why couldn't we just make that movie? So that's what we did. This is the movie that changed Andy's life — Andy's 'Star Wars'!"
The whole concept is made even more fun when you realize that, because this movie exists within "Toy Story," then it means that the filmmakers and Chris Evans exist within the "Toy Story" canon. However, "Lightyear" isn't just all fun and games — it is a Pixar film after all, which means that fans can expect mature themes and messages to go along with the fun. And in a recent interview, Evans breaks down how "Lightyear" is deeper than you may be expecting.
Evans details the multiple messages within Lightyear
While Chris Evans was speaking to ET Canada recently to promote the film, the interviewer brought up the fact that "Lightyear" has a wonderful message of inclusion, noting the example of a senior citizen character being shown in a strong light. (In another notable act of inclusion, the film also features a same-sex kiss, per Variety). 
When asked what he hopes viewers will take away from the film, Evans had a lot to say about the messages of "Lightyear," and in his words, "What Pixar does so well is weave multiple themes into their stories." He then gave a few examples, including the message that one can choose their own family, as well as noting that the message of inclusion has been a long time coming. He also detailed his favorite part of the movie: "The message I like the most is this idea that your mistakes don't define you and living in them can actually stunt your growth. That mistakes are actually an opportunity to evolve."
Of course, all of these important messages will likely be conveyed in a way that will make many viewers cry — as it did Evans. In an interview with Variety, Evans said, "I sobbed. I don't think I've ever seen a Pixar movie where I didn't cry. They have the recipe, they really do. I don't know what it is, but man, the tears start falling."
"Lightyear" will be released in theaters on June 17, 2022.