Is Laura Sohn Really Leaving The Blacklist?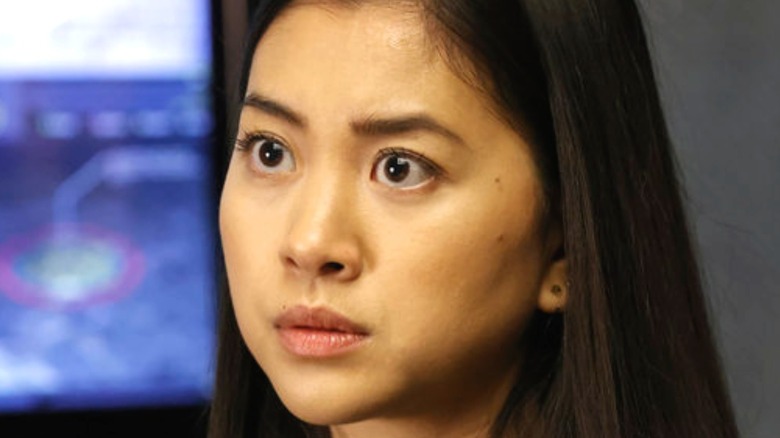 Will Hart/NBC
Fans of the long-running James Spader-starring NBC thriller series "The Blacklist" are used to seeing characters come and go at this point. Megan Boone was a core part of the cast in the role of Elizabeth Keen for the first eight seasons of the show, and viewers of the show's earlier seasons might remember Ryan Eggold as Liz's husband Tom, who left after Season 5.
Over the last three seasons of the series, many viewers have gotten attached to the character of FBI agent Alina Park (Laura Sohn), who started out as a recurring role in Season 7 before being upgraded to the main cast for Seasons 8 and 9, which just recently wrapped up. In the finale, Park reveals that the likely cause of her recent medical troubles is a pregnancy, but that she's going on indefinite medical leave until she knows for sure. In the language of weekly TV dramas, "indefinite medical leave" usually means an exit from the show.
If you saw the Season 9 finale of "The Blacklist," and you're a fan of Sohn's work as Park, it's possible you're holding out hope that all is not as it seems, and that she isn't really leaving.
Sohn and series mainstay Amir Arison are both reportedly leaving the show
The sad news for Laura Sohn fans comes from no less an authoritative outlet than Deadline, which reported that Sohn and her character Alina Park are indeed leaving "The Blacklist" indefinitely. The report did not offer too many details, simply stating that Sohn is departing the series so she can work on other projects. The news is at some risk of being overshadowed by the simultaneous exit of Amir Arison, whose character, Aram Mojtabi, has been a fixture on the show for all of its nine seasons to date, even though he was originally only supposed to be in one episode.
Like Sohn, Arison is now leaving the show, in his case to make his Broadway debut in an upcoming production of "The Kite Runner." But, in a hint of silver lining, the report stated that "the door remains open for him to make guest appearances in Season 10," which could theoretically also be true for Sohn.
In any case, fans will have to wait a while for the upcoming Season 10 to get their "Blacklist" fix –- only they'll be getting it without Laura Sohn or Amir Arison.