The Handmaid's Tale Is Losing A Major Character In Season 5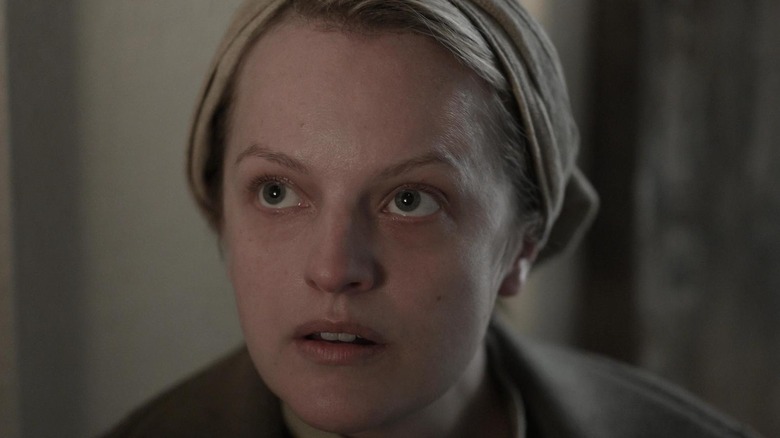 Sophie Giraud/Hulu
Hulu's award-winning series "The Handmaid's Tale" began filming Season 5 earlier this year, as cast member Ann Dowd confirmed to The Independent in January. Following this news, fans are eagerly waiting to see what happens next after Season 4's major cliffhanger, which seems to have steered the dystopian story in a new direction. Elizabeth Moss headlines the series, which is based on Margaret Atwood's 1985 dystopian novel of the same name. The story is set in a near-future society overseen by a patriarchal and totalitarian white supremacist group called the Sons of Jacob, who create a new nation named Gilead after overthrowing the United States government. Free speech is censored, human rights are limited, and women are the lowest-ranking class in society, forbidden to own money, hold a job, or make decisions. Women are considered property, and fertile females are known as Handmaids, groomed to produce offspring for their Commanders. 
Moss has won two Emmy awards for her portrayal of June, aka Offred. Throughout four seasons, June bonds with other Handmaids and important characters, including a tumultuous relationship with Commander Waterford's wife, Serena (played by Yvonne Strahovski). At the end of Season 4, June and other Handmaids band together to stage a violent revolution that sees many escape their forced slavery. Unfortunately, at least one fan-favorite character won't be seen again after one of the show's actors announced she won't be returning.
Alexis Bledel will not return for Season 5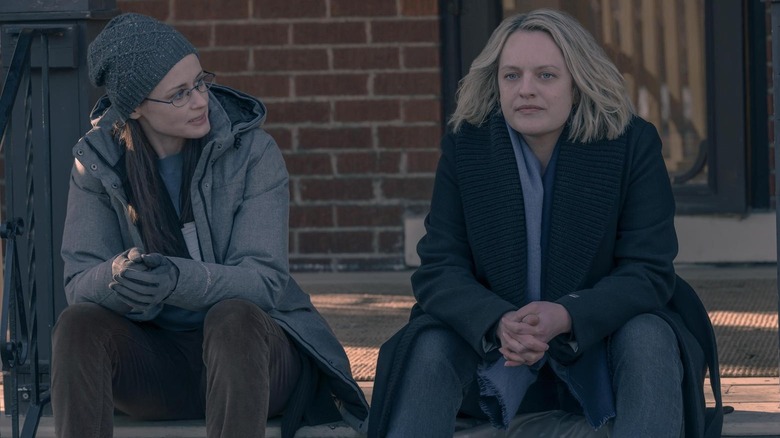 Sophie Giraud/Hulu
As reported by Variety on Friday, May 27, Alexis Bledel revealed she will not return to "The Handmaid's Tale" for Season 5, leaving the fate of her character — Emily, also known as Ofglen — in question. She issued a statement that read, in part, "After much thought, I felt I had to step away from 'The Handmaid's Tale' at this time." In 2019, Bledel won an Emmy for her performance on the show. Best known for playing Rory Gilmore on "The Gilmore Girls" for eight seasons, she offered no other explanation for her exit.
On "The Handmaid's Tale," Emily is a former college professor with a Ph.D. who, at first, seems submissive and stoic. She is eventually revealed to be a member of Mayday, the secret resistance group. Her last appearance on the show shows her aiding June in her attack on Gilead and Commander Waterford (Joseph Fiennes) and helping Moira (Samira Wiley) comfort and re-home the children who are freed during the revolt. Along with her son, Simon, Emily escapes to Canada.
Fans on social media responded to the news of her departure with disappointment, but also support for the actress. The account Handmaid's Fans tweeted, "We love you always and admire you for your bravery, Emily! Thank you to Alexis Bledel for bringing this character to life and playing this role so perfectly throughout the years. I will cherish this character forever!"