Philip Baker Hall's Seinfeld Character Was One For The Ages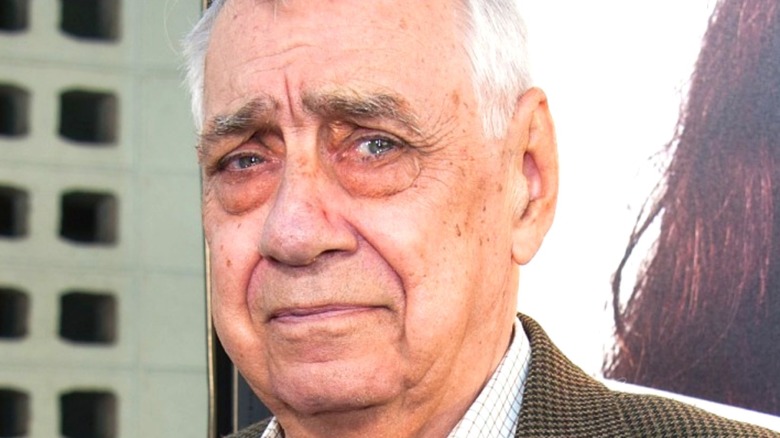 Valerie Macon/Getty
Character actor Philip Baker Hall passed away at the age of 90 on June 12, 2022, leaving behind a long list of acting accomplishments that would make any person proud. At the time of his passing, he had 185 acting credits on his resume, including a regular role in the Netflix series "Messiah" and an uncredited cameo appearance in the counterculture film "Zabriskie Point" (via IMDb). 
Throughout his life, Hall worked with many great directors. Just to name a few, Hall collaborated on projects with such legendary talents as Lars Von Trier, Cameron Crowe, Ivan Reitman, and Jason Bateman. The actor's most fruitful collaboration was with Paul Thomas Anderson; Hall appeared in pivotal roles in 1996's "Hard Eight," 1997's "Boogie Nights," and 1999's "Magnolia."
But television fans likely know Hall best from his very memorable appearance in the Seinfeld episode "The Library." His deadpan appearance as Lieutenant Bookman was so memorable that it reportedly even kept Jerry Seinfeld in stitches. Journey with us as we take a look into his unforgettable guest spot on the sitcom.
Lieutenant Bookman cracked Seinfeld up
In "Seinfeld" Season 3, Episode 5, ("The Library"), Lieutenant Bookman shows up on Jerry Seinfeld's doorstep when Jerry receives a call from the New York Public Library requesting he pay a hefty fine. They claim that Jerry never returned a copy of Henry Miller's "The Tropic of Cancer" after checking it out in 1971. Jerry insists he returned the book the same year he took it out. But the New York Public Library wants its due, and Library Cop Bookman isn't about to let Jerry off the hook without getting to the bottom of things.
In a scene filled with hilarious rapid patter, Bookman expresses his disappointment that Seinfeld's apartment is bereft of coffee after being offered tea and begins levying accusations against the comedian. He then informs Seinfeld he has one week to pay the fee or return the book. Jerry's investigation causes him to realize that he gave the book to George Costanza (Jason Alexander) to read, and George lost it. 
Little does Jerry know that the missing copy of "The Tropic of Cancer" is actually being held by Mr. Heyman (Biff Yeager), who taught Jerry in high school and often bullied George. The gym teacher finds himself confronted by George, who got Heyman fired years ago for giving him a wedgie. Ultimately, Jerry ends up paying the fine to get Bookman off his back, while Mr. Heyman retains the long-lost tome.
Jerry Seinfeld later named Bookman's first appearance as the hardest scene he ever had to film (via Netflix is a Joke). Seinfeld said, "It was just so ridiculous that he was interrogating me in my own apartment about a book, I just kept cracking up."
The role opened doors for Hall
Apparently, Hall knew his performance was going to be a big hit. Per Rolling Stone Magazine, that carried over from the audition, and Hall noted that Seinfeld was trying hard not to break up laughing at his performance. He called his wife afterward and said, "There's no such thing as a sure thing ... but I'm pretty sure I got this part."
Once the episode aired, Hall's straight-from-a-police-procedural performance won him a lot of fans beyond Seinfeld himself. It got him the attention of casting directors and managed to open some doors for him career-wise. Since he'd come to the part not quite knowing what the producers wanted from the role, the victory was especially sweet. 
"They had said they wanted him to be a blunt, hard-spoken guy ... a Raymond Chandler detective type. I wasn't exactly sure what they were after at first — hell, I don't think they knew either, it was going to be a 'we'll know it when we see it' thing. But they knew I was a theater actor primarily, and that I'd bring some of the gravitas and the swagger that you associate with theater actors to the role, you know?" the actor recalled for the magazine, which ranked his appearance the fourth most memorable guest spot throughout the series.