The Two Parks And Recreation Episodes You Didn't Realize Were Directed By Nick Offerman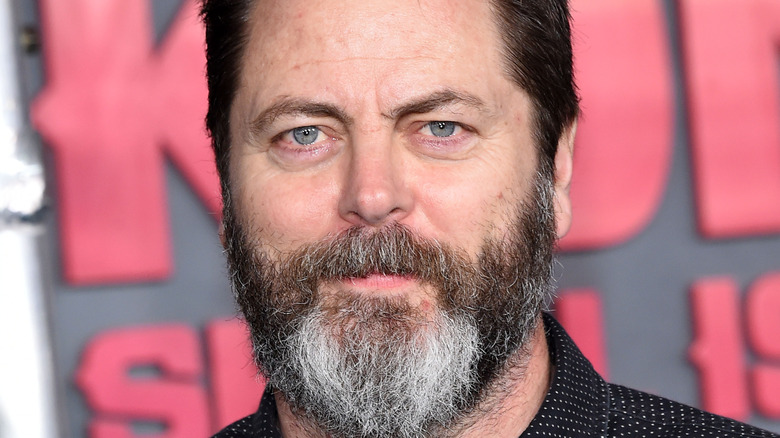 DFree/Shutterstock
Though NBC's "Parks and Recreation" helped introduce the world to actors like Aubrey Plaza and Chris Pratt (the latter of which has gone on to become a full-fledged action star thanks to his performances in the "Jurassic World" and "Guardians of the Galaxy" trilogies), one of the most significant breakout characters of the entire series is Ron Swanson, played by Nick Offerman. Offerman's deadpan performance as the meat-loving outdoorsman catapulted the character to fan-favorite status, with some even claiming that Swanson is one of the best TV characters of this century.
Whether or not you believe that Ron Swanson deserves to be revered in such a way, the fact remains that Offerman was an essential part of "Parks and Recreation" throughout its seven seasons on air –- and his importance to the series cannot be overstated. Even when he wasn't acting in front of the camera, Offerman made several significant contributions behind the scenes, such as writing the Season 4 episode "Lucky." In fact, many fans may be surprised to learn that Offerman actually directed two episodes of the series in Seasons 5 and 6.
Offerman directed Season 5's Correspondents' Lunch and Season 6's Flu Season 2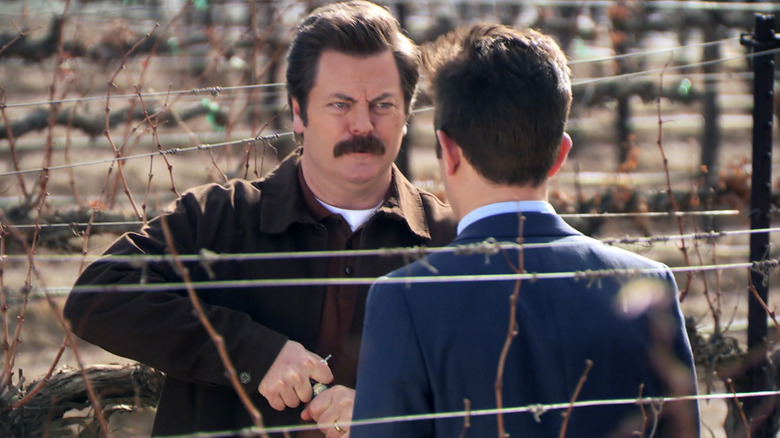 NBC
In Season 5, Nick Offerman is credited as a director on the episode "Correspondents' Lunch," in which Leslie Knope (Amy Poehler) has her email hacked by a ruthless tabloid called the "Pawnee Sun." Much of the episode is devoted to Leslie's attempts to expose the tabloid for its violation of privacy, and the episode also features a heartwarming B-story wherein Ben Wyatt (Adam Scott) helps Andy Dwyer (Pratt) get back on his feet after the latter fails out of the police academy. Unsurprisingly, Ron Swanson appears sparingly in the episode — we can hardly fault Offerman for not waiting to direct and act throughout the shoot.
By contrast, Offerman's second directing effort, Season 6's "Flu Season 2," is heavily focused on Ron, as he and Ben Wyatt travel through the wilderness while drinking blueberry wine. Ben's constant attempts to talk about his personal problems with the gruff, disinterested Ron are absolutely hilarious, as is the reappearance of Ron's more spiritual counterpart, Ron Dunn (Sam Elliot), deep within the woods.
"Flu Season 2" also provided Offerman with the daunting task of directing one of the most important storylines in the entire series, as this is also the episode where Leslie discovers that she is pregnant. And according to Offerman himself, the fact that he was tasked with helming such a monumental reveal was all a bit of kismet. 
Offerman was extremely grateful for being given such an important episode to direct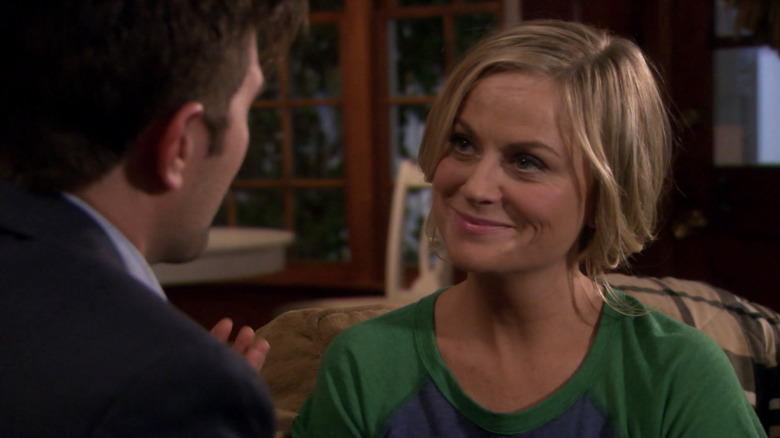 NBC
During an interview with the Los Angeles Times, Nick Offerman admitted that he didn't even know he was set to direct such a pivotal episode when he originally signed on. But in true Ron Swanson fashion, he embraced the challenge head on. "They attach me to a week without knowing what the script was going to be," Offerman explained. "In this case, I got incredibly lucky because I got what I think is one of the best scripts of the year easily. It's festooned with amazing guest stars and beautiful locations."
Offerman went on to describe how grateful he was for the chance to direct the emotional reveal regarding Leslie's pregnancy. "It was a gift to be given the task of handling that episode," the actor said. "My mustache was like a wet rag from all the tears." In addition, Offerman also expressed his excitement about collaborating with Wilco's Jeff Tweedy, who appears in the episode as the frontman of the fictional band Land Ho!, since Wilco is his favorite band of all time.
Considering just how much is going on in this episode, it's remarkably impressive that Offerman was able to balance acting and directing with such enthusiasm. In any case, both of Offerman's directorial efforts prove just how invaluable he was to the series as a whole, as well as showcasing that his talents extend far beyond his iconic deadpan delivery.