The Parks And Recreation Character You Likely Forgot Sam Elliott Played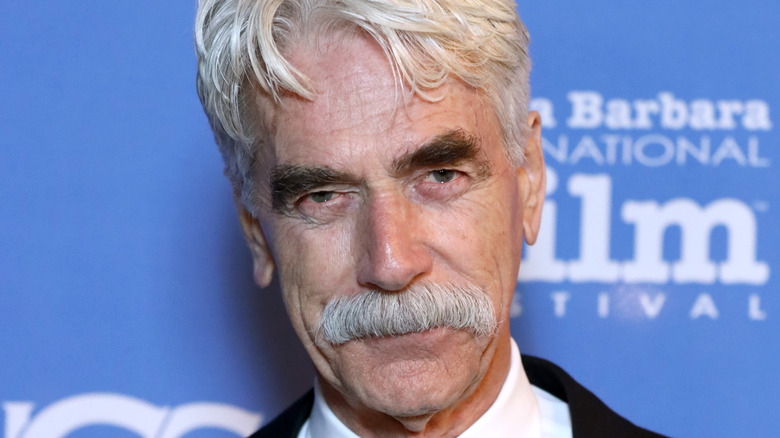 Rebecca Sapp/Getty Images
Throughout his over five decades-long career as an actor, Sam Elliott has managed to establish himself as one of the most distinctive on-screen presences of his generation. His deep drawl and distinctive bushy white mustache have made him one of the most recognizable faces in Hollywood. Those features have also often led to him being typecast in Western films and television series such as "The Way West," "The Quick and the Dead," "Lancer," and, of course, his recent part in Taylor Sheridan's "Yellowstone" spin-off "1883."
Even when he's not actually starring in a Western film — such as in "The Big Lebowski" wherein he plays the film's narrator, The Stranger — there's just something about Sam Elliott that seems to suggest the old West. That said, not all of Elliott's characters are cowboys or lawmen. Indeed, Elliott achieved critical acclaim and an Oscar nomination for his role as music manager Bobby Maine in 2018's "A Star is Born," proving that his range as an actor is not just confined to a single genre. Another great example of Elliott playing a character outside of his typecasting is his hilarious guest-star appearances on "Parks and Recreation," where he plays a character who is the exact opposite of a typical Western hero.
Elliott guest-starred as Ron Dunn on Parks and Recreation
From 2013 to 2015, Sam Elliott appeared in three episodes of "Parks and Recreation" as Ron Dunn — the counterpart to Ron Swanson (Nick Offerman) who works in the Eagleton Parks Department. 
Though at first, the two bond over their shared love of the outdoors, things go awry when Swanson finds out that Dunn is a vegan, a pacifist, a yogi, loves sandals, and believes in meditation. Dunn is the antithesis of the Western hero that Sam Elliott has become so well known for: he doesn't believe in violence, has deep roots in spirituality and the earth, and refuses to eat any sort of meat. In one of his last appearances on the show, Ron Dunn also teaches Ben Wyatt (Adam Scott) about spirit animals and somehow summons a hawk onto his arm. 
Elliott's association with the Western hero is flipped on its head to hilarious effect, as the juxtaposition between his appearance and his overwhelmingly progressive beliefs make him one of the most memorable side characters in the entire series. Sam Elliott's turn on "Parks and Recreation" may only last a few episodes, but he managed to make a big impression despite his short time on air. In any case, Elliott's performance as Ron Dunn makes it clear that he is more than capable of playing comedic characters just as well as dramatic ones.