The Three Parks And Recreation Episodes That Were Actually Directed By Amy Poehler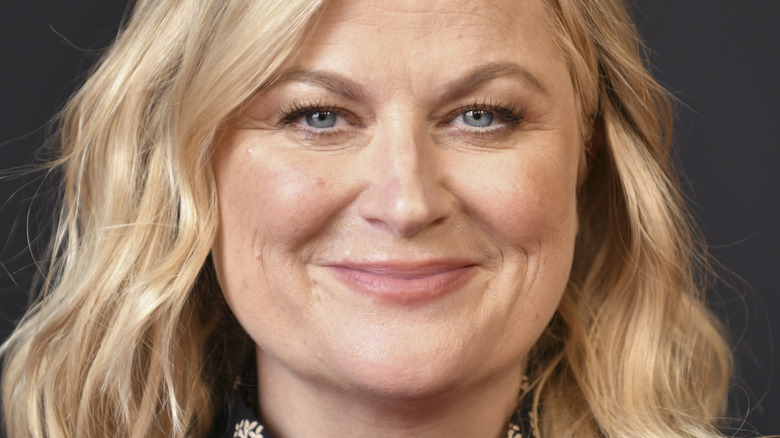 Rodin Eckenroth/Getty Images
Politics can be a drab, dull, and sometimes disheartening topic to cover in any medium, that is unless you're watching "Parks and Recreation." The NBC hit takes the bland happenings of the Pawnee, Indiana Parks and Recreation Department and puts them through a comedic lens, which ultimately worked in the show's favor. It stuck around for seven seasons and even scored a virtual reunion special in 2020 for its enduring fanbase to enjoy. Through it all, one woman took center stage as the crown jewel of "Parks and Rec": Amy Poehler.
While "Parks and Recreation" boasted its fair share of iconic characters, ranging from the rugged Ron Swanson (Nick Offerman) to poorly-aged quote machine Tom Haverford (Aziz Ansari), Leslie Knope (Poehler) stands as the show's cornerstone all the same. With endless optimism and extensive knowledge of political office on her side, she's a ray of sunshine in an otherwise gloomy office. Amy Poehler's caring yet often oblivious portrayal of Knope went a long way in making the character and the show so memorable, and her efforts didn't go unrewarded.
As the lead of "Parks and Recreation," Amy Poehler had the opportunity to sit in the director's chair for a handful of episodes. Here's which ones she helmed of the program's 126 total installments.
Poehler sat in the director's chair during Season 4, Season 5, and Season 7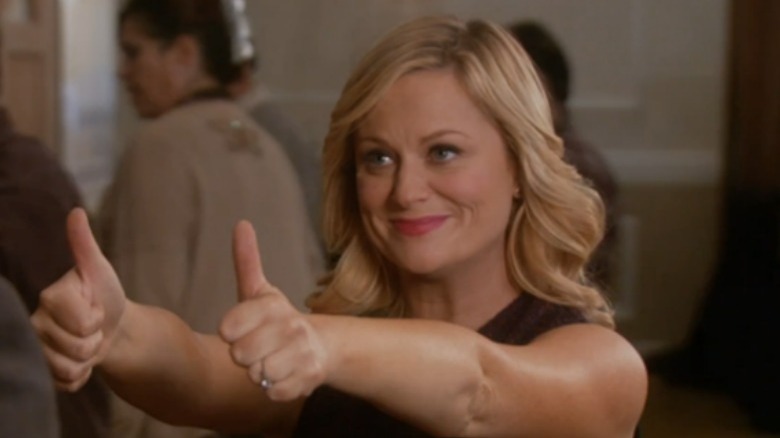 NBC
As she brought some enthusiasm and progress to Pawnee as Leslie Knope, Amy Poehler also directed three "Parks and Recreation" episodes throughout its six years on the air. The first of the bunch arrived in 2012 during Season 4, titled "The Debate" — also acting as Poehler's directorial debut — followed by "Article Two," which reached the small screen a year later during Season 5. Two years after that, she'd once again find herself behind the camera for the Season 7 episode "Gryzzlbox," thus concluding her time as a "Parks and Recreation" director (via IMDb).
In the years that followed the end of "Parks and Rec," Poehler would go on to direct various other projects — specifically feature films. 2019's "Wine Country" and "Moxie" from 2021 are among her most notable, and other titles will most likely join them in the years to come. In a 2022 interview with The Guardian, she touched on what it's like directing in addition to acting and producing, offering up some wisdom as well. "I think if you're doing your job right, you should be feeling unsure and vulnerable because it means you're pushing yourself to try new things," she said.
Even though it can be daunting and uncomfortable, pushing oneself and trying out new things can come with benefits. After all, had it not been for her experiences in front of and behind the camera on "Parks and Recreation," Amy Poehler's career could've gone in a much different direction.